Google's Transition To 64-Bit Apps Begins in August, 32-Bit Support To End in 2021
In a bid to deliver better software experience on devices powered by 64-bit processors in the coming years, Google aims to shift Android towards a 64-bit app ecosystem. From a report: The company has now shed more light on the transition and has announced that developers will have to submit a 64-bit version of their Android apps starting August this year. This move will eventually culminate in a universal implementation of the 64-bit app policy that will be enforced in 2021, after which, Google


Mozilla Kills Its Experimental Firefox Test Pilot Program 3 Years After Launch
Mozilla has announced that it is closing Firefox Test Pilot, an experimental program it launched three years ago. Firefox Test Pilot allowed users to try out potential new built-in Firefox features to understand if they are popular with users. The company says the program was used by an average of 100,000 daily users. A report adds: It's worth noting here that Test Pilot is separate from the various beta versions of Firefox, which are early iterations designed to fine-tune features intended for


Most Facebook Users Don't Know That it Records a List of Their Interests, New Study Finds
Seventy-four percent of Facebook users are unaware that Facebook records a list of their interests for ad-targeting purposes, according to a new study from the Pew Institute. From a report: Participants in the study were first pointed to Facebook's ad preferences page, which lists out a person's interests. Nearly 60 percent of participants admitted that Facebook's lists of interests were very or somewhat accurate to their actual interests, and 51 percent said they were uncomfortable with Faceboo


Finland's Ambitious Plan To Teach Anyone the Basics of AI
In the era of AI superpowers, Finland is no match for the US and China. So the Scandinavian country is taking a different tack. From a report: It has embarked on an ambitious challenge to teach the basics of AI to 1% of its population, or 55,000 people. Once it reaches that goal, it plans to go further, increasing the share of the population with AI know-how. The scheme is all part of a greater effort to establish Finland as a leader in applying and using the technology. Citizens take an onl


The Motorola Razr Could Return as a $1,500 Foldable Smartphone
The iconic Motorola RAZR might be making a comeback as a $1,500 foldable screen smartphone, and it could launch as early as February, according to a new report from The Wall Street Journal. From a report: The price point puts the handset north of even Apple and Samsung's flagships, at $1,500. Of course, there isn't really a standardized price point for the emerging foldables category yet. The Royole FlexPai starts at around $1,300 -- not cheap, especially for a product from a relative unknown. A


WhatsApp Now Has More Monthly Active Users Than Facebook App
Facebook's $19 billion bet on WhatsApp in 2014, when the messaging app had 450 million active users, is beginning to pay off. From a report: In recent months, WhatsApp has surpassed Facebook's own marquee app in popularity, according to industry estimates. In September of last year, WhatsApp for the first time had more monthly active users worldwide on Android and iPhone platforms than the Facebook app, research firm App Annie said today in its annual State of Mobile report. App Annie did not sh


Sprint To Stop Selling Location Data To Third Parties
After AT&T and T-Mobile said they would stop selling their customers' phone location data to third parties, Sprint has followed suit. From a report: Last week, Motherboard revealed that AT&T, T-Mobile, and Sprint had been selling their customers' real-time location data that ultimately ended up in the hands of bounty hunters and people unauthorized to handle it. Motherboard found this by purchasing the capability to geolocate a phone for $300 on the black market. In response, AT&T an


WeWork's CEO Makes Millions as Landlord To WeWork
An anonymous reader shares a report: For more than two months after employees at IBM moved into a Manhattan building managed by office space giant WeWork, frequent elevator problems forced workers to climb the stairs of the 11-story building and prompted complaints to the company. One of the landlords behind the building was no ordinary owner: It was Adam Neumann, WeWork's chief executive, who leased the property to WeWork after buying it [Editor's note: the link may be paywalled; alternative so


Instamojo raises $7M to help SMEs and 'micro-entrepreneurs' in India sell online
In India, startups are quietly building the tools and platforms to enable a different kind of gig economy: one that allows to tap growing access to the internet to sell goods and services online. One such firm helping this burgeoning economy is Instamojo, a seven-year-old Bengaluru-based startup, which has pulled in a $7 million Series […]


Alexa gets a professional 'newscaster' voice for reading the day's news
Amazon already gave Alexa the ability to whisper, and now it's rolling out another way to change the assistant's speaking style — it's giving Alexa a "newscaster" voice. Starting today, when U.S. customers ask Alexa "what's the latest?" to hear the day's news, Alexa will respond using a voice that's similar to how a professional […]


The Motorola Razr could return as a $1,500 foldable smartphone
Motorola has revived the Razr name a few times over the years, but the once-mighty brand has failed to regain the heights of its early days as an ultra-slim flip phone. But what better time for the phone maker's parent Lenovo to bring back the brand in earnest as the mobile world is readying itself […]


World's First Robot Hotel Fires Half of Its Robot Staff
An anonymous reader quotes a report from The Register: The world's first hotel "staffed by robots" has culled half of its steely eyed employees, because they're rubbish and annoy the guests. "Our hotel's advanced technologies, introduced with the aim of maximizing efficiency, also add to the fun and comfort of your stay," the Henn na Hotel boasted on its website. It's where multilingual female robots staff the reception desk. Guests are checked in using face recognition. Robot concierges carry y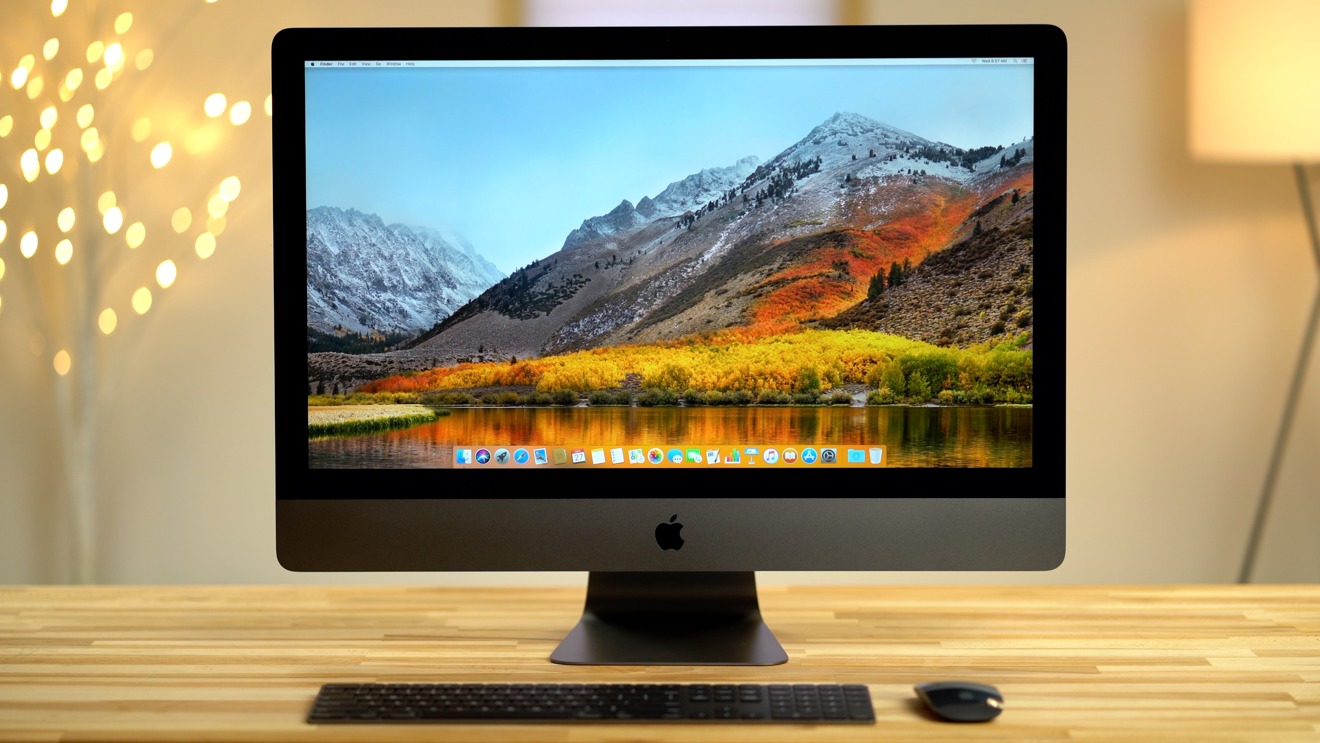 After a year, the iMac Pro benefits from better performance, proving its value
Apple's iMac Pro has been on the market for just over a year now, and what initially seemed like an overpriced machine compared to the high-end iMac 5K now looks a lot more reasonable. In this follow up examination after living with the machine for a year, we'll be looking at what's changed in Mac alternatives, complaints we've heard, and specific performance tests which have varied with software updates.


Most Facebook users still in the dark about its creepy ad practices, Pew finds
A study by the Pew Research Center suggests most Facebook users are still in the dark about how the company tracks and profiles them for ad-targeting purposes. Pew found three-quarters (74%) of Facebook users did not know the social networking behemoth maintains a list of their interests and traits to target them with ads, only […]


Hubble Space Telescope Will Last Through the Mid-2020s, Report Says
schwit1 shares a report from Space.com: Despite recent issues with one of its instruments, the Hubble Space Telescope is expected to last at least another five years. A new report suggests that the iconic spacecraft has a strong chance of enduring through the mid-2020s. [...] One reason the spacecraft has lasted so long is that astronauts have provided aid. Servicing missions continued to update the telescope until 2009, when the space shuttle was retired. The final update to Hubble included the


We Company CEO in hot water over being both a tenant and a landlord
The company formerly known as WeWork has come under scrutiny for potential conflict of interest issues regarding CEO Adam Neumann's partial ownership of three properties where WeWork is (or will be) a tenant. TechCrunch has seen excerpts of the company's prospectus for investors that details upwards of $100 million in total future rents WeWork will […]


China and NASA Shared Data About Historic Moon Landing
hackingbear writes: "China exchanged data with NASA on its recent mission to land a Chinese spacecraft on the far side of the moon, the Chinese space agency said Monday, in what was reportedly the first such collaboration since a Cold-War-era-like American law banned joint space projects with China that do not have prior congressional approval," reports New York Post. "The Chinese space agency's deputy director, Wu Yanhua, said NASA shared information about its lunar orbiter satellite in hopes o


Insect Collapse: 'We Are Destroying Our Life Support Systems'
An anonymous reader quotes a report from The Guardian: Scientist Brad Lister returned to Puerto Rican rainforest after 35 years to find 98% of ground insects had vanished. His return to the Luquillo rainforest in Puerto Rico after 35 years was to reveal an appalling discovery. The insect population that once provided plentiful food for birds throughout the mountainous national park had collapsed. On the ground, 98% had gone. Up in the leafy canopy, 80% had vanished. The most likely culprit by fa


Nvidia's T4 GPUs are now available in beta on Google Cloud
Google Cloud today announced that Nvidia's Turing-based Tesla T4 data center GPUs are now available in beta in its data centers in Brazil, India, Netherlands, Singapore, Tokyo and the United States. Google first announced a private test of these cards in November, but that was a very limited alpha test. All developers can now take these new […]


Niantic finalizes its Series C at $245M with a valuation of nearly $4B
We've known since around December that Niantic (the company behind Pokemon GO and the soon to be released Harry Potter Wizards Unite) was in the middle of raising a ton of money for its Series C round. At the time, it looked like it'd come in around $200M dollars. The company has just officially announced […]


China accounted for nearly half of app downloads in 2018, 40% of consumer spend
Global app downloads topped 194 billion in 2018, up 35 percent from 2016, according to App Annie's annual "State of Mobile 2019" report released today. Consumer spending across app stores was up 75 percent to reach $101 billion. The report, which analyzes trends across iOS, Android and the third-party Android stores in China combined, follows […]


Facebook's '10 Year Challenge' Meme Could Train Facial Recognition Algorithms On Age Progression, Age Recognition
If you've spent any time on social media lately, you've probably noticed a trend where users are posting their then-and-now profile pictures, mostly from 10 years ago and this year. While this "10 Year Challenge" appears harmless, founder of KO Insights and the author of Tech Humanist, Kate O'Neill, says all this data "could be mined to train facial recognition algorithms on age progression and age recognition." She adds: "It's worth considering the depth and breadth of the personal data we shar


Doctolib details how telemedicine appointments work
French startup Doctolib announced back in September that it would open up telemedicine appointments on its platform in 2019. The company is taking advantage of recent legal changes that finally make telemedicine legal in France. Doctolib is a marketplace matching patients with health practitioners — 70,000 practitioners and 1,400 medical institutions use it in France […]


Tinder is testing the ability to share Spotify music clips in chat
Tinder has already developed a fairly robust chat platform within its dating app, with support for sharing things like Bitmoji and GIFs, and the ability to "like" messages by tapping a heart icon. Now, the company is testing a new integration – sharing music via Spotify. Tinder confirmed with TechCrunch it's trying out a new […]


EVs and online marketplaces thrive despite slump in Chinese car sales
China's massive auto market hit the brakes last year as trade tensions and a softening economy dampened consumer confidence, but one segment soared on account of increasing internet penetration — used car sales. New passenger car sales fell to 23.7 million last year, representing a 4.1 year-over-year drop according to a new report by China's Association of […]


Infor lands $1.5 billion investment ahead of IPO
Infor, a NYC-based enterprise software company, announced a massive $1.5 billion investment today that could be the precursor to an IPO in the next 12-24 months. One analyst is estimating that the valuation could be at least $60 billion. The investment is being led by Koch Industries' investment arm, Koch Equity Development, and Golden Gate […]


Roku now deleting Infowars from its platform after customer outcry
Roku is deleting the Infowars channel from its platform, a couple days after adding it as a supported channel. In a tweet, Roku said after the channel became available, "we heard from concerned parties and have determined that the channel should be removed from our platform. Deletion from the channel store and platform has begun and […]


HyperScience, the machine learning startup tackling data entry, raises $30 million Series B
HyperScience, the machine learning company that turns human readable data into machine readable data, has today announced the close of a $30 million Series B funding round led by Stripes Group, with participation from existing investors FirstMark Capital and Felicis Ventures, as well as new investors Battery Ventures, Global Founders Fund, TD Ameritrade and QBE. […]


Pwn2Own Contest Will Pay $900,000 For Hacks That Exploit Tesla's Model 3
The Model 3 will be entered into Pwn2Own this year, the first time a car has been included in the annual high-profile hacking contest. The prize for the winning security researchers: a Model 3. TechCrunch reports: Pwn2Own, which is in its 12th year and run by Trend Micro's Zero Day Initiative, is known as one of the industry's toughest hacking contests. ZDI has awarded more than $4 million over the lifetime of the program. Pwn2Own's spring vulnerability research competition, Pwn2Own Vancouver, w


Daily Crunch: Snap CFO departs
The Daily Crunch is TechCrunch's roundup of our biggest and most important stories. If you'd like to get this delivered to your inbox every day at around 9am Pacific, you can subscribe here: 1. Snap CFO Tim Stone is resigning This marks Snap's second CFO departure in the last 12 months. In a memo to […]


BeMyEye acquires Streetbee, a Russian crowdsourcing and image recognition provider
London-headquartered BeMyEye has made another acquisition, its third in a little over three years. This time the retail execution monitoring service is purchasing Russian crowdsourcing and image recognition provider Streetbee. The acquisition will see BeMyEye launch "Perfect Shelf," which will use image recognition technology to lower the cost for consumer goods companies wanting to get […]


Hackers Broke Into An SEC Database and Made Millions From Inside Information, Says DOJ
Federal prosecutors unveiled charges in an international stock-trading scheme that involved hacking into the Securities and Exchange Commission's EDGAR corporate filing system. "The scheme allegedly netted $4.1 million for fraudsters from the U.S., Russia and Ukraine," reports CNBC. "Using 157 corporate earnings announcements, the group was able to execute trades on material nonpublic information. Most of those filings were 'test filings,' which corporations upload to the SEC's website." From th


Anchor says it's 'powering' 40 percent of new podcasts
Podcasting's greatest asset has always been its accessibility — for consumer and creator alike. But even the simplest medium requires a little know-how, and Anchor's overarching goal has long been to further lower the barrier of entry for those looking to take the leap. It's not perfect, and it's not for everyone, but the service […]


Apple Maps Gooses DuckDuckGo In Search Privacy Partnership
Search engine DuckDuckGo now displays location information from Apple Maps in its search results. "DuckDuckGo now uses Apple Maps both for small maps in location-related search results and for larger, interactive search results that appear in a separate maps tab," reports CNET. "That replaces a combination including MapBox, OpenStreetMap and homegrown technology." From the report: The top reason DuckDuckGo argues you should try it is that it doesn't keep any personal information on you and what


Grab moves to offer digital insurance services in Southeast Asia
Grab is Southeast Asia's top ride-hailing firm, thanks in no small part to its acquisition of Uber's local business last year, but the company also houses an ambitious fintech arm, too. That just added another vertical to its business after Grab announced it is teaming up with China's ZhongAn to introduce insurance. Grab and ZhongAn International, […]


Get a TechCrunch Sessions: Robotics + AI demo table while you can
Innovation's leading-edge lives at the intersection of robotics and AI. What could possibly be more exciting than attending TechCrunch Sessions: Robotics + AI on April 18 — where you'll spend a full day immersed in these world-changing technologies? Well, you could showcase your early-stage startup to nearly 1,000 of the best minds in robotics and […]


Sprint customers can now use Apple Business Chat to reach an agent
Sprint today announced it will support Apple's Business Chat – the new platform that allows businesses and customers to interact over iMessage. According to the carrier, customers can now message a Sprint customer service agent, get info about plans and other services, as well as look up store information in Maps, Safari and with Siri […]


'Mona Lisa Effect' Is Real But Doesn't Apply To Leonardo's Painting
An anonymous reader quotes a report from Ars Technica: There have long been anecdotal reports that the eyes of the Mona Lisa -- Renaissance artist Leonardo da Vinci's most famous painting -- sometimes seem to follow viewers as they move around the artwork. The phenomenon is even called the "Mona Lisa effect" because of it. But a new study published in the journal i-Perception found that she's really "looking" to the right-hand side of her audience. "There is no doubt about the existence of the M


A Supercomputer In a 19th Century Church Is 'World's Most Beautiful Data Center'
"Motherboard spoke to the Barcelona Supercomputing Center about how it outfitted a deconsecrated 19th century chapel to host the MareNostrum 4 -- the 25th most powerful supercomputer in the world," writes Slashdot reader dmoberhaus. From the report: Heralded as the "most beautiful data center in the world," the MareNostrum supercomputer came online in 2005, but was originally hosted in a different building at the university. Meaning "our sea" in Latin, the original MareNostrum was capable of per


Project Alias Hacks Amazon Echo and Google Home To Protect Your Privacy
fahrbot-bot writes: The gadget, called Alias, is an always-listening speaker, designed to fit on top of an Amazon Echo or Google Home, where it looks like a mass of melted candle wax. It's composed of a 3D-printed top layer, a mic array, a Raspberry Pi, and two speakers. It only connects to the internet during the initial setup process. Alias stays "off the grid" while you're using it, preventing your conversations from leaving the device. When the Alias hears its own (customizable) wake word, i


US Now Says All Online Gambling Illegal, Not Just Sports Bets
An anonymous reader quotes a report from Bloomberg: The U.S. Justice Department's decision that all internet gambling is illegal will cast a pall on the industry as businesses and state lotteries evaluate the implications of the change and the government's plans to enforce it. The U.S. now says federal law bars all internet gambling, reversing its position from 2011 that only sports betting is prohibited under a law passed 50 years earlier. Although the federal law specifically prohibits transmi


Firefox 69 Will Disable Adobe Flash Plugin by Default
Mozilla will take the next major step in disabling support for the Adobe Flash plugin later this year when it releases Firefox 69. From a report: Firefox 69 will be Mozilla's third last step to completely dropping support for the historically buggy plugin, which will reach end of life on December 31, 2020. Flash is the last remaining NPAPI plugin that Firefox supports. Mozilla flagged the change, spotted by Ghacks, in a new bug report that notes "we'll disable Flash by default in Nightly 69 and


Riding the RV revolution, Outdoorsy fuels up with $50 million in fresh funding
Outdoorsy is building for the road ahead. The three-year-old company, which connects customers with underused RVs and other trucks big enough to camp in overnight, just raised $50 million in Series C funding led by Greenspring Associates, with participation from earlier backers Aviva Ventures, Altos Ventures, AutoTech Ventures and Tandem Capital. That puts its total funding, […]


Apple Replaced 11 Million iPhone Batteries in Its $29 Program
Apple's $29 battery replacement program may have seriously dinged sales of its 2018 iPhone models. From a report: The company replaced 11 million iPhone batteries under the program, John Gruber of tech-focused blog DaringFireball reported Monday, citing Apple CEO Tim Cook at an all-hands meeting. Typically, the company replaces 1 million to 2 million batteries each year, DaringFireball noted. Cook cited the program's negative impact on Apple's revenue in a Jan. 2 sales warning to investors but d


Getaround early investor sues car-sharing startup for $1.79 million
Getaround is getting around the courthouse. One of the car-sharing startup's early investors, Geoffrey Shmigelsky, is suing the company, alleging fraud and unfair conduct. "Our client supported Getaround and Mr. Zaid from the very start, only to be swindled out of $1.785 million that went straight into the pockets of Mr. Zaid's family and friends, […]


GBatteries let you charge your car as quickly as visiting the pump
A YC startup called GBatteries has come out of stealth with a bold claim: they can recharge an electric car as quickly as it takes to fill up a tank of gas. Created by aerospace engineer Kostya Khomutov, electrical engineers Alex Tkachenko and Nick Sherstyuk, and CCO Tim Sherstyuk, the company is funded by the […]


CERN's New Collider Design Is Four Times Larger Than the LHC
If built, the Future Circular Collider will be 10 times more powerful than the Large Hadron Collider, and could discover new types of particles. From a report: The 2012 discovery of the Higgs boson particle at CERN's Large Hadron Collider (LHC) is widely considered to be one of the most important scientific breakthroughs in history. It validated a half-century of research about the basic building blocks of matter, and remains the crowning achievement of modern particle physics. Now, CERN wants t


Microsoft is Preparing For Foldable Windows Devices, Report Says
Microsoft is working on adapting Windows to work on foldable devices, The Verge reported Tuesday, citing sources familiar with the matter. The report further added that the company is making foldable devices and dual-screen hardware a big investment area for both Windows and Surface. From the report: This investment includes adapting Windows itself and its many built-in apps to work across foldable displays and devices with dual screens. While Microsoft has been experimenting with its own hardwa


Ajit Pai Gives Carriers Free Pass on Privacy Violations During FCC Shutdown
Federal Communications Commission Chairman Ajit Pai refused to brief a Congressional committee Monday about mobile carriers' ability to share their subscribers' location data with third parties. From a report: House Commerce Committee Chairman Frank Pallone, Jr. (D-N.J.) asked Pai for an "emergency briefing" to explain why the FCC "has yet to end wireless carriers' unauthorized disclosure of consumers' real-time location data," and for an update on "what actions the FCC has taken to address this


Only Nuclear Energy Can Save the Planet
Joshua S. Goldstein, a professor emeritus of international relations at American University, and Staffan A. Qvist, an energy engineer and consultant, writing for The Wall Street Journal: Climate scientists tell us that the world must drastically cut its fossil fuel use in the next 30 years to stave off a potentially catastrophic tipping point for the planet. Confronting this challenge is a moral issue, but it's also a math problem -- and a big part of the solution has to be nuclear power. Today,


Transparency-seeking OPEN Government Data Act signed into law
The federal government produces one hell of a lot of data, but despite desultory lurches towards usability there's little guarantee that it's available in a way that makes it useful to anyone. That may change for the better with the OPEN Government Data Act, which the President signed into law last night.


WordPress To Show Warnings on Servers Running Outdated PHP Versions
The WordPress open-source content management system (CMS) will show warnings in its backend admin panel if the site runs on top of an outdated PHP version. From a report: The current plan is to have the warnings appear for sites using a PHP version prior to the 5.6.x branch (5.6 or lower). The warnings will contain a link to a WordPress support page with information on how site owners can update their server's underlying PHP version. In instances where site owners are running their WordPress por