5 reasons Team USA was humbled at the Olympics
The U.S. men, a hockey superpower, were sent home before the medal round by the Czech Republic. How did this happen? A blown power play, lack of time to prepare and not enough college players were all factors.


Mavericks issue statement in response to SI article on uncomfortable workplace
The Dallas Mavericks have reacted swiftly and strongly to an article from Sports Illustrated that detailed several examples of how uncomfortable of a work environment they harbored the past two decades. SI published an article on Tuesday night by Jon Wertheim and Jessica Luther titled "Inside the Corrosive Workplace of the Dallas Mavericks." The article centers mostly on the team's former president and CEO for nearly 20 years, Terdema Ussery. The article begins with a strong e


Figure skater Karen Chen reveals advice she got from Kristi Yamaguchi
As she competes in the women's singles event this week, Karen Chen is carrying with her the advice of one of the true legends of the sport. In a feature this week by Scott M. Reid of the OC Register, the American figure skater revealed that former Olympic champion Kristi Yamaguchi has been serving as her mentor and gave her advice before the PyeongChang Games. "We both had matcha green tea lattes," said Chen of their meeting for coffee in Fremont, Calif. before her departure for S...


Former 76ers GM Sam Hinkie routinely contacted by NBA execs for advice
Sam Hinkie has been out of a job for almost two years now, but his sage advice is still very much in demand apparently. Bleacher Report's Ric Bucher reported on Tuesday that NBA owners and executives routinely contact the former Philadelphia 76ers GM for advice. Per Bucher: Sources both close to Hinkie and around the league said owners and executives routinely reach out to him for counsel. Several basketball operations vice presidents and owners said they would hire him, but they wouldn


Mikaela Shiffrin congratulates 'GOAT' Lindsey Vonn on bronze medal
There was some love shared between Team USA skiers on Wednesday in PyeongChang. Lindsey Vonn won a bronze medal in the women's downhill event in what she has said will be her final time competing in the event at the Olympics. According to NBC Sports, at 33, Vonn is the oldest alpine skier to win a medal at the Winter Olympics. That wasn't lost on Mikaela Shiffrin, who tweeted her congratulations to all of the Americans in the event, especially Vonn, whom she called the "GOAT&


Lindsey Vonn tears up during emotional interview
Lindsey Vonn teared up during one heck of an emotional interview after her run in the downhill at the 2018 Winter Olympics on Wednesday. Vonn entered the race knowing that it was likely to be her final downhill ever at the Olympics. She knew immediately after her run that she was not going to win gold, and she was hoping her time would be good enough to get her the silver medal. She ended up with the bronze. During an interview with NBC's Heather Cox after most of the competitors had gone


Lindsey Vonn: Sofia Goggia was in downhill
Lindsey Vonn may not have won gold in what she expects will be her last downhill ever at the Olympics, but she still managed to be complimentary about her opponents. Vonn praised her friend, Sofia Goggia, for putting together a top time in the event. "I think I skied really well and I think Sofia is untouchable today," Vonn said in an interview with NBC's Heather Cox after her run. Italy's Goggia finished with a time of 1:39.22. Vonn was 0.47 seconds behind, which placed


Ryan Shazier still aiming for Hall of Fame despite injury
Suffering a serious spine injury has not changed Ryan Shazier's goal of making the Hall of Fame. Shazier joined his Pittsburgh Steelers teammate Roosevelt Nix on his podcast that was released on Tuesday. In their conversation, the two talked about Shazier's recovery from a serious injury suffered during a Monday night game against the Bengals on Dec. 4. Shazier told Nix that he is doing two hours of rehab, five days a week, and that doctors and therapists are raving about the pro


Ole Miss apparel store files lawsuit against Dan Mullen, NCAA
Rebel Rags, an apparel store specializing in Ole Miss gear, has filed a lawsuit against Dan Mullen, the NCAA and many other figures. SI's Bruce Feldman reported on Tuesday about Rebel Rags' lawsuit. The Clarion Ledger's Antonio Morales says there are seven defendants in the case: Mullen, Mississippi State's former football coach, Scott Stricklin, the former Bulldogs AD, the NCAA, and NCAA investigator Mike Sheridan. Also named as defendants are Mississippi State footbal


Steelers' Shazier says he plans to play again
Speaking on a teammate's podcast, Steelers linebacker Ryan Shazier said he plans to play football again, adding that he wants to become a Hall of Famer. Shazier is recovering from a severe spinal injury suffered in December.


Zagitova sets record in women's short program
Alina Zagitova achieved a world-record score of 82.92 points to pass teammate Evgenia Medvedeva in Wednesday's short program, giving the Russians the top two spots heading into the women's figure skating free skate.


Report: Ex-Mavs CEO accused of misconduct
The Mavericks notified the NBA about misconduct allegations against former team president Terdema Ussery and said they have hired outside counsel to conduct an independent investigation into the claims.


Vonn third in likely final Olympic downhill race
American skier Lindsey Vonn took bronze in the women's downhill in what was likely her final Olympic downhill race. Italy's Sofia Goggia grabbed gold, while Ragnhild Mowinckel of Norway claimed silver.


Report: Rays expected to keep Kiermaier, Archer despite fire sale
The Tampa Bay Rays are expected to keep Kevin Kiermaier and Chris Archer despite recently removing familiar names from their roster. Over the weekend, the Rays made moves that cleared a couple of the team's higher-paid players from the roster. On Saturday, outfielder Corey Dickerson was designated for assignment following a trade for CJ Cron. The same night, starting pitcher Jake Odorizzi was traded to the Twins. Another domino fell on Tuesday with Steven Souza Jr. being traded to the Dia


Luck: 'Ship has sailed' on 2nd shoulder surgery
Colts quarterback Andrew Luck said he felt "a bit of relief" in knowing that shoulder surgery isn't an option for him now. "The one thing I know in my heart is that I am getting better, and I'm feeling great," he said.


Jarvis Landry reportedly will receive franchise tag from Dolphins
The Miami Dolphins are expected to use their franchise tag on wide receiver Jarvis Landry, according to reports. The Palm Beach Post's Joe Schad reported the news about Landry and the Dolphins Tuesday. The franchise tag will pay Landry around $16 million next season if he signs his tender. The Dolphins also have DeVante Parker and Kenny Stills at wide receiver, so some were expecting Landry to become a free agent and even opposing players were recruiting him. It seems as if Miami does no


Mike Gundy clowns Texas A&M TE coach Tim Brewster over tweets
Oklahoma State head coach Mike Gundy had a funny reaction to Tim Brewster's recent anti-Big 12 tweets. Brewster, who is a tight ends coach on Jimbo Fisher's Texas A&M staff, recently tooted the horn of the SEC with a couple of his tweets: Let's keep it real…The greatest stage in College Football is the #SEC#NothinButFacts!! — Tim Brewster (@TimBrewster) February 18, 2018 To say that the Big 12 is even on the same planet w the #SEC is straight crazy. The elite p...


Trade sends Drury to Yanks, Souza to D-backs
The Yankees have added versatile infielder Brandon Drury via a three-team trade with Arizona and Tampa Bay. Steven Souza Jr. heads to the Diamondbacks, with the Rays acquiring two prospects and two players to be named.


Padres co-owner: Wil Myers does not want to be clubhouse leader
The San Diego Padres just landed one former All-Star, and they're hoping that will help their other All-Star transition into a role in which he will be more comfortable. The team held an introductory press conference at camp on Tuesday for first baseman Eric Hosmer, who just signed an eight-year, $144 million contract with them. At the conference, Padres co-owner Ron Fowler praised Hosmer's leadership ability but made some interesting comments about that of Wil Myers. "We̵


Norwegian curlers want medal ceremony after being 'robbed'
The Norwegian curling team that finished fourth in mixed doubles in the Winter Olympics want a medal ceremony after being "robbed" by the Russian team that beat them. Norway's team of Kristin Skaslien and Magnus Nedregotten lost the bronze medal match to the Olympic Athlete from Russia team of Anastasia Bryzgalova and Aleksandr Krushelnitskiy 8-4 at the Gangneung Curling Centre last week. Things changed though after Krushelnitskiy tested positive for banned substance meldonium


Malik Monk involved in car accident, cited for careless driving
Malik Monk banged up his car in an accident this week, and police determined that the Charlotte Hornets rookie was at fault for the crash because of the way he was driving. According to police documents obtained by TMZ, Monk was driving near the University of Arkansas campus early Sunday morning when his 2002 Lexus went off the road and crashed into a gate. The car needed to be towed to a nearby impound lot, and police ended up citing Monk with careless driving and not having proof of insurance


David Price warns JD Martinez that fans in Boston will boo him
David Price and J.D. Martinez were teammates for a short time with the Tigers, and Red Sox fans might be surprised to hear that Price helped bring the slugger to Boston. But those fans probably won't be shocked to learn what Price said about them and the way they treat their players. In an interview with Bob Nightengale of USA Today, Price once again spoke about how difficult it is to play for the Red Sox. It's no secret that the left-hander has struggled to get along with the media


Twitter reacts to Louisville having to vacate 2013 national title
The NCAA announced on Tuesday that the Louisville men's basketball will be forced to vacate 123 victories from 2012-2015, including its 2013 national championship. The sanctions stem from an investigation into a sex scandal that took place at the university in which strippers were hired to dance and perform sex acts for recruits. The NCAA ruled that the violations resulted in players participating in games while ineligible, and Louisville's appeal was denied. With the ruling, Louisv


Christian Yelich: 'Everything changed' for Marlins after Jose Fernandez's death
The Miami Marlins have not reached the postseason since 2003, but one of their former up and coming stars believes all of that was about to change before tragedy struck the organization in September of 2016. Christian Yelich, who was traded to the Milwaukee Brewers this offseason after five years in Miami, told ESPN's Jerry Crasnick this week that things went into a tailspin for the Marlins after Jose Fernandez tragically lost his life in a boating accident. "From talking to the guy


Doug Martin released by Buccaneers
The Tampa Bay Buccaneers are moving on from Doug Martin after the running back's tumultuous 2017 season. According to Rick Stroud of the Tampa Bay Times, the Bucs informed Martin on Tuesday that he has been released. The move will save them $6.75 million against the salary cap heading into the 2018 season. Doug Martin, a two-time Pro Bowl running back, was released by Tampa Bay Tuesday, a move that was expected after he failed to rush for less than 500 yards in four of the past five seas


Report: Michael Jordan looking to bring Mitch Kupchak to Hornets
There has been talk for a while now that Mitch Kupchak could land another front office job with an NBA team after he was fired by the Los Angeles Lakers last year, and it appears his most likely landing spot has been established. ESPN's Adrian Wojnarowski reports that the Charlotte Hornets are unlikely to bring back general manager Rich Cho next season, and team owner Michael Jordan has his sights set on Kupchak. Jordan is said to be interested in having the 63-year-old partner with assis


Ex-NFL RB Silas Redd trying to make it as pro rugby player
Silas Redd was never able to make his NFL career work after he signed with the Washington Redskins as an undrafted free agent in 2014, but the former USC running back still has every intention of being a professional athlete. Hopefully, he finds more success on the rugby pitch. Redd, who appeared in 15 games for the Redskins, recently signed a contract with the Ipswich Jets of the Australian Queensland Cup. His ultimate goal is to play in the highest level of the National Rugby League, and he t


Source: Bears release twice-banned Freeman
The Bears have released linebacker Jerrell Freeman, a source told ESPN's Adam Schefter. Freeman was suspended twice -- for a total of 14 games -- during his two-year tenure in Chicago.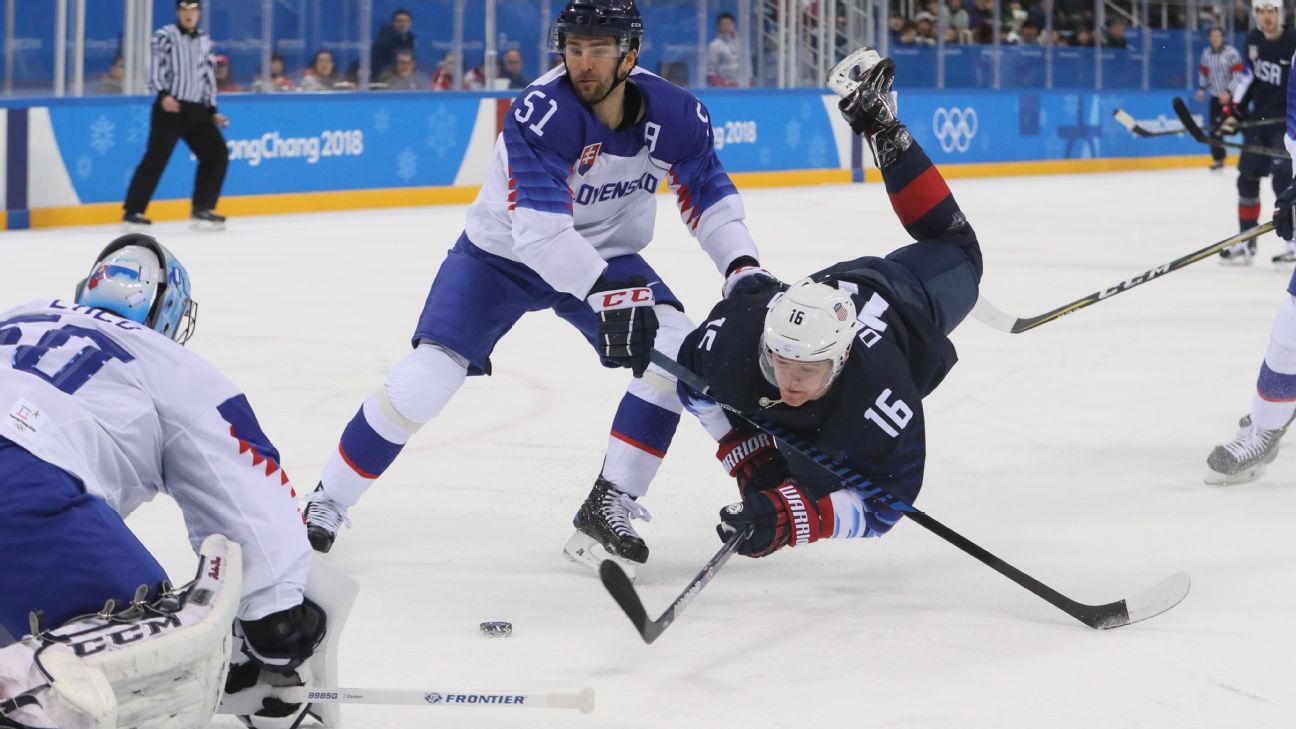 Can college kids lift U.S. men into medal round?
Team USA is finally getting some offense, just in time for another must-win game. The U.S. needs collegians like Ryan Donato to come up big again against the Czech Republic in the quarterfinals.


Figure skater Scott Moir jabs Brett Favre with retirement talk
Tessa Virtue and Scott Moir won their second Olympic gold medal in ice dancing on Tuesday with a record-setting performance, and it appears as though it will be the figure skating duo's last. But in the interest of not sounding like Brett Favre, they don't want to announce anything just yet. After he and Virtue brought down the house with their incredible free dance, Moir took a lighthearted swipe at Favre when asked if we will see the pair again in 2022. Moir: I don't think we


Report: Mikhail Prokhorov backing lawsuit against Russian doping whistleblower
The Russian government is still intent on attacking the credibility of the man who exposed the country's elaborate doping program, and Brooklyn Nets owner Mikhail Prokhorov is reportedly one of the people who is providing financial backing. According to a report from Tariq Panja of the New York Times, Prokhorov is helping fund a defamation lawsuit against Dr. Grigory Rodchenkov, whose uncovering of Russia's state-sponsored doping program resulted in the country being banned from the