Reading a Cuttlefish's Mind — On Its Skin
Pity the cuttlefish that tries to play poker. Where humans might blush when embarrassed or go white when frightened, cuttlefish wear their thoughts on their skins much more literally. Our own color transformations are caused by nothing more than changes in the blood flowing right under our skin, and it's a poor marker of what our actual thoughts are. Cuttlefish, by contrast, are covered in up to millions of tiny pigment-filled cells called chromatophores. Muscles in the cells stretch to ...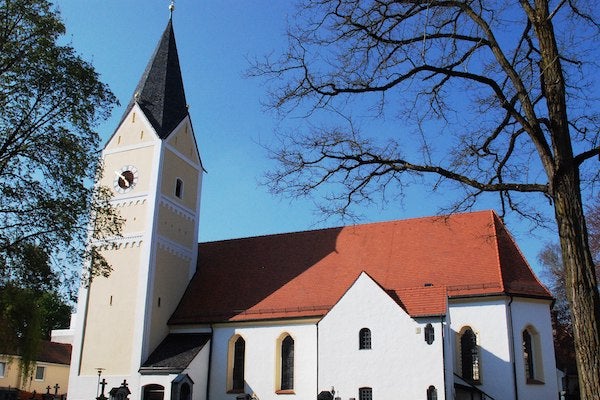 We should not accept our notions of reality as given, but always make them better -- Read more on ScientificAmerican.com


Why Dandelion Seeds Are So Good At Floating
Dandelion blowing may be about as close to a universal experience as there is. Kids and adults alike delight in huffing the white fluffy seeds from a dried sample of Taraxacum officinale, and watching them fly away. But as with all things in nature, it only happens that way because it works. Dandelion seeds can travel for miles before setting down, making them particularly efficient fliers. And scientists didn't really know why. Other plant seeds, such as maples, use more of a wing-like...


Astronomers May Have Spotted Another Neutron Star Merger
In 2017, gravitational waves and light were observed coming from the merger of a pair of neutron stars. The discovery proved that gravitational wave sources could also be viewed at visible, X-ray, and even gamma-ray wavelengths, but has remained the only such event observed to date. Now, researchers have identified a "cosmic look-alike" — an event they believe came from the same type of system as the one that produced the gravitational waves. Seeing Double Such a discovery woul...


Earliest Flesh-Ripping Fish Found (With Nibbled Victims)
Jumping right out of nightmares and into my heart (it's kind of cute, isn't it?), meet Fincutter, the Bavarian Piranha. Less than three inches long, the Late Jurassic fossil is the earliest ray-finned fish with flesh-ripping teeth — and paleontologists say it was preserved alongside some of its prey. Piranhamesodon pinnatomus ("pinnatomus" = fincutter) turned up in the same fabulously fossiliferous Bavarian quarry that has given us specimens of Archaeopteryx and other key Jurassic an...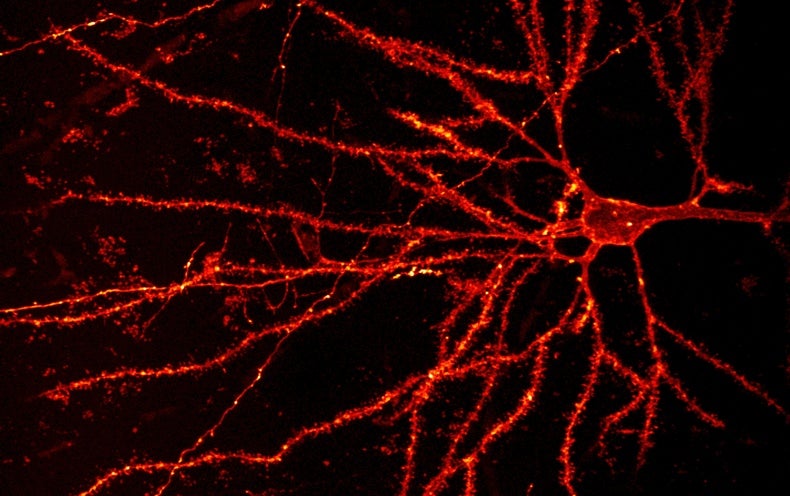 What Makes Human Brain Cells Unique?
New findings reveal distinctive electrical properties of human neurons that may give us a boost in computing power -- Read more on ScientificAmerican.com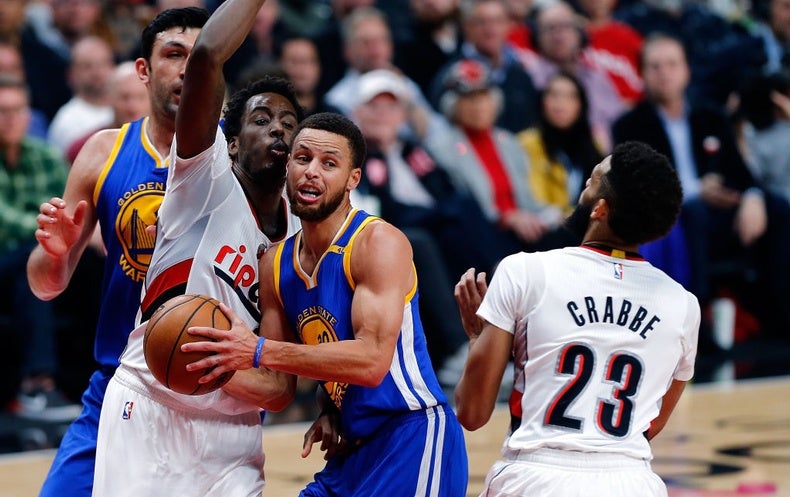 Do the Golden State Warriors Have Hot Hands?
Scoring streaks have long fascinated sports professionals and researchers, yet they are not close to consensus on the right way to think about the issue -- Read more on ScientificAmerican.com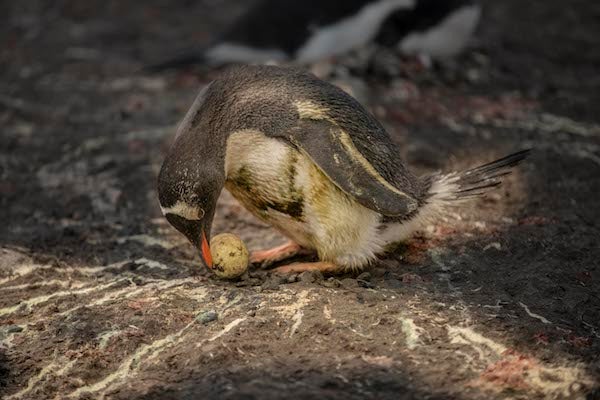 The IPCC's scary new report could finally stir us to take action on climate change -- Read more on ScientificAmerican.com


Infection biology: Staying a step ahead of the game
Trypanosoma brucei, which causes sleeping sickness, evades the immune system by repeatedly altering the structure of its surface coat. Sequencing of its genome and studies of its 3D genome architecture have now revealed crucial molecular aspects of this strategy.


Extremely small magnetic nanostructures with invisibility cloak imaged
In novel concepts of magnetic data storage, it is intended to send small magnetic bits back and forth in a chip structure, store them densely packed and read them out later. The magnetic stray field generates problems when trying to generate particularly tiny bits. Now, researchers were able to put an 'invisibility cloak' over the magnetic structures. In this fashion, the magnetic stray field can be reduced in a fashion allowing for small yet mobile bits.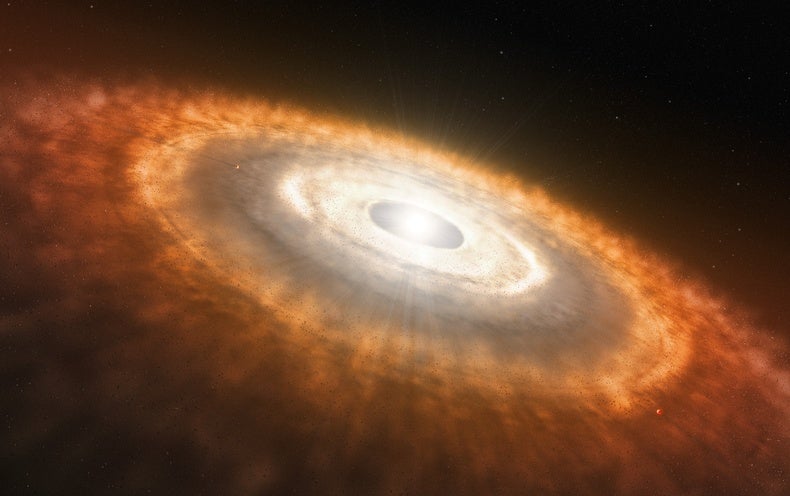 The way worlds form from dust may also explain other phenomena throughout the universe—and right here on Earth -- Read more on ScientificAmerican.com


Climate stress will make cities more vulnerable
The fall of Angkor has long puzzled historians, archaeologists and scientists, but now a research team is one step closer to discovering what led to the city's demise -- and it comes with a warning for modern urban communities.


Gene-edited zebrafish models take disease research to the next level
The potent combination of CRISPR/Cas9 and zebrafish as a model organism offers enormous potential for research into human diseases caused by point mutations. Three new articles use zebrafish to explore how advances in CRISPR/Cas9 optimization offer a new level of accuracy and specificity previously out of reach for research into this type of human genetic disorder.


Researchers identify shootin 1b as a clutch molecule that couples force and adhesion for the migration of neurons to the mouse olfactory bulb. The study provides new insights on how internal forces are converted into external movement and on how mechanical interactions regulate neurodevelopment.


Carbon fiber can store energy in the body of a vehicle
A study has shown that carbon fibers can work as battery electrodes, storing energy directly. This opens up new opportunities for structural batteries, where the carbon fiber becomes part of the energy system. The use of this type of multifunctional material can contribute to a significant weight-reduction in the aircraft and vehicles of the future -- a key challenge for electrification.


Biodiversity can also destabilize ecosystems
According to the prevailing opinion, species-rich ecosystems are more stable against environmental disruptions such as drought, hot spells or pesticides. The situation is not as simple as it seems, however, as ecologists have now discovered. Under certain environmental conditions, increased biodiversity can also lead to an ecosystem becoming more unstable.


Massive star's unusual death heralds the birth of compact neutron star binary
Pasadena, CA (SPX) Oct 18, 2018 Carnegie's Anthony Piro was part of a Caltech-led team of astronomers who observed the peculiar death of a massive star that exploded in a surprisingly faint and rapidly fading supernova, possibly creating a compact neutron star binary system. Piro's theoretical work provided crucial context for the discovery. Their findings are published by Science. Observations made by the Caltech team -


"Pulsar in a Box" reveals surprising picture of neutron star's surroundings
Greenbelt MD (SPX) Oct 18, 2018 An international team of scientists studying what amounts to a computer-simulated "pulsar in a box" are gaining a more detailed understanding of the complex, high-energy environment around spinning neutron stars, also called pulsars. The model traces the paths of charged particles in magnetic and electric fields near the neutron star, revealing behaviors that may help explain how pulsars emit ga


NASA's Fermi Mission Energizes the Sky With Gamma-ray Constellations
Greenbelt MD (SPX) Oct 18, 2018 Long ago, sky watchers linked the brightest stars into patterns reflecting animals, heroes, monsters and even scientific instruments into what is now an official collection of 88 constellations. Now scientists with NASA's Fermi Gamma-ray Space Telescope have devised a set of modern constellations constructed from sources in the gamma-ray sky to celebrate the mission's 10th year of operations.


Oldest evidence for animals found by UCR researchers
Riverside CA (SPX) Oct 17, 2018 Researchers at the University of California, Riverside, have found the oldest clue yet of animal life, dating back at least 100 million years before the famous Cambrian explosion of animal fossils. The study, led by Gordon Love, a professor in UCR's Department of Earth Sciences, was published in Nature Ecology and Evolution. The first author is Alex Zumberge, a doctoral student working in


European Space Talks: we need more space!
Paris (ESA) Oct 18, 2018 Space concerns everyone. It contributes to our lives on a daily basis and can help to solve some of humankind's greatest challenges. Find out more, and how space affects you, with European Space Talks... You probably use space without even thinking about it. Whether it's your mobile phone, your car's 'satnav' system (the clue is in the name) or TV weather forecasts, space is involved in so


Lockheed Martin reaches technical milestone for Long Range Discrimination Radar
Moorestown NJ (SPX) Oct 17, 2018 Lockheed Martin's Long Range Discrimination Radar (LRDR) has completed a closed loop satellite track with tactical hardware and software marking a significant achievement as the program continues to meet its technical milestones and works towards delivery to the Missile Defense Agency (MDA) in 2020 at its Clear, Alaska, site. In preparation for full-rate manufacturing starting in the begin


Roscosmos plans to restart Soyuz launches from late November
Moscow (Sputnik) Oct 18, 2018 On October 11, the crew of the Soyuz MS-10 manned spacecraft made an emergency landing in Kazakhstan due to an accident that took place two minutes after the craft's launch from the Baikonur cosmodrome. The first launch since the accident may take place in Plesetsk starting from October 24 to 26, (it will be a) Soyuz-2 with a military satellite, according to reports citing sources. T


The state of the early universe: The beginning was fluid
Copenhagen, Denmark (SPX) Oct 18, 2018 The particle physicists at the Niels Bohr Institute have obtained new results, working with the LHC, replacing the lead-ions, usually used for collisions, with Xenon-ions. Xenon is a "smaller" atom with fewer nucleons in its nucleus. When colliding ions, the scientists create a fireball that recreates the initial conditions of the universe at temperatures in excess of several thousand bill


New infrared telescope first to monitor entire northern sky
Canberra, Australia (SPX) Oct 18, 2018 A new infrared telescope designed and built by astronomers at The Australian National University (ANU) and the California Institute of Technology (Caltech) in the US will be the first of its kind to monitor the entire northern sky in search of new cosmic events. The agile robotic telescope, called Gattini-IR, will scan the northern sky once every night, from the Palomar Observatory in sout


Researchers solve mystery at the center of the Milky Way
Lund, Sweden (SPX) Oct 18, 2018 Astronomers from Lund University in Sweden have now found the explanation to a recent mystery at the centre of the Milky Way galaxy: the high levels of scandium discovered last spring near the galaxy's giant black hole were in fact an optical illusion. Last spring, researchers published a study about the apparent presence of astonishing and dramatically high levels of three different eleme


Long range ENSO forecasting extended one year
Pohang, South Korea (SPX) Oct 17, 2018 Changes in Atlantic Ocean sea surface temperatures can be used to predict extreme climatic variations known as El Nino and La Nina more than a year in advance, according to research conducted at Korea's Pohang University of Science and Technology and published in the journal Scientific Reports. The El Nino Southern Oscillation (ENSO) is an irregular, periodic variation in trade winds and s


Physics: Not everything is where it seems to be
Innsbruck, Austria (SPX) Oct 18, 2018 With modern optical imaging techniques, the position of objects can be measured with a precision that reaches a few nanometers. These techniques are used in the laboratory, for example, to determine the position of atoms in quantum experiments. "We want to know the position of our quantum bits very precisely so that we can manipulate and measure them with laser beams," explains Gabriel Ara


Kleos Space signs MoU with Airbus to collaborate on In-Space manufacturing technology
Bremen, Germany (SPX) Oct 18, 2018 Luxembourg-based Kleos Space S.A. has signed a second Memorandum of Understanding with Airbus Defence and Space, as both companies investigate opportunities to collaborate for the manufacture In-Space of structural elements. Kleos Space and parent Magna Parva (UK) have developed an In-Space manufacturing system that will provide a method of producing huge carbon composite 3D structures in


Plant hormone makes space farming a possibility
Zurich, Switzerland (SPX) Oct 18, 2018 With scarce nutrients and weak gravity, growing potatoes on the Moon or on other planets seems unimaginable. But the plant hormone strigolactone could make it possible, plant biologists from the University of Zurich have shown. The hormone supports the symbiosis between fungi and plant roots, thus encouraging plants' growth - even under the challenging conditions found in space. The idea h


Chandra operations resume after cause of safe mode identified
Greenbelt MD (SPX) Oct 18, 2018 The cause of Chandra's safe mode on October 10 has now been understood and the Operations team has successfully returned the spacecraft to its normal pointing mode. The safe mode was caused by a glitch in one of Chandra's gyroscopes resulting in a 3-second period of bad data that in turn led the on-board computer to calculate an incorrect value for the spacecraft momentum. The erroneous momentum


The 'Trillion Planet Survey' is Looking for Alien Laser Beams
An Extraterrestrial Search Physicists at the University of California, Santa Barbara are taking a unique approach to the search for extraterrestrial life. Instead of searching the cosmos for radio signals, they're hunting for brilliant light beams to locate intelligent beings in the Andromeda Galaxy. It's inspired by UC Santa Barbara physicist Phil Lubin's previous suggestion that we could propel tiny spacecraft to nearby stars at about 20 percent the speed of light with lasers. If w...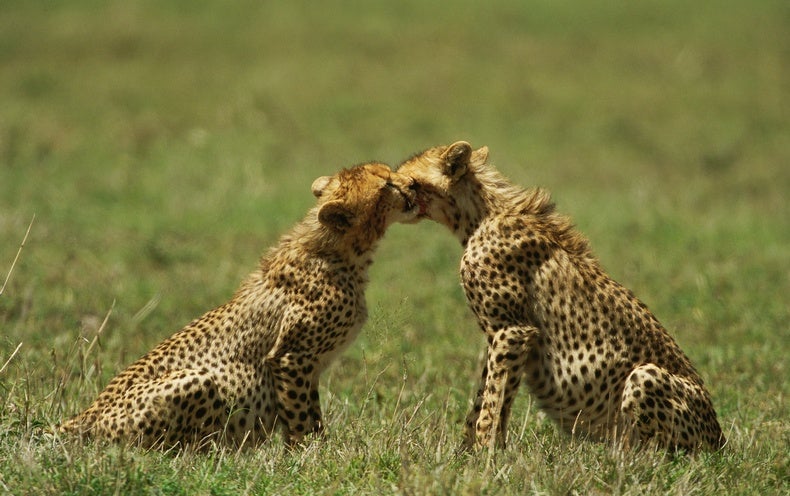 Tinder For Cheetahs; and An Unusual Blindness
Scientific American assistant news editor Tanya Lewis and collections editor Andrea Gawrylewski host a new podcast that takes an deeper look at short articles from the Advances news section of the... -- Read more on ScientificAmerican.com


New approach for controlling dengue fever and Zika virus
To be able to reproduce and become effective disease carriers, mosquitoes must first attain optimal body size and nutritional status. A pair of researchers have succeeded in using CRISPR-Cas9, a powerful tool for altering DNA sequences and modifying gene function, to decrease mosquito body size, moving the research one step closer to eliminating mosquitoes that carry dengue fever and Zika virus.


Scientists Discover 102 Genes Linked to Autism In Largest Study To Date
The quest to understand autism spectrum disorder seems an unending one. Now, researchers discover 102 genes associated with the disorder. The find virtually doubles the number of genes implicated in the complicated condition. Curbed Communication Autism spectrum disorder (ASD) is a developmental condition that affects at least 1 in 59 U.S. children. The disorder usually shows up as a range of symptoms in early childhood when kids are about 2 to 3 years old as a range of symptoms. Indiv


How Climatic Changes Toppled The Ancient Megacity Of Angkor
Angkor, one of the most significant archaeological sites in Southeast Asia, was a thriving metropolis at the center of the Khmer Empire in the 13th century. Then its inhabitants suddenly left town. Now, researchers find abrupt climatic changes and vulnerable infrastructure led to the city's demise. It's a cautionary tale for modern cities, many of which are already feeling the stress of climate change. Monumental Megacity Once a vast, urban hub, Angkor was the capitol city of a kingdom ...


Where Should NASA Search for Extraterrestrial Life? Underground, A New Report Says
We usually associate habitability with terrestrial, Earth-like planets, but what if completely different environments are capable of harboring life? A new report released by the National Academies of Sciences, Engineering, and Medicine (NASEM) recommends that NASA search these disregarded worlds for signs of life. With the recent discovery of an underground lake on Mars and suspected subsurface oceans on Jupiter and Saturn's moons, the committee thinks that studying all sorts of envir...


US tornado frequency shifting eastward from Great Plains
A new study finds that over the past four decades, tornado frequency has increased over a large swath of the Midwest and Southeast and decreased in portions of the central and southern Great Plains, a region traditionally associated with Tornado Alley.


Arctic greening thaws permafrost, boosts runoff
A new collaborative study has investigated Arctic shrub-snow interactions to obtain a better understanding of the far north's tundra and vast permafrost system. Incorporating extensive in situ observations, scientists tested their theories with a novel 3D computer model and confirmed that shrubs can lead to significant degradation of the permafrost layer that has remained frozen for tens of thousands of years. These interactions are driving increases in discharges of fresh water into rivers, lak


Largest autism sequencing study to date yields 102 genes associated with ASD
In the largest genetic sequencing study of autism spectrum disorder (ASD) to date, researchers have identified 102 genes associated with ASD, and report significant progress toward teasing apart the genes associated with ASD from those associated with intellectual disability and developmental delay, conditions between which there is often overlap.


Eliminating emissions in India and China could add years to people's lives
In a recent study, researchers wanted to know how replacing coal-fired powerplants in China and India with clean, renewable energy could benefit human health and save lives in the future. The researchers found that eliminating harmful emissions from powerplants could save an estimated annual 15 million years of life in China and 11 million years of life in India.


A 150-year-old drug might improve radiation therapy for cancer
A drug first identified 150 years ago and used as a smooth-muscle relaxant might make tumors more sensitive to radiation therapy. Researchers found that the drug papaverine inhibits the respiration of mitochondria, the oxygen-consuming and energy-making components of cells, and sensitizes model tumors to radiation. They found that the drug does not affect the radiation sensitivity of well-oxygenated normal tissues.


Oldest Trace Fossils Ever Found Might Not Be Fossils
Fossil or faux pas? A 2016 study that interpreted rock anomalies as the oldest evidence of life on our planet got it wrong, say researchers behind a new analysis of some of the same rock. The deformities aren't relics of early microbial life, says the team, but rather a snapshot of geological forces shaping and reshaping our world. The race to find the very first sign of life on Earth is one of the more heated contests in science — even though, for some, it lacks the glamour of hun...


A dust storm in Greenland? Beautiful satellite images show one far north of the Arctic Circle
In late September, a dust storm erupted in a seemingly unlikely place: high in the Arctic in Greenland. It was nothing compared to a Saharan dust storm. Even so, it was large enough to be visible from space. You can see it in the Sentinel-2 satellite image above: a grayish plume of fine silt being swept up by northwesterly winds. The source: a dry bed of a braided river valley that ends in Scoresby Sound on Greenland's east coast. This is about 80 miles northwest of Ittoqqortoomiit...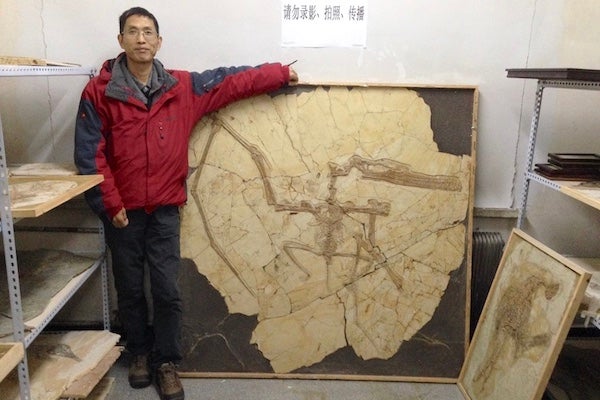 Junchang Lü was is one of the most important dinosaur researchers of the past half century -- Read more on ScientificAmerican.com


First GWAS analysis of 'type 1.5 diabetes' reveals links between immune and metabolic disease
Scientists who performed the largest-ever genetic study of a puzzling type of adult-onset diabetes have uncovered new connections to the two major types of diabetes, offering intriguing insights into more accurate diagnosis and better treatment. Latent automimmune diabetes in adults (LADA) is a relatively common disorder that shares features of type 1 diabetes and type 2 diabetes.


How does brain structure influence performance on language tasks?
The architecture of each person's brain is unique, and differences may influence how quickly people can complete various cognitive tasks. But how neuroanatomy impacts performance is largely an open question. To learn more, scientists are developing a new tool -- computational models of the brain -- to simulate how the structure of the brain may impact brain activity and, ultimately, human behavior.


Massive organism is crashing on our watch
Researchers have conducted the first complete assessment of the Pando aspen clone and the results show continuing deterioration of this 'forest of one tree.' While a portion of the famed grove is recovery nicely as a result of previous restoration, the majority of Pando (Latin for 'I Spread') is diminishing by attrition.


Immune culprits linked to inflammation and bone loss in gum disease identified
An unhealthy population of microbes in the mouth triggers specialized immune cells that inflame and destroy tissues, leading to the type of bone loss associated with a severe form of gum disease, according to a new study in mice and humans. The findings could have implications for new treatment approaches for the condition.


Pupil's brain recognizes the perfect teacher
Human and avian youngsters learn behaviors by imitating adults. But learners are selective in who they copy, and scientists don't understand how they choose the right teacher. Young male zebra finches must learn to copy the song of an adult male to mate, but juveniles won't imitate songs played through a loudspeaker or sung by other species of birds. New findings show how the juvenile birds identify the right teacher.


Unprecedented look at electron: Size limit for undiscovered subatomic particles determined
A new study suggests that many theorized heavy particles, if they exist at all, do not have the properties needed to explain the predominance of matter over antimatter in the universe. If confirmed, the findings would force significant revisions to several prominent theories posed as alternatives to the Standard Model of particle physics, which was developed in the early 1970s.


Arctic ice sets speed limit for major ocean current
Scientists have now identified a key mechanism, which they call the 'ice-ocean governor,' that controls how fast the Beaufort Gyre spins and how much fresh water it stores. Researchers report that the Arctic's ice cover essentially sets a speed limit on the gyre's spin.


Bacterioplankton: Taking their vitamins
New research finds that more bacterioplankton utilize vitamin B1 or B1 precursors from their environment than synthesize their own. The researchers also found that B1 availability can directly limit bacterioplankton growth, which could have larger impacts on aquatic microbial food webs, as well as energy and nutrient exchange.


Astronomers find a cosmic Titan in the early universe
Astronomers have discovered a titanic structure in the early universe, just two billion years after the Big Bang. This galaxy proto-supercluster, nicknamed Hyperion, is the largest and most massive structure yet found at such a remote time and distance.