Elevation Worship Teams Up With This Controversial Worship Leader for Live Show
In 2016, Grammy-winning worship artist Israel Houghton divorced his wife, started dating and eventually wed star Adrienne Bailon. He also left his position as worship leader at Joel Osteen's Lakewood Church. Now he's back on stage again—this time performing with Elevation Worship for a live performance of "O Come to the Altar."


How to Bless Your Single Friends as They Wait on the Lord
When I think back to my single days, I am very thankful I had a group of girlfriends with whom to hang out during the years before I got married. The time of waiting to meet and marry my husband would have been so much longer if not for a lovely group of Christians who could spur on one another in faith, laugh endlessly and fill the weekend hours together.But it isn't always that easy for everyone and social media hasn't alleviated the situation. Today's singles are not only challenged with navi


In medieval times, Catholic Lent was harder than Islamic Ramadan...
I have been told that medieval Christians would ridicule the Islamic season of fasting called Ramadan as weak, effeminate, and easy when compared to the austere Christian season of fasting during Lent or Quadragesima. The Catholic Church has decreased the austerity of Lent over the centuries so much that Islamic Ramadan now appears as more challenging than Lent...


How Fasting and Intercession Shaped America's Forefathers
It has become fashionable in some circles to deny the Christian foundations of the United States. This week, when we remember President's Day, would be a good time to listen to the words of our Founding Fathers and join them in their prayers for America:Benjamin Franklin: On the Need for Divine GuidanceI have lived, Sir, a long time, and the longer I live the more convincing proofs I see of this truth—that God Governs in the affairs of men. And if a sparrow cannot fall to the ground withou


What to Do When Life-Storms Attack Your Marriage
It's no secret that marriage is hard. Sharing a life with someone every day can be a challenge, especially when disagreements arise; however, it also comes with many benefits. I've been lucky enough to be married to my wife, Paula, for almost 60 years! Those years have come with many ups and downs but perhaps the time we were challenged the most was the 18 months that followed me quitting my job.I walked away because a senior leader at my company offered me a large sum of money which he then inf


An overview of the Seven Deadly Sins...
Do you know what the Seven Deadly Sins are? It is valuable to name and begin to understand these deep drives of sin within us because the more we do so the more we can grow in self-knowledge. Further, it helps us to "know their moves" and gain mastery over them. As they stir deep within us we can recognize evidence of this and begin to take greater authority over them...


New Study Links Processed Foods With Increased Risk of Cancer
Processed foods are now being said to raise the risks of cancer because of higher levels of fat, salt and sugar, along with other additives.The British Medical Journal reports that eating 10 percent more ultra-processed foods leads to a 12 percent higher risk of cancer.The team of researchers from France and Brazil wrote in the report that those foods include mass produced packaged bread and baked goods, sodas, instant noodles, processed meats, frozen meals and desserts.However, they report


How to Soothe Your Soul-Shattering Heartache
Stop crying. That's enough! It wasn't that bad. Stop it now.These are words others used to calm my little granddaughter's cries after a scraped knee.A Different ApproachBeing the wise grandma I try to be, I have a different approach. I scoop her up in my arms. Hold her tight, and keep her close. Without saying a word, I rock her gently back and forth. I don't let her go. Her sobs subside. I still hold her tight, while back and forth I rock her. Her body relaxes, and she settles in my arms,


Candace Cameron Bure Has Perfect Response to 'View' Calling Faith 'Mental Illness'
Actress Candace Cameron Bure is weighing in on the intense controversy surrounding "The View" host Joy Behar's proclamation this week that it's essentially "mental illness" to believe that "Jesus talks to you.""My initial reaction was that it was a tone-deaf comment, but not a surprising one from someone who isn't a believer," Bure told Faithwire on Thursday. Bure was a co-host on "The View" for two seasons before leaving in December 2016.But the "Fuller House" star added that she felt


10 Lenten lessons for people who don't like Lent...
When it comes to saints, or any spiritual author for that matter, we might come across their works, be moved by their writings, and want to read everything they have written. That was true for me. A few years ago, I accidentally happened upon the writings of Fr. Daniel Lord, SJ, (1888-1955), an American Jesuit who reportedly wrote over a million words in his life...


God's Sacred Charge to His Watchmen: Build Up the Wall!
Since the very beginning, God has destined mankind to be keepers or guardians of the land. According to Genesis 2:15, God took man and put him in the Garden of Eden to tend and keep it. It is interesting to note that the Hebrew root word for garden is to hedge about, to protect and to defend. And Eden means "the region of Adam's home", or his region, his land. So "Garden of Eden" literally means to protect, to defend and build a hedge around your region. Adam's failure in keeping God's charge to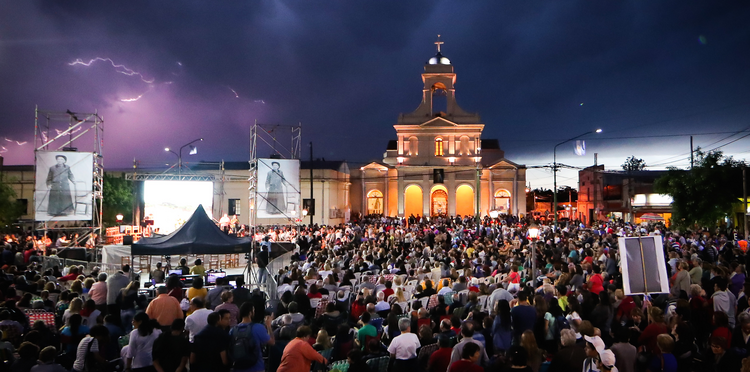 Cowboy, engineer, saint: On the trail of St. José Brochero...
It was the highways that drew me to Villa Cura Brochero. I wanted to see these roads that a saint built through the Sierras Grandes mountains—some overgrown trails, others paved and proud. They are completely ordinary, which is precisely why they are so striking. These were not highways that arose steadily out of zoning permits and construction budgets...


The Secret of the Ancient Paradigm That Shook America's Political Establishment
In his first year in office, President Donald Trump shook the establishment, shattered the status quo and shocked pundits from both sides.The newest book from New York Times best-selling author Jonathan Cahn had similar effects.In fact, the secrets revealed inside The Paradigm: The Ancient Blueprint That Holds the Mystery of Our Times America's political establishment and all who read the book."The Paradigm removes the veil behind the events, the leade


Top 5 Lenten tricks/tools to help you achieve a more sparkling soul...
There's a time in the late afternoon when the spectacular Denver sun streams through the windows of my kitchen, casting an illuminating beam across the expanse of floors and countertops. The light hits at such a precise angle as to expose a blanket of crumbs lurking near the toaster, the layers of dust hidden in a corner under a cabinet and the otherwise invisible stains near the base of our wastebasket...


Prophetic Vision: You Can Go Double Speed During This Escalator Season
Have you ever had one of those times where you're just starting to wake up but you're not fully awake yet, so you're still dreaming? The Lord gives me a lot of visions during those kinds of times.Recently, I was having a dream that turned into a vision. In the vision, I had just gotten off of an airplane, and I was in an airport. I was walking through the ground floor, and there were hundreds of people moving around, going in many different directions. I was maneuvering around the many different


Hundreds of Companies Have Given $3 Billion in 'Crumbs' to 4 Million American Workers
As American workers start seeing higher take-home pay, thanks to the tax cuts driven by President Donald Trump, the bonuses from American companies are quickly adding up.House Majority Whip Steve Scalise keeps a running total of tax reform benefits on his website and says that 4 million workers have been given $3 billion in bonuses from 300 companies.House Minority Leader Nancy Pelosi, however, can't seem to get in on the excitement. Last month, she famously sa


Stay Low by Taking Others High
"And He was saying to them all, 'If anyone wishes to come after Me, he must deny himself and take up his cross daily and follow Me'" (Luke 9:23).This is a hard saying. Self-denial certainly does not come easily. When I remind myself throughout the workday to die to self, the focus immediately shifts to me.Let it go. It doesn't matter in the long run.She just doesn't understand the facts.My opinion is only one of many others.If my attempt to "stay lower than myself" requires self-talk and ra


RT Kendall: How to Know You Are Truly Saved
Some teach that you cannot claim to be a Christian until you prove it by your perseverance. If you turn out well, good; this shows you were truly born again. But if you don't turn out well, this shows you were not truly saved after all.For years, the English Puritans had been my heroes. But that was before I examined them very carefully. These men had in common the belief that a person must be "prepared" for grace before he or she could be truly saved. Such preparation to me smacked of salvation


Cindy Jacobs Charges Intercessors to Wage Spiritual Warfare Over Gun Violence
As funerals for some of the 17 people who died in mass shootings at a Parkland, Florida high school continued over the weekend, two prayer leaders called on intercessors to wage spiritual warfare at every campus across the nation before another student or teacher dies as a result of gun violence."I am going to ask that each one of you reading this do something more specific to cover our local schools in a canopy of intercessory prayer protection," Cindy Jacobs, co-founder of General's Internatio


The formal study of theology isn't for everyone...
If you are thinking taking up theological studies, take a minute to read this list. Having studied theology "on the side" for over a decade now, I've gone through enough heartache and shame to not want you to suffer through what I suffered. Think of these points as a devil's advocate in that they will show the various dangers that can occur when one studies theology...


Big Protestant YouTube star announces she's converting to Catholicism...
YouTube star Lizzie Estella Reezay of the YouTube channel LizziesAnswers has announced that she's converting from Protestantism to Catholicism. "I want everyone to know that I hated that this was happening," she explains in a recent video. "I fought so hard to get out of this intellectually. I did not want to be Catholic...


Who was the last of the Church Fathers?
It seems that there are many contenders for the honor of the "last Father of the Church." One easy solution might be to draw the line after two of the most famous Fathers, St. Augustine and St. Jerome. One provided the foundation for most of the medieval Latin theology that followed. The other gave Latin Christendom an authoritative translation of the Bible in its then-native tongue...


Is This the Most Prophetic Time Ever?
Pastor Carl Gallups says this is the most prophetic time ever. With headlines that include natural disasters, school shootings and revivals, it seems he may be right. Watch the video to see his explanation.


What Ireland's abortion referendum is really about...
This year Ireland will hold a referendum on the issue of abortion. The date has not yet been set but the vote will probably take place in May. Since 1983, enshrined in Article 8 of the Irish Constitution, there has been a constitutional ban on abortions taking place in the Irish Republic. This prohibition was the result of a referendum that took place that year with the resultant Article 8 stating: "The State acknowledges the right to life of the unborn and...


Hallowed ground: A wintry visit to a fresh grave...
"It's right here, along the fence," Fred told me as he drew on a napkin. "The road comes around in front, but back near the fence there's a gate that's right by the spot." We were having lunch a couple weeks after Fred had said his final goodbyes to Debbie, his beloved wife, a stalwart mother and grandmother, and a true pillar of our local Catholic community...


Luke 12:1-7 (1) In the meantime, when an innumerable multitude of people had gathered together, so that they trampled one another, He began to say to His disciples first of all, "Beware of the leaven of the Pharisees, which is hypocrisy. (2) For there is nothing covered that will not be revealed, nor hidden that will not be known. (3) Therefore whatever you have spoken in the dark will be heard in the light, and what you have spoken in the ear in inner rooms will be proc


Ex-Vatican judge takes plea bargain on molestation, child pornography charges...
A former judge of the Roman Rota, the Vatican's highest appellate court, has accepted a plea bargain in an Italian criminal court for a conditionally suspended sentence of one year and two months in prison on charges of sexual molestation and possession of child pornography. Based on reports in the Italian media, 55-year-old Monsignor Pietro Amenta was detained by police after an incident in March 2017...


Why This Missionary Is Warning Christians About Seeing 'Black Panther'
Dr. Ted Baehr, founder of Movieguide, has done missions work in many countries and has seen the danger of ancestor worship. He says that's why he was so alarmed to find ancestor worship play a crucial role in Black Panther, Marvel's latest blockbuster. He runs down the good and the very bad in this video review.


How You Can Find Supernatural Hope in the Wake of the Parkland School Shootings
My husband and I want to express our deepest sympathies to the families who lost a child (or were impacted in some way) by the Parkland school shooting. Our hearts are heavy for you, along with thousands or millions across the nation. We ache for your loss.Your beloved children died, murdered, at school—a place they should have been safe—on Valentine's Day, of all days. The day we give cards and gifts to show love to those we care about, became a horrific day of suffering and carnage


Have You Overlooked the Greatest Gift God Gave You?
With today's always-on media, there's an ever-present temptation to compare yourself to someone else. You swipe in envy of someone else's success and believe that their style, personality or gifting will achieve the same for you. That is, until you see come across another whose secret sauce is different. Consequently, you're only left confused from bouncing from one "gimmick" to the next, somehow strangely believing that being someone else will help you find yourself.I've been caught up in this


Rick Warren: Here's How You Should Spend Your Money
"Use your worldly resources to benefit others and make friends. Then, when your possessions are gone, they will welcome you to an eternal home" (Luke 16:9 NLT).The best use of your money is using it to get people into heaven.Luke 16:9 (NLT) is a problem verse that most people don't understand. Jesus says, "Use your worldly resources to benefit others and make friends. Then, when your possessions are gone, they will welcome you to an eternal home."Jesus is saying that just like the


Why Cancer Should Cower in the Face of This Common Food
Celery juice is a super cancer-fighter. This humble vegetable contains apigenin and luteolin—compounds that are bioactive flavonoids that fight cancer cells. Flavonoids are occurring naturally in plant pigments that work as antioxidants and have the capacity to combat free radicals in the body.The apigenin compound in celery fights cancer cells by inducing apoptosis (programmed cell death), which causes the cancer cells to self-destruct. In addition to apigenin's antioxidant and anti-tumor


The Surprising Blessing of Your Crisis of Faith
There was a critical time in my life when I experienced a crisis of faith. Honestly, I wasn't sure anything made sense any more.Each of our faith-journeys is a trek of ups and downs. We journey through seasons of bold faith and crippling doubt. The truth is, most of us at one season or another have had a crisis of faith—a time when desperation hit and we wondered, Is God really good? Because He's certainly not behaving like the God I thought I knew!John the Baptist, Jesus' cousin, was sent


Why Acknowledging This Truth About Addiction Will Set You Free
This is the first of a series about addiction of all forms. We are going to look at this difficult situation through the eyes of truth found throughout God's Word. Today, we are going to look at this and ask ourselves what is it? Is it as the world says—a disease? Or is it something else?Is addiction a disease? This is a good question. The world claims that it is, but what about God? What does His Word have to say about this? Let's search out the Scriptures to find out.Let's begin with the


Prepare Yourself for the Roar of Holy Spirit Outpouring This Year
I sense that 2018 is the year of the roar of the Lord. In fact, the Holy Spirit gave me eight different roars that were going to be released in 2018, either starting or noticeably accelerating. One of them was the roar of the Ruach HaKodesh, the roar of the Holy Spirit.A Cry From Behind Closed DoorsRecently, the Holy Spirit allowed me to see a brief vision. I saw the image of an influential pastor in his office. Didn't know who he was specifically, I just knew that this person led a recogn


12 Common Dream Categories—How Many Have You Had?
Dreams are as diverse as the languages we speak, the clothing we wear, and the food we eat. Dreams are a communications expression of the creative heart of God. As the Master artistically paints each flower of the field, so dreams are individually, tailor-made for you and me.What are dreams made of? Are they spiritual gifts given for us to unwrap? Revelatory dreams naturally fall under the spiritual gift of prophecy. Yet they are too broad to be confined neatly and strictly just to one gift. Dre


Israel's Prophetic Role With the Worldwide Church
Israel is in many ways a parable for the worldwide church: on the one hand manifestly incomplete and deficient, yet on the other beneficiary of the divine promise of "completion, " "perfection" and ultimately "peace"—all of which stem from the same Hebrew root from which we get the well-known word "shalom.""I am confident of this very thing, that He who began a good work in you will perfect it until the day of Jesus Christ" (Phil. 1:6).Of course, both Israel and the church have seen great


'I Saw Lightnings of God Strike the Earth'
Ryan LeStrange says the Lord is about to respond to those who are thirsty for more of Him.In a recent episode on It's Supernatural! With Sid Roth, LeStrange says he had a vision of the lightnings of God that are about ready to come to those areas of the world that are dry and thirsty for more of God.What does this mean? Watch the video to see.


How This Christian Soul Singer Achieved Victory Over Pornography
Jimmy Needham first encountered pornography when he was just nine years old. For years, it held him back in his Christian walk. He felt like an inauthentic follower of Christ. Then he experienced an incredible breakthrough. He explains how in this video testimony.


Pope accepts resignation of Nigerian bishop rejected by priests...
Pope Francis backed down Monday and accepted the resignation of Nigerian bishop who had been rejected for years by the priests of his diocese, setting a precedent that could have repercussions in Chile and elsewhere when papal authority is challenged. The announcement came after Francis in June issued a harsh ultimatum to the priests of Nigeria's southern Ahiara diocese...


10 books that every boy should hazard...
Thanks to the adulterators of children's literature, the natural anticipations when approaching forgotten classics have been skewed. Everyone expects that everything will be picturesque, nice, and most importantly, safe. For reality is far too dangerous, far too harsh a thing, and children must be protected from it at all costs...


Acts 2:42 (42) And they continued steadfastly in the apostles' doctrine and fellowship, in the breaking of bread, and in prayers. Two key ideas are important if we are to grasp the biblical teaching on "fellowship." The first is that, in the New Testament, what we have in common is shared, to begin with, because of a common relationship that we all have together in Christ. We can have fellowship and share with each other because we have a relationship with Chris


Mr. Rogers, were you talking to me?
When I was an adolescent, our Catholic girl's group made a large batch of cards for the residents of a nursing home. "You are loved," we spelled out over and over again, switching to scented markers when we got bored. We added a few stickers, then we threw all the cards in a bag to be delivered, and we got back to our real lives...


Beware of This Vicious Trap That Entangles Countless Moms
The game of comparison is such a common yet harmful trap. To compare is to examine two things to find similarities and differences. It is to measure one thing against another. As women, we begin the game of comparison at an early age. We compare dresses and shoes and dolls, then bra size and boyfriends and weight, and then cooking ability and the cleanliness of our homes. When we find ourselves becoming less than successful in any area of our lives, we many times find comfort in unearthing the k


Is South Africa's Drought a Spiritual Result of Genesis 12:3?
We live in a very modern world so much so that the mere ability to read this article is the result of a sophisticated electric grid, an internet that's turned the world into a virtual community and any number of devices on which this can be read. Innovation and technology has abounded more in the past generation than perhaps any before. Nevertheless, there are things we cannot control or innovate, such as the elements. Whether the destruction of a hurricane or tornado or the need for rain to que


If You Want to Unlock God's True Destiny for Your Life, Yield to the Refiner's Fire-Part 2
"I counsel you to buy from Me gold refined by fire" (Rev. 3:18a).There is a refiner's fire for the Master's use. This authentic fire deals with the heart. It brings awareness of where the heart really is. I saw this in the Pensacola outpouring in the 1990s. Many did not understand this fire because it came with many unusual physical manifestations. Critics of that revival got bound up in their thinking focusing on the manifestations instead of what was happening in the hearts of the people."In o


Teacher Who Shielded Students From Bullets Dies After Parkland Attack
The heroic high school athletics coach who reportedly saved the lives of many of his students during the mass shooting yesterday has died. The news comes from the Marjory Stoneman Douglas High School football team's Twitter account, which confirmed Aaron Feis' death in a post early Thursday morning.Broward County Sheriff Scott Israel had mentioned in an evening news conference that a football coach had died, but did not identify him at the time.As Faithwire previously reported, witnesses de


Blessed Paul VI to be canonized this year, says Pope Francis...
Pope Francis has said he will proclaim Blessed Paul VI a saint later this year, and joked that he and Benedict XVI are "on the waiting list." At the end of a closed-door question and answer session with priests of Rome on Thursday, the Pope said it will be a "holy year" for Paul VI. "There are two Bishops of Rome who have recently become saints: John XXIII and John Paul II...


When you fast, are you degrading your body?
We are, each of us, unities of matter and spirit, body and soul. We are made from the dust of the earth and the breath of God. We're neither mere matter nor ghosts trapped in bodies. We're bodily persons. We are created good, but fallen — body and soul. God came to earth, not as an angel or a ghost, but as a man. He became incarnate...


Did Gloria Copeland Really Say Not to Get the Flu Shot?
Last week, Gloria Copeland recorded an encouraging message praying for those who have the flu, and she also talked about how to stand against the flu in faith. You may have noticed from news reports and social media comments that there are a lot of people who do not agree with our stance on the Word of God, including healing and the flu. This has led people to question if you can really have victory over sickness like the flu.Let's Clear the AirLet's clear a few things up about Gloria's talk abo


Correcting 5 errors in Fr. James Martin's latest tweet about homosexual marriage...
Fr. Martin's charge that straight employees are not removed from their jobs at Catholic institutions for breaking their employment contract over matters of sexual morality is simply wrong. The comments on his Twitter feed provide multiple examples of heterosexual employees being fired for breaking their contract by giving bad moral example and violating Catholic morality...


What we do with our body affects our soul. That's why we fast.....
Have I said it before? I shall say it again: "Every argument is a theological argument." So why do we fast? What difference does it make if I eat a huge hamburger on a Friday or not? Isn't that just a dumb rule? Let's start at the very beginning... There is this heresy called Gnosticism and Gnosticism has lots of different forms...


Jesus didn't look the way you thought he did...
You know how you picture Jesus? Like most of the pictures at church, right? You're probably wrong. Let me say right away that doesn't matter. As long as Christians have made pictures of Jesus, everyone's made Him look like them. St. Paul told the Christians in Corinth that He became all things to all men, so that He could save some...


Pope urges youth to go online and give the Church an earful...
In his noontime Angelus address on Sunday, Pope Francis essentially invited youth of the world to go online and give the Catholic Church an earful, as part of an upcoming March gathering of young Catholics ahead of a Synod of Bishops on youth in October. "A month from now, March 19 to the 24, around 300 youth from the entire world will come to Rome for a preparatory meeting for the synod in October...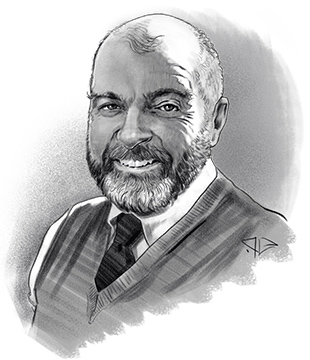 What's happening in Vatican-China talks? The necessary background.....
What do we know for sure about the situation? Not much—and that's the first important caveat that covers much of the information set forth below. Neither the Vatican nor the Chinese government is offering any detailed information about the proposed agreement. That perfectly normal; in any negotiations, both sides ordinarily choose to avoid public disclosure...


The quiet progress of the Pope's anti-abuse commission is a hard sell...
As President John F. Kennedy famously said after the Bay of Pigs disaster in 1961, more or less paraphrasing Tacitus, "Victory has a thousand fathers, but defeat is an orphan." The odd thing from a media point of view is that it's often precisely the opposite way around - failure is a celebrity, success a nobody. That is to say...


The Devastating Truth About School Shootings in America
Those of us who have not lost a loved one to an act of wanton violence cannot fully relate to the agony being experienced by the families and friends of the victims of the Parkland, Florida school shooting. Who can imagine the shock, the trauma, the pain, the disorientation, the overwhelming sense of loss?At least 17 dead and a number of others injured. Young lives, full of dreams, cut down in a moment of time and gone from this life.This, alone, is devastating news, more than we can readily pro


Wood and water work wonders! A homily for the First Sunday of Lent.....
On the first Sunday of Lent the readings have a baptismal theme. This makes sense, for it is common that on this day the catechumens report to the Bishop for the Rite of Election, who officially recognizes them as the elect of God in these final weeks before their baptism. In today's readings there are actually many themes; they seem to form the spokes of a wagon wheel...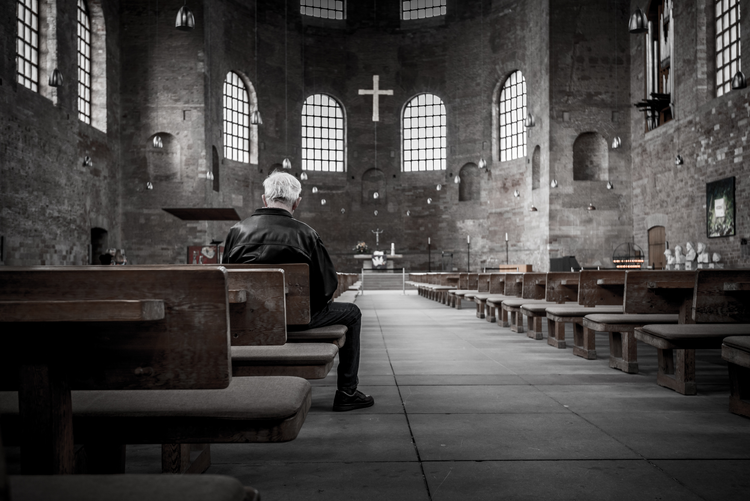 Dear regular Mass-goers: The seats at the end of the pew aren't for you...
My work took me away from home a lot last fall, and so I was at a different Catholic parish every weekend. All the same Catholic Mass—and, depressingly, the same experience of being the unwelcomed stranger in a strangely familiar land. Many of the parishes had a greeter smiling at the front door with a bulletin in hand. There was often an invitation from the pulpit for all visitors to stand and be welcomed...


Ecclesiastes 2:24-26 (24) Nothing is better for a man than that he should eat and drink, and that his soul should enjoy good in his labor. This also, I saw, was from the hand of God. (25) For who can eat, or who can have enjoyment, more than I? (26) For God gives wisdom and knowledge and joy to a man who is good in His sight; but to the sinner He gives the work of gathering and collecting, that he may give to him who is good before God. This also is vanity and grasping f


How Blessed John Henry Newman helped to inspire the German anti-Nazi resistance...
Seventy-five years ago, on February 18, 1943, Hans Scholl and his sister Sophie were caught distributing anti-Nazi leaflets in Munich University. Five days later they were tried and executed for high treason on Hitler's direct orders. The Scholls belonged to a group of students who, using the nom de guerre of the White Rose, spoke out against National Socialism and circulated thousands of leaflets telling Germans of their moral duty to resist Hitler and his "atheistic war machine"...


Pence Fires Back at 'View': Faith Is Not a Mental Illness
Vice President Mike Pence hit back Wednesday at comments made on ABC's The View comparing his hearing from Jesus Christ to mental illness.On Tuesday, the panelists on the talk show discussed former White House staffer Omarosa Manigault Newman's recent comment on the reality TV show Celebrity Big Brother about Pence's faith. She said, "I am Christian, I love Jesus, but he thinks Jesus tells him to say things."On The View, Joy Behar commented, "It's one thing to talk to Jesus. It's another thing w


'Angels Were Watching Over' Mother Who Wandered the Woods for Days After Near-Fatal Wreck
Her sister credits prayers and angels for saving Lisa Holman's life.The Alabama mother made national headlines last week when she disappeared after her car crashed down an embankment."Believe in the power of prayer,'' Holman's sister, Kathy Holman Caufield, tells AL.com. "I believe angels were watching over her and protecting her every step of the way. I don't have any shadow of doubt about that."According to ABC, Holman's vehicle was found wrecked Friday sometime after 9 p.m. off CR 36 bet


What Beth Moore, Ann Voskamp, Kay Warren and More Want You to Consider About This Major Issue
As the national political debate shifts to a focus on immigration, some of the most influential evangelical women in the country are featured in a new video designed to remind Christians that the immigration is more than a political, cultural or economic issue: it is also an important biblical theme.In a short video produced by World Relief, the women read the words of Jesus recorded in Matthew 25:31-46, with an emphasis on Jesus' words of identification with vulnerable foreigners: "I was a stra


5 Ways Christians Should Pray Following a Mass Shooting
The mass school shooting that took place in South Florida was a tragic act of violence that shows demonic activity is alive. This shooting was purely from Satan. It was anti-God. It was evil. We have a desperate need for God's peace.Now is the time to turn to God in prayer. I encourage you to pray through several psalms as you process what happened at Marjory Stoneman Douglas High School in Broward County, Florida.How Should You Pray, in Response to the Shooting?Pray for God's peace and comfort


Legendary Olympic Gold Medalist Breaks Down the Moment Faith Drove Out His Fear
Scott Hamilton is still a name known well around the figure skating world.The Olympic gold medalist, though, has more to his name than athletic titles; his enduring faith inspires millions.In the second edition of his I Am Second film, Hamilton opens up about the brain tumor that changed his life and how God brought him through.



Congrats to Bermuda for reversing 'same-sex marriage'...
Last year a court, as happens so often these days, unilaterally imposed 'same-sex marriage' on Bermuda. That judicial fiat has now been legislatively reversed and, while "domestic partnerships" are recognized in Bermuda, some of which partnerships will make it legally easier for same-sex partners to carry on their common life...


In London stands a statue of the long-forgotten Lenten king...
As Lent starts there is a statue in central London that it would be good to contemplate It is not a religious statue, nor is it well known. Standing in the heart of London, outside the National Gallery, the statue is passed daily by the multitudes, and forgotten just as quickly as it is noticed — if indeed it is registered at all...


Palestine asks Vatican to defend Jerusalem's status quo...
The Palestinian Foreign Affairs minister, Ryadh al Maliki, met officials of the Vatican Secretariat of State Feb. 16, asking the Holy See to amplify its voice defending the status quo in Jerusalem. "It is important to understand that the situation of Jerusalem also deals with Christians," the minister told CNA after the meeting...


3 types of people who secretly enjoy being miserable...
Let's face it. Some people enjoy being miserable. Here's why. When I ran a business training company before I was ordained we used a personality type program to help people improve working conditions. I soon realized that there were three personality types who gain pleasure from being miserable.


2 Corinthians 4:17 (17) For our light affliction, which is but for a moment, is working for us a far more exceeding and eternal weight of glory, To help us endure hardship, Paul gives us a valuable mindset when he says our suffering "is working for us a far more exceeding and eternal weight of glory." To see our afflictions as light (Matthew 11:30), we must recognize the value of our calling. We would do well to consider its benefits often. As Paul i


Remembering that we are dust, as seen in an eerie video...
It is my usual Friday routine to feature a video (often a commercial) and draw some biblical or spiritual principle from it. The video below is no commercial; it is post-war footage from Berlin in July of 1945. Interestingly it is in color, but it can only be described as eerie. People walk about among the ruins in something of a daze...


Ravi Zacharias Brilliantly Refutes Skeptic Who Says the Bible Isn't Necessary to Be Good
A skeptic asserts to Ravi Zacharias that the Bible and Christianity aren't necessary to be moral, since non-Christians people don't run around constantly committing crimes. Zacharias answers his question with another question: "Do you lock your door at night?" The exchange, which has been excerpted into viral clips across the Internet, can be seen in its original form here.


These Prophetic Clues Point to God's Ultimate Plan
One of the most beautiful features of the Bible is that within the text we find constant reminders of the amazing plan that G-D established from the moment of creation. His plan is told to us over and over, as we read through the text, page by page. The more one reads the Scriptures, the more these drop-in prophecies are revealed, and the more our faith in G-D is established line upon line.Many of these prophetic clues were placed within some of the sections of Scripture that many of us skim thr


5 Telltale Signs You're Having a Spouse Attack
Over the course of being married, either spouse can get what I call a spouse attack. I don't mean times when your spouse might be yelling at you, although it might happen then as well. Rather what I mean by a spouse attack is having a moment when all of a sudden, out of the blue, a flood of negative thoughts hits you about your spouse. These spouse attacks are almost like panic attacks.You're all of a sudden focused on negative thoughts of things they have done or haven't done over the years of


Jentezen Franklin: How to Fast for Your Profound Breakthrough
Very early on in my ministry I discovered the power and the need for fasting. I learned this as a teenager when I participated in my very first fast. Little did I know then that this powerful act would have such a profound effect on the ministry God had for me and on the lives I have come in contact with, and that includes my own family. Since we began the 21-day fast at our church over 15 years ago, we have seen miracle after miracle and breakthrough after breakthrough and not just during that


Bill Hamon: We Need Prophets Now More Than Ever to Influence the 7 Mountains
Bill Hamon believes prophets are going to change the world. He says, in this season, it's more important than ever to have prophets and Spirit-filled Christians influencing the seven mountains of culture. After all, he says, "Every successful endeavor in the Bible was based upon hearing the voice of God and properly following through."


Truly Knowing God Begins With This Personal Revelation
"You shall know (ginosko) the truth, and the truth shall set you free" (John 8:32).I have had several people tell me, "Well, I read your book and tried what you said, and it didn't work for me." To see if they know the truths in the book, I respond by asking what exactly they tried. If it was the four keys to hearing God's voice, they often only tried a couple of them, and when I ask them what the four keys are, they generally are not even able to state all four.If they did t


Joyce Meyer: How to Conquer Your Sin Problem
Many years ago, when the Lord first called me into ministry, I felt Him prompting me to quit smoking. I had smoked since I was 9 years old, and frankly, I liked it. My flesh did not want to quit smoking...and it was hard.My husband, Dave, used to smoke, but when he decided to quit, he just did it one day with seemingly no struggle at all, which only added to my frustration. I, on the other hand, quit and started again multiple times before I was successful.I had to "get it" that until I loved Go


You Weren't Made to Fit in With the World—Or the Church
Do you know what the great thing about you is? You were created wonderful and unique (Ps. 139:14). God made you different!. He made you peculiar (Deut. 14:2).Somehow the church has moved into copying the world's view. We take from it and try to fit our God in it. God gave us creativity to exemplify His glory. Yet we, the body of Christ feel the need to fit in.We repeat the world's slogans. We emulate its style. We follow its trends instead of setting our own. It's as if we are not cool unl


RT Kendall: Expect These 3 Surprises When You Get to Heaven
"I expect three surprises when I get to heaven."So Martin Luther, the German Reformer who turned the world upside down in the sixteenth century by his rediscovery of justification by faith alone, is often quoted as saying. First, there will be people in heaven he did not expect to be there. Second, there will be people not present in heaven he was certain would be there. Third is the greatest surprise of all—that he is there himself!I suspect Luther was right in his speculation. I think ma


How to Spot Imitation Christianity
Our American culture is one of emulation. People emulate athletes, movie stars, celebrities and so on. Emulation is rampant in our culture. In fact, it is so rampant that for decades it has become pervasive within the American church.American Christians often emulate worship leaders, pastors, teachers, "Christian celebrities" and more. The problem is that God does not want us emulating people; He wants us emulating Him.Just as each person has unique DNA, so too does each person have a unique spi


When Hillsong Pastor Carl Lentz Acted Like Peter in the Courtyard
It's easy to pretend we wouldn't make the same mistake Peter did of denying Jesus in the courtyard, but any of us could fall prey. Hillsong Pastor Carl Lentz knows this too well. In an interview with The 700 Club, he reveals a moment of weakness when he "literally walked away" from someone asking about Jesus and explains how his new book can stop others from making the same mistake.


On Cardinal Cupich's problematic, convenient conscience...
When I first became Catholic, over twenty years ago, I focused much of my writing on apologetics and controversies with various forms Fundamentalist or Evangelical Protestantism. As I already knew, having grappled with them myself, the key points of contention were authority and the papacy, Scripture and Tradition, beliefs about Mary (I was asked more than once by Protestant friends: "How can you join a Church that worships Mary...