Reds Place Raisel Iglesias On Disabled List
The Reds announced this afternoon that they've placed closer Raisel Iglesias on the 10-day disabled list due to soreness in his left (non-throwing) biceps. Fellow righty Austin Brice is also headed to the DL thanks to an upper back injury. In their place, the Reds activated righties Michael Lorenzen and Tanner Rainey from the disabled…


Released: Tazawa, McGowan, Cunningham, Campos
Several players have recently gone onto the open market after being released by their respective organizations: Veteran reliever Junichi Tazawa has been released after clearing waivers, the Marlins announced. Miami will remain responsible for the rest of his $7MM salary for the current season, less any eventual earnings at the MLB minimum rate. Tazawa was one…


The White Sox have agreed to a minors deal with outfielder Alex Presley, with a club announcement confirming the report of MLBTR's Steve Adams (on Twitter). The Sports Pro Services client will report to the organization's top affiliate in Charlotte. Presley had recently opted out of his deal with the Orioles, taking his release when…


Reddick goes on DL with persistent infection
The Astros placed outfielder Josh Reddick on the 10-day disabled list on Wednesday because of a lingering infection near his left knee. Jake Marisnick was recalled from Triple-A Fresno in a corresponding move.


Mariners Select Contract Of John Andreoli
The Mariners announced that they've selected the contract of outfielder John Andreoli from Triple-A Tacoma and optioned right-hander Dan Altavilla to Tacoma in his place. Seattle had an open spot on the 40-man roster, so a corresponding move in that regard wasn't required. Andreoli, 28 in early June, will be making his first appearance in…


Click here to join MLBTR Live Chat With Jason Martinez: May 23, 2018


Yankees Select Contract Of Ryan Bollinger
The Yankees announced today that they have selected the contract of lefty Ryan Bollinger. He will be added to the active roster for tonight's game. A corresponding 40-man move is not necessary, as the Yankees had an open spot still available. The club still has plenty of flexibility for the time being, as several players…


Nationals Designate Carlos Torres, Recall Erick Fedde
The Nationals announced today that they have designated righty Carlos Torres for assignment. His active roster spot will go to prospect Erick Fedde, who was recalled to make a start today, as Chelsea Janes of the Washington Post reported yesterday on Twitter. Torres, 35, helped the Nats through some bullpen injuries and carried a solid…


A's Place Khris Davis On DL, Designate Wilmer Font, Recall Franklin Barreto
The A's announced a series of roster moves on Wednesday, placing slugger Khris Davis on the 10-day DL due to a strained right groin and designating right-hander Wilmer Font for assignment. In place of Davis and Font, the A's have recalled top infield prospect Franklin Barreto and right-hander Daniel Gossett from Triple-A Nashville. [Related: Oakland…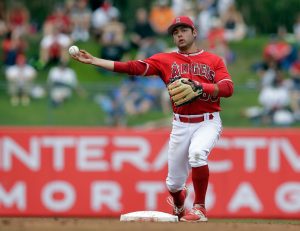 Knocking Down The Door: Alcantara, De Los Santos, Fletcher, Jimenez, Santana
"Knocking Down the Door" is a regular feature that identifies minor leaguers who are making a case for a big league promotion. Sandy Alcantara, SP, Marlins (Triple-A New Orleans) | Marlins Depth Chart In this rebuilding season, the Marlins are taking the opportunity to evaluate several young starting pitchers at the Major League level. Dillon Peters and…


Jake Faria Out At Least Six To Eight Weeks; Rays Select Contract Of Vidal Nuno
3:10pm: Rays manager Kevin Cash revealed that Faria will be out for a fairly substantial amount of time, with an absence of six to eight weeks likely being on the short end of his realistic timeline to return (Twitter link via Topkin). He could be sidelined into August, Topkin adds. 2:24pm: Nathan Eovaldi is going…


Astros To Place Josh Reddick On DL, Recall Jake Marisnick
The Astros will place outfielder Josh Reddick on the 10-day DL to address a leg infection, per MLB.com's Brian McTaggart (via Twitter). Houston will recall fellow outfielder Jake Marisnick to take the open roster spot. Reddick last appeared in a game on Sunday, so the placement can be backdated to Monday. He'll be eligible to…


Haniger hit by pitch on right wrist, day to day
Mariners right fielder Mitch Haniger exited Tuesday night's 3-2 win over the A's in the bottom of the fifth inning, not long after he was hit on his right wrist by a pitch from Oakland starter Trevor Cahill.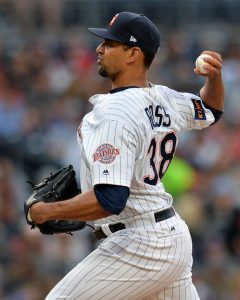 Trade Candidates: Padres Starters
While some other youthful National League clubs have shown big strides thus far in 2018, the Padres remain buried in the NL West and don't seem to be going anywhere this season. The rotation's performance, to be sure, has not helped matters. But that doesn't mean it can't be a source of some summer trade…


Ramirez's 14th HR sparks Tribe's Wrigley rout
Jose Ramirez's 14th home run -- a three-run shot -- Yonder Alonso's three-run double and Chicago native Jason Kipnis' two-run single provided monumental support for Trevor Bauer, who tossed six scoreless innings in the Indians' romp at Wrigley Field. Cubs starter Tyler Chatwood walked six and exited in a four-run third and Mike Montgomery allowed six more runs before Ian Happ's ninth-inning homer prevented a shutout.


Pitchers are staying away from Arenado
Forgive Rockies third baseman Nolan Arenado for angrily splintering his bat on the Dodger Stadium dugout floor after a seventh-inning strikeout during Monday night's 2-1 Rockies victory. He hasn't had opportunity to hit much of anything hard during an odd two weeks.


Bumgarner on track for Saturday rehab start
Madison Bumgarner threw a 30-pitch simulated game prior to Tuesday's game at Minute Maid Park, and the Giants' ace is on track to pitch on Saturday for Triple-A Sacramento in a rehab assignment.


Ozzie 3, Phils 1: Albies scores all the runs in win
Ozzie Albies' impressive night helped keep the Braves in first place in the NL East. Albies hit his 14th homer of the season and scored all Braves runs in a 3-1 win over the Phillies on Tuesday night at Citizens Bank Park. Atlanta starter Brandon McCarthy kept the Phillies' bats quiet for 5 2/3 innings as the Braves stretched their division lead back to 1 1/2 games. Philadelphia starter Vince Velasquez struck out nine in just 4 1/3 innings, but Albies took him deep in the third, and the Braves a


Brewers become first NL team with 30 wins
The Brewers' formula this season has been simple: Scratch out a lead, hand the baseball to Josh Hader and see how many opposing hitters the long-haired left-hander can mow through. Now All-Star closer Corey Knebel is back in the mix, too, sealing a 1-0 Brewers win over the D-backs at Miller Park on Tuesday, with Domingo Santana driving in the game's sole run on a sacrifice fly.


Sale K's 9, dominates Rays for fifth victory
Chris Sale had his lethal fastball and putaway slider working in concert on Tuesday night at Tropicana Field, flustering the Rays and leading the Red Sox to a 4-2 victory in the opener of a three-game series.


Bautista's day starts in Fla., ends in Mets' lineup
About four and a half hours before their game against the Marlins on Tuesday, the Mets agreed to terms on a one-year deal to bring Jose Bautista to Flushing, adding some right-handed thump -- albeit 37-year-old thump -- to a lineup in obvious need of it. The Mets just so happened to be facing a left-handed pitcher that night, creating an ideal situation for their newest player.


Morales' HR keys 5-run 1st in win over Angels
Kendrys Morales is finally starting to show some signs of life at the plate. Morales went 2-for-3 with a home run and two RBIs to help snap the Blue Jays' four-game losing streak with a 5-3 victory over the Angels on Tuesday night. Josh Donaldson chipped in with a pair of doubles while veteran lefty J.A. Happ tossed seven strong innings to earn win No. 6 on the year.


Taylor, Puig spark Dodgers with back-to-back HRs
Chris Taylor and Yasiel Puig slugged back-to-back home runs off Bryan Shaw in the bottom of the sixth inning Tuesday night, powering the Dodgers to a 5-3 comeback win over the Rockies. Ian Desmond had helped Colorado take a one-run lead with a homer and an RBI single, but Los Angeles rallied to its fifth win in six games.


Quick Hits: Hicks, Swihart, Reyes, Nolasco
Cardinals reliever Jordan Hicks became the second pitcher ever (after Aroldis Chapman) to hit the 105mph mark, tossing two fastballs at that epic speed during an appearance against the Phillies on Sunday.  As The Athletic's Mark Saxon writes in a subscription-only piece, Hicks' feat may represent the virtual limit of how fast a human arm…


Sanchez's RBI caps late White Sox comeback
The White Sox toiled all night at the plate, foiled by Orioles starter Kevin Gausman, who turned in one of the best outings of his career. But facing the bullpen was another story. Yolmer Sanchez's RBI single capped off a furious eighth-inning comeback as the White Sox stole a 3-2 victory from the Orioles on Tuesday night at Guaranteed Rate Field. The win was Chicago's fourth in its past six games, equaling a season high from a stretch in late April.


The Angels have requested unconditional release waivers on infielder Ryan Schimpf, as per the team's communications department (via Twitter).  After being acquired from the Braves on March 31, Schimpf appeared in five games for the Angels, totaling seven plate appearances. Schimpf, who just turned 30 last month, will again be on the move but this…


Segura's aggressiveness pays off for Mariners
Jean Segura scored the go-ahead run from first base on Guillermo Heredia's one-out double into the right-center-field gap in the 10th inning, as the Mariners topped the A's, 3-2, in Tuesday night's series opener. Oakland starter Trevor Cahill tossed seven strong innings, but Seattle's Mike Zunino hit a game-tying two-run homer in the seventh. Edwin Diaz worked a perfect 10th to close out the win.


7:47PM: The Angels received cash considerations for Carter, Mike Berardino tweets. 6:26PM: The Twins have acquired first baseman Chris Carter from the Angels, as reported by Steve Klauke, radio broadcaster for the Angels' Triple-A affiliate in Salt Lake City.  Chris Carter will report to the Twins' Triple-A affiliate in Rochester, as per Nate Rowan from…


Hamels makes statement in win over Yankees
If Cole Hamels was trying to make a statement as to who might be the best starting pitcher available by trade this summer, he delivered a strong one on Tuesday, holding the Yankees to two runs on four hits through seven innings in a 6-4 victory. After connecting for 5 homers in the series opener, New York hit another three, but the power wasn't enough to overcome the struggles of rookie starter Domingo German.


Draft Buzz: 2 potential 1st-rounders boost stock
Heading into this spring, one of the strengths of the 2018 Draft class appeared to be high school pitching, but that deep pool was hit by a number of injuries that left more questions than certainties.


Khris out of lineup, but could avoid DL stint
An injured Khris Davis was predictably missing from the A's lineup for Tuesday's game against the Mariners, but he remained on the roster and could potentially avoid a stint on the disabled list.


Diamondbacks Place Steven Souza On 10-Day DL
The Diamondbacks placed outfielder Steven Souza Jr. on the 10-day disabled list with a strained right pectoral.  This is the same injury that kept Souza from making his season debut until May.  Outfielder Socrates Brito has been recalled from Triple-A in a corresponding move. Souza originally suffered the injury in the last week of Spring…


Harper crushes NL-best 15th homer
Perhaps Bryce Harper's bat is beginning to heat up again. He crushed a solo home run to straightaway center field in the fifth inning against Padres left-hander Eric Lauer on Tuesday night at Nationals Park, his National League-leading 15th home run of the season.


Lynn rebounds as Twins shut out Detroit
Lance Lynn turned in his best outing of the season, throwing 6 2/3 scoreless innings to lift the Twins to a 6-0 win over the Tigers on Tuesday night at Target Field. Lynn, who scattered five hits and a walk, recorded an out in the seventh for the first time this year.


Angels-Blue Jays Thursday, only on Facebook
This week, Major League Baseball offers fans another unique viewing experience with the continuation of its digital-only broadcasts. Thursday's Angels-Blue Jays matchup will air live in the United States and Canada exclusively on Facebook. The finale to the three-game series at Rogers Centre is one of 25 streaming broadcasts scheduled for 2018 as part of MLB's partnership with Facebook.


Gleyber continues to sizzle with 7th HR of '18
Gleyber Torres' bat continued to sizzle on Tuesday. The Yankees rookie slugged the first pitch he saw from Cole Hamels into the left-field bleachers for a home run in the third inning, circling the bases for his fourth homer in as many games.


Boyd exits with injury in Tigers' 5th straight loss
The Tigers suffered their fifth straight loss Tuesday night. Matthew Boyd's abrupt exit with a left oblique spasm set up a three-run fifth inning, which was more than enough for the Twins behind Lance Lynn for a 6-0 Detroit defeat at Target Field.


Kemp's 5 RBIs, strong Cole propel Astros
Three doubles in the third inning ignited the Astros, Gerrit Cole held everyone but his brother-in-law in check and Tony Kemp and the latter part of the lineup thumped the Giants in an 11-2 win on Tuesday night at Minute Maid Park. Kemp, Houston's No. 9 hitter, collected five RBIs on a pair of two-run singles and a sacrifice fly. Cole struck out eight over six solid innings, the only blemish being a two-run homer allowed to his wife's brother, Brandon Crawford.


Marlins crack Mets behind Smith's stellar start
Caleb Smith struck out eight and held the Mets to three hits over 6 2/3 innings as the Marlins earned their first win of the season against their division rivals. J.T. Realmuto had three hits and plated a pair, and Derek Dietrich contributed a two-run homer. Jose Bautista doubled and scored New York's only run in his Mets debut, and Zack Wheeler took a hard-luck loss after striking out nine.


Hellickson's start cut short in 6th by blister
In the middle of another strong outing and given the trust to pitch deeper into the game, Nationals right-hander Jeremy Hellickson exited in the sixth inning of Tuesday's game against the Padres with an apparent blister on his pitching hand.


Hammel baffles Cards for first win in I-70 tilt
Alex Gordon and Salvador Perez launched solo home runs to help starter Jason Hammel, who went seven strong innings, pick up his first win of the season as the Royals evened the I-70 Series at one game apiece. Cardinals starter Luke Weaver worked with an early lead as Jose Martinez scored from third on a delayed double steal. Martinez was hung up and likely would have been out, but third baseman Mike Moustakas dropped the throw from Perez.


Crawford takes brother-in-law Cole deep
Excuse Brandon Crawford if he's a little overbearing and over the top at the next family gathering with his brother-in-law, Gerrit Cole. Crawford will have a lot to talk about, and with good reason. On Tuesday in the fifth inning, the red-hot Giants shortstop took the Astros' Cole deep into, of all places, the Crawford Boxes in left field at Minute Maid Park.


AL West Notes: Hamels, Wood, Ohtani, McCann, Chapman
Cole Hamels has a 20-team no-trade clause in his contract, though the veteran southpaw described his no-trade protection as "just kind of a formality" during a wide-ranging chat with NJ Advance Media's Randy Miller.  Hamels can block deals to every team except the Braves, Mariners, Phillies, Nationals, Rays, Cardinals, Cubs, Royals, and Astros, though it…


Injury Updates: Hill, Faria, Ramos, Smith, Bumgarner, Candelario, Boyd
Rich Hill's latest blister problem was originally estimated by Dodgers manager Dave Roberts to require a four-week DL stint, though the southpaw threw a full bullpen session today.  As Roberts explained to MLB.com's Ken Gurnick and other media, Hill was keeping his arm in shape while wearing protective tape over the injured middle finger of…


Rangers' bats stay hot with Profar, Guzman HRs
Jurickson Profar made his first career start at cleanup on Tuesday night and responded with a three-run home run in his first at-bat, and three innings later, Ronald Guzman added his second homer in as many games.


The Mets have signed Jose Bautista to a one-year, Major League contract, the team announced via Twitter.  The veteran slugger has already been added to the Mets' roster and is available for tonight's game; Phillip Evans was optioned to Triple-A in a corresponding move.  MLB.com's Anthony DiComo reported earlier today that the two sides were…


Harvey (6 IP, 1 ER) wins Reds home debut
Matt Harvey had his best start as a Red, tossing 6 innings and allowing just 1 run. He struck out 5, and got plenty of support from Scooter Gennett, whose grand slam highlighted a 6-RBI performance. Colin Moran and Austin Meadows homered for the Pirates, but Jameson Taillon (6 IP, 6 ER) was touched up.


The Rays are slated to promote infield prospect Willy Adames, according to Enrique Rojas of ESPNDeportes.com (Twitter link). He'll make his MLB debut at 22 years of age. Adames has long been billed as a high-end prospect, though he was relatively unknown when he was shipped to Tampa Bay as a key piece in the…


MLB Daily Roster Roundup: Adames, Gordon, Souza, Travis
ROSTER MOVES BY TEAM (May 21st-May 22nd) NATIONAL LEAGUE ARIZONA DIAMONDBACKS | Depth Chart Placed on 10-Day DL: OF Steven Souza Jr. (strained pectoral) Chris Owings is playing RF in Souza's absence. Promoted: OF Socrates Brito CINCINNATI REDS | Depth Chart Promoted: INF/OF Brandon Dixon (contract purchased) Optioned: OF/INF Rosell Herrera LOS ANGELES DODGERS | Depth Chart Promoted: SP Brock Stewart…


Boone ejected for 1st time as manager
It is a rite of passage for every skipper. Aaron Boone was ejected for the first time as a big league manager on Tuesday evening, tossed by home-plate umpire Pat Hoberg for arguing balls and strikes.


Dyson's leaping catch robs Santana of homer
D-Backs centerfielder Jarrod Dyson took a three-run homer away from Milwaukee's Domingo Santana with a leaping catch above the wall in center to end the fourth inning Tuesday night at Miller Park.


This is the most chill reaction to a walk-off ever
Michael A. Taylor, who has struggled at the plate this season, took a big sigh of relief after swatting a double off the center-field wall to bring home the game-winning run in the ninth inning. The Nationals center fielder kept the game tied in the sixth with a 98.8 mph throw to the plate to throw out a runner. Franchy Cordero (449-foot home run) and Bryce Harper (NL-best 15th homer) provided the early fireworks.


Pedroia, Altuve, Albies ... Madrigal?
Oregon State second baseman Nick Madrigal has aced the elements of the pre-Draft examination that he can control. He was the Pac-10's Player of the Year and Defensive Player of the Year as a sophomore. He broke his hand early in this junior season, only to recover and hit, as of this writing, .435 with a .620 slugging percentage. Teammates laud him as a leader. His coach unabashedly insists Madrigal could go straight from the Beavers to the big leagues. In contact, speed and defensive ability, i


Vogt upbeat after season-ending surgery
Brewers catcher Stephen Vogt returned from season-ending shoulder surgery more upbeat than when he left. The fix, Vogt said, was less invasive than the worst-case scenario Vogt originally had in mind, requiring a significant repair of the shoulder capsule but more minor "clean-ups" of the rotator cuff and labrum. He hopes to be healthy for Spring Training 2019.


Bird's return will not mean Austin's departure
The Yankees' powerful lineup could add more muscle this weekend, with Greg Bird moving closer to a big league return. But his arrival may not necessarily spell bad news for Tyler Austin, who has done enough in manager Aaron Boone's eyes to retain a place on the roster.


Pomeranz pushed back to work on mechanics
Red Sox left-hander Drew Pomeranz, who has had a tough start to the season, will be pushed back a couple of days in the rotation and will take his next turn on Saturday -- at which time he will have seven days of rest.


2B Travis recalled, signaling Blue Jays' SS plan
Devon Travis admits that his career took a step back earlier this year, but he hopes even more adversity will turn him into a better Major Leaguer. Travis rejoined the Blue Jays on Tuesday after he was recalled following a three-week stint in the Minor Leagues.


Astros show support for Santa Fe shooting victims
Astros players wore green "WE PLAY FOR SANTA FE" T-shirts during batting practice prior to Tuesday's game against the Giants in honor of those killed and injured in last week's shooting at Santa Fe High School, about 35 miles south of Houston.


Plawecki to begin rehab stint Wednesday
When the Mets acquired Devin Mesoraco from the Reds earlier this month, they indicated that Mesoraco's health history -- two hip surgeries and a shoulder operation, among other maladies -- would prevent him from playing every day. But Mesoraco has started most games at catcher for the Mets, largely because he has performed so well.


Padres' young hitters navigating info upgrade
When Franmil Reyes arrived in the Majors after his impressive stint at Triple-A, the Padres outfielder received all the trappings of a big leaguer, including more information about hitting and pitching than he knew what do with.


Who will follow Rays, Romo with next 'opener'?
Now that Sergio Romo and the Rays have proven that the idea of an "opener" can work, we know that some other team will copy the idea, and soon. Who will it be? Whichever team does it has to do it properly. Here's some ideas.


Minor MLB Transactions: 5/22/18
Here are the day's minor moves: Southpaw Jairo Labourt has been released by the Tigers, as Evan Woodberry of MLive.com covers on Twitter. Despite being a popular waiver wire target over the offseason, the 24-year-old lefty has not been in good enough form even to join an affiliate to this point. The Tigers originally acquired him…


Castillo contrite over benching for lack of hustle
One day after Welington Castillo was pulled from a 3-2 loss to Baltimore for not running out a routine sixth-inning popout to first base, the White Sox catcher returned to the starting lineup. The veteran understood and supported the move made by manager Rick Renteria, a move consistent with Renteria's basic requirement of playing hard on every play.


Mariners Place Dee Gordon On 10-Day DL With Fractured Toe
The Mariners announced today that outfielder/infielder Dee Gordon has been placed on the 10-day DL with a fractured big toe. He'll be replaced on the active roster for the time being by first baseman Dan Vogelbach. Just how long Gordon will be out is not yet known. The club says that he suffered the injury…


Wood to seek second opinion on injured UCL
Less than a week after learning that they would lose right-hander Keynan Middleton to season-ending Tommy John surgery, the Angels received more bad news about another key reliever. Right-hander Blake Wood underwent an MRI exam on Monday that revealed damage to his ulnar collateral ligament and will seek a second option before deciding on a course of treatment.


Mariners' Gordon to DL with fractured toe
The Mariners' search to fill their second-base position took another turn Tuesday as Dee Gordon was placed on the 10-day disabled list with a fractured right big toe.


Andrus' return on June 11 a stronger possibility
Elvis Andrus, on the disabled list with a fractured right elbow, has been cleared to start swinging a fungo bat, and the possibility grows stronger that he will be able to return by June 11, when he is eligible to be activated from the 60-day disabled list.


This is how the Braves managed to shock MLB
These Braves lost 90 games last year, 93 the year before that and 95 the year before that. This season figured to be another nonevent in Atlanta. Instead, the Braves are in first place (even after their loss to the equally surprising Phillies on Monday night).


Giants place Valdez on DL, recall Osich
The Giants placed right-hander Jose Valdez on the 10-day disabled list with right elbow inflammation (retroactive to May 19) and recalled left-hander Josh Osich from Triple-A Sacramento.


Adam's stock 'trending up' in Royals' bullpen
Amid the Royals' disappointing 14-33 start entering Tuesday's game against the Cardinals, there actually have been some pleasant surprises, such as rookie relievers Brad Keller and Tim Hill, and the continued development of outfielder Jorge Soler. And another surprise is impressing manager Ned Yost and his coaching staff: Right-hander Jason Adam, who made his debut on May 5 and through six outings has a 3.52 ERA.


Cards' Garcia celebrates his late grandfather
It was the kind of big league "opportunity a lot of kids don't have," Cardinals infielder Greg Garcia said on Tuesday when reflecting on the death of his grandfather. Dave Garcia, whose six-plus decades in the game included stints managing the Angels and Indians, died this week in San Diego. He was 97.


West Notes: Treinen, Melancon, Lincecum
Susan Slusser of the San Francisco Chronicle examines Athletics closer Blake Treinen's improved results since coming to Oakland last summer. The big righty has always shown phenomenal pure stuff in the majors, but had not quite figured out how to maximize it on the hill. While he's handing out less walks than before, he's also working…


Britton throws inning in simulated game
Zach Britton threw a 20-pitch, one inning simulated game Tuesday at Guaranteed Rate Field and will throw a two-inning simulated game Saturday in Tampa. If all goes well, he will begin a Minor League rehabilitation assignment next week at Triple-A Norfolk as he inches closer to returning to the Orioles active roster.


Souza goes on DL; D-backs call up Brito
The Arizona Diamondbacks recalled outfielder Socrates Brito from Triple-A Reno and placed outfielder Steven Souza Jr. (strained right pectoral) on the 10-day disabled list on Tuesday.


What to expect from Adames with Rays
The Tampa Bay Rays announced Monday that they will recall shortstop Willy Adames from Triple-A Durham ahead of the club's series-opener against the Red Sox. He'll make his Major League debut as the Rays' starting shortstop, batting fifth in the contest.


Yanks hit 5 HRs in historic win over Texas
The most potent lineup in the big leagues continued to slug at a historic pace on Monday, with the Yankees cracking another five homers in a 10-5 slugfest victory over the Rangers at Globe Life Park. Texas displayed power as well, with three long balls, but they weren't enough in the series opener.


Twins break tie in eighth to back stellar Berrios
Jose Berrios threw eight sharp innings, striking out nine and allowing two runs, and the Twins scored two in the eighth inning to take the series opener against the Tigers on Monday. Logan Morrison walked with the bases loaded in the eighth to drive in the eventual winning run and hand the Tigers their fourth straight loss.


Machado Show leads O's to win in Chicago
Manny Machado, Mark Trumbo and Adam Jones all homered for the Orioles and sparked a 3-2 victory over the White Sox at Guaranteed Rate Field. Brad Brach notched his seventh save of the season, as Andrew Cashner (2-5) picked up the win.


Gleyber shows elder Colon no respect with HRs
Gleyber Torres was three months old when Bartolo Colon threw the first pitch of his seemingly endless big league career. In his first at-bat on Monday, the Yankees rookie took the 44-year-old veteran deep.


Rosario's great catch, smart baserunning aid Twins
Twins left fielder Eddie Rosario was his typical entertaining self on Monday, sparking the go-ahead rally in the eighth with a double on a fastball way above the strike zone, tagging up and scoring on a shallow flyball to center for an insurance run and making a four-star catch into the left-field wall to end the game and preserve a 4-2 win over the Tigers.


Alfaro shows off incredible arm on 3 sweet plays
Phillies catcher Jorge Alfaro popped up from behind home plate, tossed aside his mask, scurried to retrieve the ball several feet away, spun and fired a throw to first baseman Carlos Santana to end Monday night's 3-0 victory over the Braves at Citizens Bank Park.


Vargas returns to form as Mets win 4th straight
Jason Vargas, whose turn in the rotation was skipped last time out, went five innings and struck out a season-high seven batters as the Mets extended their win streak to four. Asdrubal Cabrera's RBI double was the lone run given up by Rule 5 Draft pick Elieser Hernandez, who pitched five innings of one-run ball for the second straight start.


Bryce, Soto, Reynolds (2) hit HRs in rout of SD
Juan Soto, Bryce Harper and Mark Reynolds (twice) homered to back Gio Gonzalez's seven strong innings, as the Nationals took care of the Padres in the series opener. San Diego starter Robbie Erlin struggled to the tune of six runs over his four innings, although Franmil Reyes hit his first career home run for the Friars.