Braves Notes: Anthopoulos, Catching, Markakis, Relief Pitching, Pollock, Gray
The Braves burst out of the gates this winter with the signings of Josh Donaldson and Brian McCann, but it has been crickets in Atlanta ever since. Here's the latest … Appearing at a team-sponsored event, GM Alex Anthopoulos discussed the status of the team's roster-building efforts, as attendee and SB Nation contributor Stacy Marlow…


Reds Sign Buddy Boshers, Felix Jorge
The Reds have landed some additional pitching depth, signing lefty Buddy Boshers and righty Felix Jorge to minors deals, according to Bobby Nightengale of the Cincinnati Enquirer (Twitter link) and MLB.com's Mark Sheldon (Twitter link). Both receive invitations to participate on the major-league side of spring camp. Boshers, 30, has thrown 86 1/3 total MLB…


Luzardo leads list of Top 10 LHP prospects
Jesus Luzardo headlines our Top 10 LHP list, ranking as one of the top pitching prospects in baseball after a tremendous first full season in which he nearly reached the Major Leagues.


White Sox' Offer To Machado Reportedly Seven Years, $175 Million
In the weeks since the White Sox made a reported seven-year offer to Machado, several followup reports have pegged the offer's value as closer to $200MM than to $300MM. Now, ESPN's Buster Olney reports (via Twitter) that the exact value of Chicago's offer to Machado is $175MM over seven years — a $25MM annual value.…


Angels acquire Curtiss for bullpen depth
The Angels picked up some relief help on Tuesday by acquiring right-hander John Curtiss from the Twins in exchange for Minor League infielder Daniel Ozoria. To make room for Curtiss on the roster, right-hander Parker Bridwell was designated for assignment.


Brewers On Deck ready for pumped-up fan base
The annual Brewers On Deck event is sold out, a strong indication of fans' interest after the club's deep postseason run last year. Those in attendance will find a large contingent of Brewers players, coaches, alumni and staff taking part in the fan fest, too.


The MLB.com Hall of Fame ballot results are ...
Six MLB.com writers were among those eligible to cast ballots in the 2019 Hall of Fame vote conducted by the Baseball Writers' Association of America. As many as four candidates -- and possibly more -- could be elected, according to the public ballots amassed online. Here's a look at how the six voted.


Minor MLB Transactions: 1/15/19
Here are Tuesday's minor moves from around baseball… Former Yankees top prospect Slade Heathcott is retiring from the game, Heathcott himself announced this week (hat tip: Mark W. Sanchez of the New York Post). Now 28 years of age, Heathcott was the No. 29 selection in the 2009 draft and rated as the game's No. 63…


Jose Martinez offers rare skills at the plate
With Spring Training fast approaching, and Jose Martinez still on the St. Louis roster, the chances seem to be increasing that on Opening Day he will stay and serve as MLB's most overqualified pinch-hitter.


Marlins prospect Harrison can relate to Murray
Football, baseball or both? When deciding his career path in 2014, Marlins outfield prospect Monte Harrison found himself in a similar situation to what Kyler Murray currently is going through. Harrison is familiar with having to give up one sport for the other.


Click here to read a transcript of Tuesday's chat with MLBTR's Steve Adams.


This is why Dozier picked 1-year deal with Nats
Free-agent second baseman Brian Dozier said he had offers for more years and for more money than the one-year, $9 million contract he signed with the Nationals, but he believed D.C. was the "best fit."


Here's why a 3-team Kluber deal could happen
The Reds need a starting pitcher. The Padres are looking for a third baseman. The Indians would like to add outfielders. Could there be a match that would help all three clubs?


Blass to step away from mic after 2019
This will be Steve Blass' 60th year with the Pirates. He made his professional debut as an 18-year-old in 1960. He made his Major League debut as a 22-year-old in 1964. He was a World Series hero in 1971 and an All-Star in '72.


Angels Acquire John Curtiss, Designate Parker Bridwell
The Angels announced Tuesday evening that they've acquired right-handed reliever John Curtiss from the Twins in exchange for minor league infielder Daniel Ozoria. Minnesota designated Curtiss for assignment yesterday upon signing former Angels righty Blake Parker. In order to open space on the roster for Curtiss, the Halos have designated righty Parker Bridwell for assignment.…


Around the Horn: Rotation has options for '19
With Spring Training approaching, MLB.com is taking an in-depth look at the 2019 Rays, breaking the team down position-by-position. Today, we are focusing on the starting rotation.


Doug Brocail "In Line" To Become Orioles Pitching Coach
As they begin to build out a coaching staff, the Orioles appear to be nearing an agreement with Doug Brocail that would make him the team's next pitching coach. Dan Connolly of The Athletic tweets that Brocail is "in line" to land in Baltimore. If the sides do indeed put pen to paper, Brocail would…


Curtis Granderson Intends To Play In 2019
Curtis Granderson is hardly alone as a veteran free agent about whom there have been very few rumors this winter, but Ken Rosenthal of The Athletic tweets that Granderson "fully intends to play another year." It's been a year to the date since Granderson, 38 in March, agreed to a one-year contract with the Blue…


In the final installment of our 3 Remaining Needs series, let's take a look at the division that boasted the best and worst teams of the 2018 season. The AL East perfectly reflects the class warfare plaguing the American League, as the gap between the competitive upper class and, well, the Orioles could not be…


International Signings: Dodgers, Cardinals
Here are the latest reported deals on the international circuit … The Dodgers appear to have a deal in place with Taiwanese right-hander Lin Hui-Sheng, with Liberty Sports reporting the news and CPBL Stats tweeting it along. It's believed the youngster will secure a $300K to $350K bonus if and when he passes a physical. You can read…


Japan's Orix Buffaloes Purchase Contract Of Tyler Eppler
Japan's Orix Buffaloes have announced that they have purchased the contract of righty Tyler Eppler from the Pirates. The 26-year-old appears to have an agreement for an estimated $600K in 2019 salary, per a Kyodo News report. Though Eppler would have had a shot at making his MLB debut in the near future, he was…


MLBTR Poll: Best Value On A High-AAV, Two-Year Deal
Scanning down the board of MLBTR's top fifty free agents, it's easy to identify the large group of players who were good enough to command annual salaries approaching or exceeding ten million dollars, but as to whom contract length was in question entering the winter. Many of those players, in fact, have already agreed to…


The Rangers have claimed outfielder John Andreoli off waivers from the Mariners, according to club announcements. He had been designated for assignment recently. Whether this'll be the final landing spot for Andreoli remains to be seen. He was bumped from the Orioles' 40-man at the end of October, landing back in Seattle — where he…


Each team's lineup if season started today
We're less than a month away from Spring Training, so it's a good time to project what each club's Opening Day lineup will look like, or at least what it would look like if the season started today. With the help of all 30 MLB.com beat writers, here's a roundup of how they might shake out.


Long aims to be ready for life in big leagues
Many times since the inception of the Rookie Career Development Program in 1992, participants have gone on to play in the Major Leagues. But it's one thing to get there and quite another to stay. Reds prospect Shed Long certainly learned some things that he hopes can improve -- and extend -- his career.


Minor MLB Transactions: 1/14/19
It was a quiet day on the minor moves front, but there is one to catch up on … Lefty Daniel Schlereth has landed with the Red Sox on a minors deal, per Chris Cotillo of MassLive.com (via Twitter). He'll have to earn his way into MLB camp, as the deal doesn't include an invite. The…


Gomber ready to build on first look at Majors
Seven months after making his Major League debut and ahead of a Spring Training in which he'll compete for a rotation spot, lefty Austin Gomber joined three other members of the Cardinals' organization at Major League Baseball's Rookie Career Development Program last week.


Market Notes: Machado, White Sox, Mystery Team, Kipnis, Marwin
Despite recent reports that the White Sox have made an eight-year offer to Manny Machado, a parade of others are reporting that the team has not moved off of its previous seven-year offer. Bob Nightengale of USA Today tweeted that the ChiSox have not made any alterations to their original seven-year offer, which was put on the…


Phillies "Expected" To Make Offer To Bryce Harper Soon
4:45pm: Machado was the Phils' primary target at one point, per Fancred's Jon Heyman (Twitter links), but it's now much more even between him and Harper — if not slightly tilted in Harper's favor. The Phillies, according to Heyman, are expected to make a formal offer to Harper in the near future. Even if the…


The biggest offseason upgrades by position
As quiet as the offseason has seemed at times, there have been some important additions. With that in mind, here is a position-by-position look at which teams have done the most to upgrade weak spots.


Twins Designate John Curtiss For Assignment
The Twins announced Monday that they've designated right-handed reliever John Curtiss for assignment. His spot on the 40-man roster will go to Blake Parker, whose one-year contract is now official. A sixth-round pick by the Twins back in 2014, Curtiss was considered one of the organization's more promising relief prospects for much of the past…


MLBTR Chat: Harper And Machado Edition
As you might expect, today's live chat with MLBTR owner Tim Dierkes included many questions involving Bryce Harper and Manny Machado.  Click here to read the transcript.  You can catch Tim's chats every Monday at 2pm central time.


Phils set to pounce on Bryce; will Nats counter?
A new team has reportedly surpassed the Nationals as the presumptive favorites to land Bryce Harper, and with just about a month to go before the start of Spring Training, the market for the 26-year old former National League Most Valuable Player Award winner has taken yet another turn.


This could be MLB's most underrated rotation
There's the super-rotations we already know about in the Indians, Astros, Yankees and Dodgers. Patrick Corbin replenishes the top of the Nationals' depth chart, and the Mets remain strong given that their stars stay healthy. But here a few reasons why the Pirates' rotation could be MLB's most underrated starting unit in 2019.


Bote reflects on rookie season, walk-off slam
David Bote cracked a smile and laughed, but then the Cubs infielder was rendered speechless for a dozen seconds. The question sent his way during MLB's Rookie Career Development Program earlier this month was simple enough: Do you get tired ever of watching the video of the grand slam?


Yankees Designate Tim Locastro For Assignment
The Yankees announced Monday that they have designated infielder/outfielder Tim Locastro for assignment. His spot on the 40-man roster will to to veteran DJ LeMahieu, whose previously reported two-year deal is now official. New York acquired the 26-year-old Locastro from the Dodgers earlier this season, sending minor league righty Drew Finley to Los Angeles in…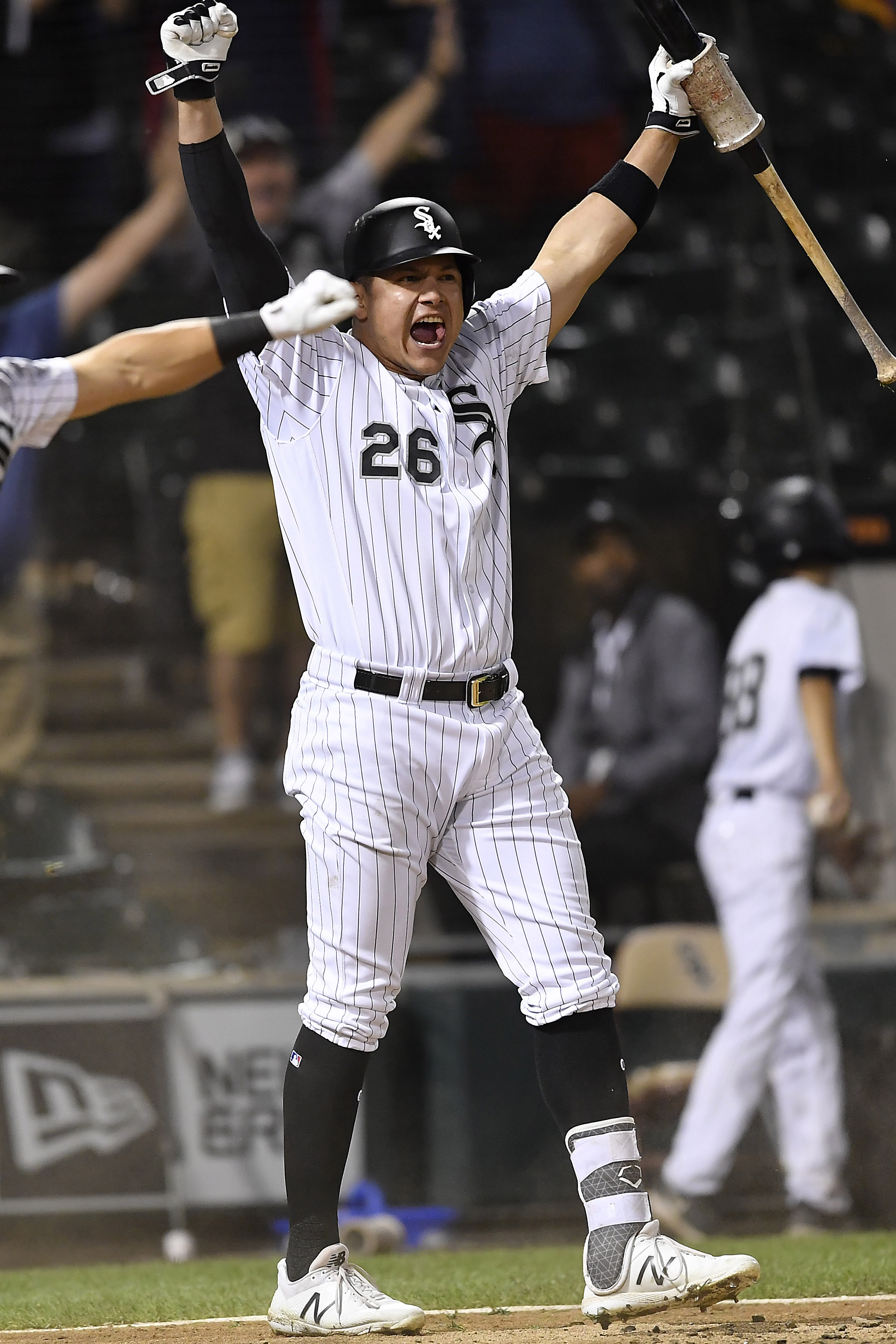 3:50pm: The two sides have an agreement, pending the completion of a physical, tweets Heyman. 3:31pm: The Athletic's Jim Bowden tweets that Garcia will earn $3.5MM guaranteed on the deal, indicating that there are roughly $2.5MM worth of incentives available to him. 3:28pm: Fancred's Jon Heyman tweets that Garcia is indeed finalizing a deal with…


Pitching Market Rumors: Giants, Gray, Rangers, Allen, Scrabble
The pitching market continues to proceed at a steady but unhurried pace, with today's reunion between the Giants and Derek Holland marking the latest signing of note. Henry Schulman of the San Francisco Chronicle was among those to cover the news from the team's perspective. While the organization has undergone front office changes since Holland wrapped…


Kyler Murray Declares For NFL Draft
Athletics outfield prospect and Oklahoma quarterback Kyler Murray announced today that he has formally declared for the NFL Draft. While this is a largely procedural move that was widely anticipated and does not preclude him from opting to continue as a professional baseball player, ESPN's Adam Schefter reports that Murray "has informed the Oakland A's…


Phillies Sign Lane Adams To Minor League Deal
The Phillies announced Monday that they've signed outfielder Lane Adams to a minor league contract and invited him to Major League Spring Training. Obviously, it's not the free-agent outfield addition that Phils fans were hoping they'd hear about today, but Adams will give the club a useful depth piece and a potential bench option for…


Berkman's numbers make interesting Hall case
The results of this year's Hall of Fame voting by members of the Baseball Writers' Association of America will be revealed Jan. 22 on MLB Network, and former Astros and Cardinals slugger Lance Berkman admits he's "mildly curious" to see how he fares.


Murray declares for NFL draft; MLB still possible
Ahead of a midnight ET deadline, two-sport star Kyler Murray announced on Monday afternoon that he has declared for the NFL Draft, but that decision does not necessarily mean Murray has turned down a future playing baseball. By declaring, the 21-year-old outfielder and Heisman Trophy-winning quarterback is keeping his options open without violating the terms of his contract with the A's, who selected Murray ninth overall in last June's MLB Draft. The practical deadline for Murray's final decisio


Holland said to have deal to stay with Giants
Left-hander Derek Holland has signed a one-year, $7 million contract with a club option to remain with the Giants, according to a report by MLB Network insider Ken Rosenthal on Monday. The Giants have not confirmed the deal.


Q&A with World Series MVP Steve Pearce
In a recent phone interview, World Series MVP Award winner Steve Pearce answered a wide range of questions, from his offseason to re-signing with the Red Sox.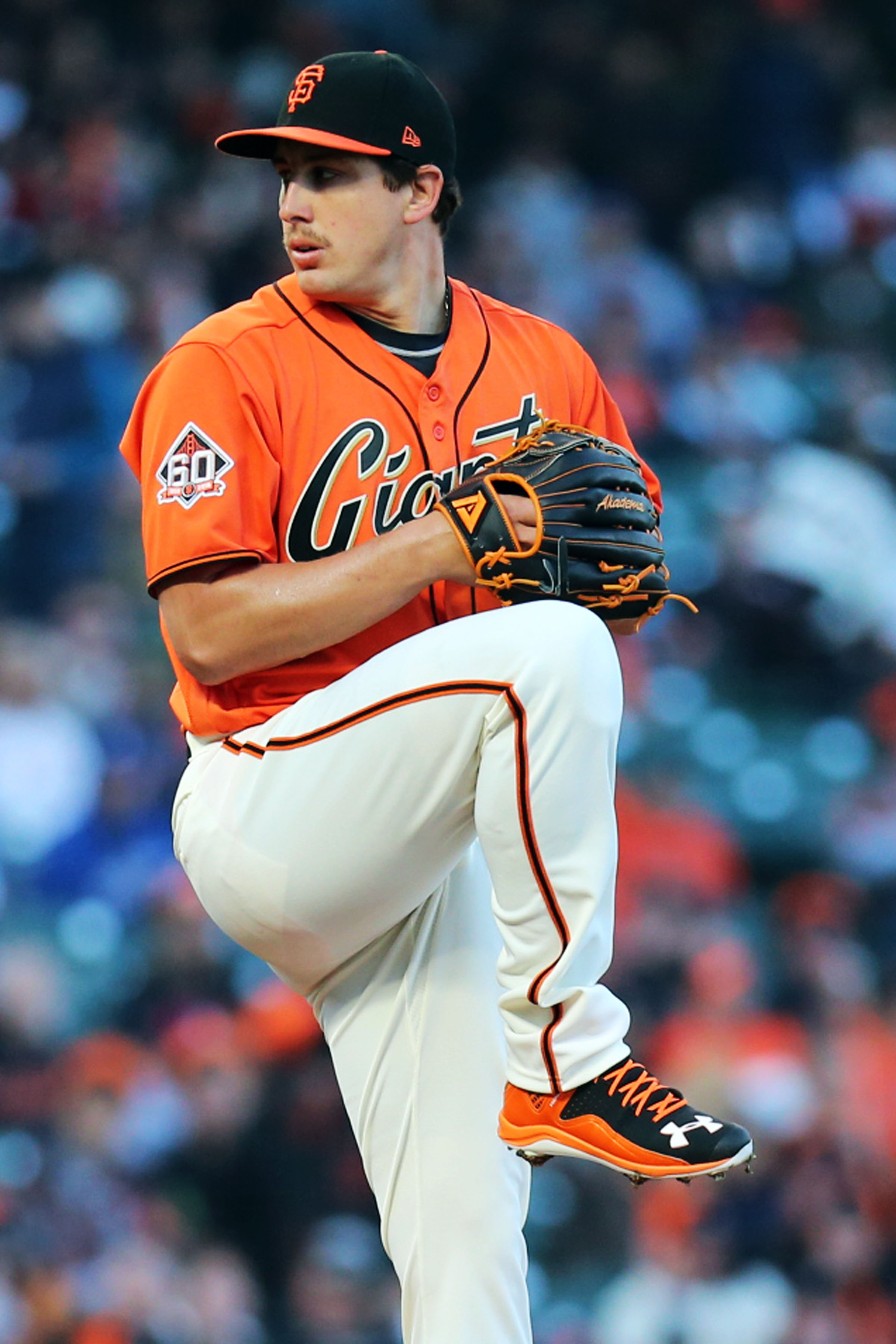 The Giants have made the first addition to their rotation under new president of baseball operations Farhan Zaidi, announcing on Monday that they've re-signed left-hander Derek Holland to a one-year deal with a club option for the 2020 season. Holland's contract reportedly comes with a $7MM guarantee in the form of a $6.5MM base salary…


Stottlemyre, New York baseball icon, dies at 77
Mel Stottlemyre, whose work as both a Major League pitcher and pitching coach made him one of the most respected men in the game, died Sunday in Seattle after a lengthy battle with bone marrow cancer. He was 77.


Mariners announce '19 Minors coaching staffs
Long-time Mariners coach Daren Brown will be back managing Triple-A Tacoma this season after spending the past three years running the club's Double-A franchise, as the Mariners announced their 2019 Minor League staffs on Monday.


Top prospect Mesa making strong impression
After months of training and conditioning, Marlins top prospect Victor Victor Mesa took some swings Monday on the main field at Roger Dean Chevrolet Stadium. The 22-year-old outfielder from Cuba made a strong first impression.


NL East Rumors: Rendon, deGrom, Straily
It's well known that the Nationals hope to work out a long-term deal with third baseman Anthony Rendon before he reaches free agency next winter, and Ken Rosenthal of The Athletic wrote over the weekend (subscription required) that Rendon and agent Scott Boras have been eyeing something in the vicinity of Jose Altuve's extension from…


White Sox Have Made Eight-Year Offer To Manny Machado?
11:53pm: In a contrasting report, USA Today's Bob Nightengale reports (Twitter link) that the White Sox haven't increased their original seven-year offer to Machado. 11:25pm: The eight-year offer is worth $250MM, as per Z101Digital's Hector Gomez (hat tip to MLB.com's Scott Merkin). 9:58pm: The White Sox have offered an eight-year contract to free agent infielder…


Key questions as Murray weighs MLB, NFL
Kyler Murray is one of the biggest stories in two sports. Murray was the Oakland Athletics' first-round Draft pick last year and is due to report to Spring Training with the team next month. But he's also a Heisman Trophy-winning quarterback who's now weighing a future in football.


Padres, Reds, Indians Have Discussed 3-Team Scenario Involving Corey Kluber
The Padres, Reds, and Indians have engaged in discussions regarding a possible three-team trade scenario, according to Dennis Lin and Ken Rosenthal of The Athletic (Twitter links). Precise permutations aren't known, but the concept at play appears to be one that would send Cleveland ace Corey Kluber to Cincinnati via San Diego. Neither is it…


NL Notes: LeMahieu, Marlins, Straily, Hill
Some items from around the Senior Circuit… The Marlins had some interest in free agent second baseman DJ LeMahieu, The Athletic's Ken Rosenthal reports (via Twitter), though talks "never got close" between the two sides.  It's surprising to see the rebuilding Marlins make a play in any sort of veteran this offseason, though as Rosenthal…


Twins sign Parker to help bolster bullpen
The Twins made their first bullpen acquisition of the offseason on Monday by signing former Angels reliever Blake Parker, a veteran of six Major League seasons, to a one-year contract with a base salary of $1.8 million.


Farhan Zaidi On Giants' Offseason, Bumgarner
In a Friday appearance on the Murph & Mac podcast (audio link and partial transcript here), Giants president of baseball operations Farhan Zaidi discussed the relatively slow pace of the offseason, his personal takes on some Giants players, and several other subjects over the course of the interview.  From a hot-stove perspective, Zaidi noted that…


Minor MLB Transactions: 1/13/19
Catching up on some recent minor league moves from around the baseball world…. The Cubs signed catcher Francisco Arcia to a minor league deal, as originally reported by the Cubs Prospects Twitter feed.  Originally signed as a teenager by the Yankees in 2006, the 29-year-old Arcia finally cracked the big leagues last season, appearing 40…


MLB stars, celebs take field for CA fire victims
Green shoots now carpet the scarred Santa Monica Mountains, nature's initial healing from the deadly November Woolsey Fire. But nature can heal only so much, and Malibu residents Christian Yelich, Ryan Braun, Mike Moustakas and Mike Attanasio wondered soon after the blaze: What can we do?


Latest On Kyler Murray, Athletics
8:30pm: Murray and his camp haven't made any salary demands in talks with the Athletics, Slusser reports (Twitter link). 5:35pm: Kyler Murray has until tomorrow to declare his eligibility for the NFL Draft, and a contingent from the A's front office (including Billy Beane and David Forst) is meeting with the two-sport star and his…


Central Notes: Machado, Cardinals, Reds, Zimmer
Could the White Sox now be the favorites to land Manny Machado?  Despite whispers of a mystery team being involved in Machado's market, the Sox, Yankees, and Phillies were known to be the three clubs most heavily pursuing the free agent infielder.  However, with the Yankees addressing their infield needs elsewhere and the Phillies perhaps…


One question for each National League club
With Spring Training about a month away, it's a good time to ask some important questions about each MLB team. We'll look at the National League clubs here, with one key question from fans for each of the 15 MLB.com beat writers covering the NL highlighted, as well as a link to more from that reporter's most recent inbox.


NL East Notes: Harper, Phillies, Braves, Pollock, Nationals
After meeting with free-agent outfielder Bryce Harper on Saturday, the Phillies are reportedly the No. 1 contenders to sign the six-time All-Star. On the heels of the Phillies' summit with Harper, owner John Middleton and general manager Matt Klentak shed some light on what the team accomplished by meeting with him and Scott Boras. "I…


Gordon eager to prove he belongs with Twins
Nick Gordon's talent has never been in question. The infielder, who is ranked as the Twins' No. 4 prospect by MLB Pipeline, learned through his struggles last season following a promotion to Triple-A Rochester that talent alone isn't enough to succeed at the highest levels of baseball.


A's make pitch to Murray for career in baseball
Two-sport athlete Kyler Murray is expected to declare for the NFL Draft ahead of Monday's deadline, clouding his baseball career with the A's, who used their first-round pick on the 21-year-old in last June's MLB Draft. But the A's aren't standing idly by as the clock runs out.


Baseball Blogs Weigh In: Slow Offseason, Grandal, Brewers, Bumgarner, Phillies
This week in baseball blogs… The Point of Pittsburgh wonders whether the slow offseason is good business or corporate greed. Mets Daddy finds it "troubling" that Yasmani Grandal had to settle for a one-year deal. Reviewing The Brew believes acquiring Madison Bumgarner would be a mistake for the Brewers. Call to the Pen (links: 1,…


Orioles Will Reportedly Hire Don Long As Hitting Coach
Rookie Orioles manager Brandon Hyde's staff is starting to come together. Hyde will hire Don Long to work as the Orioles' hitting coach, Roch Kubatko of MASNsports.com reports. Additionally, the Orioles will tab Arnie Beyeler to coach first base, while Jose Flores – whom the O's hired in December – is "expected" to serve as…


Kluber's 2019 team should keep an eye on this
The Corey Kluber trade rumors haven't dissipated in the new year. The Padres and Dodgers are still involved. But whether it's in Cleveland, San Diego or Los Angeles, will Kluber be able to maintain his elite performance in 2019 and beyond?


AL Notes: Yanks, Andujar, Rangers, Harrison, Solarte, Ottavino, Jays, Angels
In the wake of the Yankees' agreement with infielder DJ LeMahieu, their talks with free agent Manny Machado "are either dormant or completely dead," ESPN's Buster Olney writes (subscription required). Although Machado would greatly improve the Yankees' infield, they haven't been willing to approach his exorbitant asking price, and there's no obvious free spot in…


Nationals Designate Matt Reynolds
The Nationals have designated infielder Matt Reynolds for assignment, per Dan Kolko of MASN. His 40-man spot will go to just-signed second baseman Brian Dozier. Reynolds joined the Nationals last February in a minor trade with the division-rival Mets, though he only went on to accrue 14 major league plate appearances in 2018. The 28-year-old…


Who's No. 1? Ranking the best at 2B, 3B
MLB Network's countdown of baseball's best players at each position began with the first installments of the "Top 10 Right Now!" series, featuring the game's top second and third basemen.


Scouts awards dinner salutes game's 'lifeblood'
A glittering array of the game's elite saluted baseball's unsung heroes Saturday night at the 16th annual Professional Baseball Scouts Foundation Awards Dinner at the Beverly Hilton Hotel.


Report: Phillies "Optimistic" They'll Sign Bryce Harper Or Manny Machado
After conducting a face-to-face meeting in Las Vegas with free-agent outfielder Bryce Harper on Saturday, the Phillies "remain optimistic" they'll emerge from the offseason having signed him or free-agent infielder Manny Machado, Matt Breen of Philly.com reports. At the very least, the Phillies will be finalists for both Harper and Machado, Breen adds. The Phillies…


Innovative Rays might want their own 2-way player
The Rays are known to operate in creative ways, and the next plan could involve adding a two-way player to their 2019 roster. Late Saturday night, MLB Network insider Ken Rosenthal reported that the Rays are looking into potentially signing former White Sox infielder Matt Davidson.


Latest On Padres' Third Base, Outfield Situations
Wil Myers was one of the Padres' most popular options at third base last year, but it doesn't appear he'll factor in at the hot corner in 2019. On Saturday, Myers told reporters – including Kevin Acee of the San Diego Union-Tribune and AJ Cassavell of MLB.com –  that he'll be a full-time outfielder next…


Poll: The LeMahieu And Lowrie Signings
On Thursday, news broke that the Mets, one of the few teams who'd continued to kindle the Hot Stove throughout the winter, were again firing up, with the signing of 34-year-old Jed Lowrie. And then on Friday, amidst a chaotic deluge of arbitration settlements, the Yankees added to perhaps the league's most crowded infield mix,…


NL Notes: Kluber, Padres, Dodgers, Harper, Nats, Cubs, Boras/Phils
The Padres persist in their dogged pursuit of Indians ace Corey Kluber, per MLB.com's JP Morosi, who notes that the club would prefer to hold on to each of its top five prospects. The Tribe reportedly "have interest" in lefty Adrian Morejon, who, despite his status as a consensus top 50-75 prospect, wouldn't fall into…


Padres' 3B experiment with Myers is over
Wil Myers is a full-time outfielder once again. The Padres slugger confirmed as much on Saturday during his media session from the team's FanFest at Petco Park. Myers spent the final month and a half of the 2018 season at third base, as the club looked for an effective way to work him, Franmil Reyes and Hunter Renfroe into the lineup at the same time.


Minor MLB Transactions: 1/12/19
The latest minor moves from around baseball… Right-hander Brandon Mann has signed with the Chiba Lotte Marines of Nippon Professional Baseball (h/t to Kyle Boddy of Driveline Baseball). The 34-year-old Mann, whom the Rangers outrighted in November, was a 27th-round pick of the then-Devil Rays in 2002 who finally debuted in the majors last season.…


Is Marwin Gonzalez a fit for the Cardinals?
Marwin Gonzalez followed a breakout 2017 (.303/.377/.530) with a solid season in '18, posting a .733 OPS to go with 25 doubles and 16 home runs in a career-high 552 plate appearances. That and the 29-year-old's ability to play strong defense at multiple positions, including shortstop, second base and left field, make him an intriguing option for any number of clubs.


Why a healthy Ozuna could still mash in 2019
Marcell Ozuna's first year in St. Louis was something of a disappointment, though he showed signs of life in the second half. How much can the Cardinals count on him in 2019? Let's find out.


These internal boosts could come up big in '19
The Hot Stove is one way for teams to improve, but sometimes the answers can be found right within their own rosters. Here are the prospects and returning stars that MLB.com is looking forward to seeing most in 2019.


Market Notes: Smith/Watson, Reds, White Sox, AGon
Let's catch up on a few market notes from around the game after a busy day on the arbitration front … The Angels are evidently a team to watch on Giants southpaws Will Smith and Tony Watson, as Andrew Baggarly of The Athletic reports that the teams "have been in constant contact this winter" regarding both pitchers (subscription…