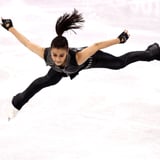 AC/DC on Olympic Ice, and We Are All Banging Our Heads With the Feels
We are loving the music choices in figure skating and ice dancing this year, from "Rapper's Delight" to Disturbed's cover of "The Sound of Silence." But 19-year-old Ivett Tóth, representing Hungary, brought the rock - the hard rock! She skated to AC/DC, and metalheads around the world are nodding their heads so hard that they are, in fact, banging their heads to her routine. Here she is skating her routine in European Championships earlier this year. Of course, rockers took to Twitt...


8 Simple Tips to Avoid Weight Gain This Spring
It may not be shorts weather yet, but Spring is just around the corner. Before you know it, there will be barbecues and hikes on the agenda - not that we're complaining! With Spring comes a lot of things to juggle, so it's important to stay focused on your health and fitness in order to prevent weight gain. Here are eight tips to keep yourself on track during this busy time of year. RelatedThese Are the Foods Wellness Expert Leah Itsines Eats on the Daily to Stay Healthy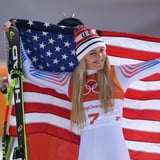 Lindsey Vonn Wins Bronze, and Her Late Grandfather Would Be Proud
The 2018 Olympics have been an emotional ride for skier Lindsey Vonn. She came to these Winter Games to win gold in honor of her late grandfather, a Korean War vet, and wore his initials, DK, on her helmet. And today, in her last Olympic downhill race, she came in third. Through tears, she told NBC, "I still think I made him proud." In an emotional post-race interview, @lindseyvonn says that this was her last Olympic downhill and she hopes she made her late grandfather proud. #WinterOlympics ht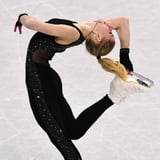 Latvia's Figure Skater Wore a Sexy, Sparkly Bodysuit on Ice and People Are HERE For It
Image Source: Getty / Aris Messinis Seventeen-year-old Olympian Diana Nikitina from Latvia is serving a serious look in Pyeongchang, South Korea, with this bejeweled black bodysuit - a choice that has pantsuit nation on their feet for a standing ovation. RelatedFrom "Dope" to "Minnie Mouse Wouldn't Even Wear This Sh*t," Leslie Jones Talks Olympic Skater Outfits While female competitive figure skaters traditionally have opted for short dresses and skirts over leotards, Diana went for a p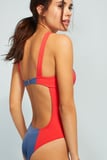 11 Athletic Swimsuits That Are Both Functional and Cute
When it comes to finding the perfect swimsuit, you want to make sure you find one that fits all your needs. There are a number of cute and sexy picks out there, but shopping for an athletic piece isn't always easy. We looked for you and rounded up a list of performance picks that are ideal for your next swim session - and they're stylish! From brands like Speedo, Nike, and Lands' End, prepare to fall in love with these top choices. RelatedThe Most Flattering Swimsuits For Every B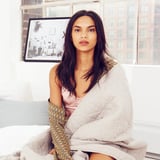 How to Control Your Anxiety (and Stop Adding to Your Own Misery)
Anxiety affects so many people, many of whom opt to take medication as their primary treatment. Craig Nielson at YourTango, however, believes that there are alternative solutions, such as understanding what causes anxiety and how to use that knowledge to calm your mind. How to stop feeling like a victim of your own reactions. Anxiety is estimated to affect thirty percent of US population with twice as many women than men suffering from general anxiety. To combat the symptoms of anxiety, many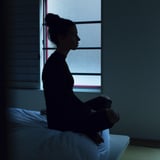 Your High Stress Level Is Absolutely a Factor in Why You Have Ulcers
Based on the phrase "You're giving me an ulcer," we can all gather it is not something great. My mind instantly goes to the image of someone clutching their stomach, but what is an ulcer exactly? An ulcer occurs when tissue in an area of the digestive system becomes damaged - the mouth, stomach, esophagus, or small intestine - and where the ulcer occurs determines the type it is classified as (stress, peptic, or mouth). The area gets irritated and inflamed and creates a small tear or sore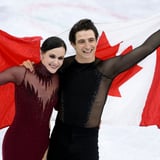 Brace Yourselves, Skating Fans - Tessa Virtue and Scott Moir Might Be Retiring
After every Olympics, one thing in figure skating is inevitable: a slew of retirements. Several veteran skaters have already announced that this is the end for them. And after the ice dance competition ended on Monday night with a victory for Canadians Tessa Virtue and Scott Moir, one question was on everyone's minds: would this be the end of the road for Tessa and Scott? Even after taking two seasons off following the 2014 Olympics - during which another team, French duo Gabriella Papada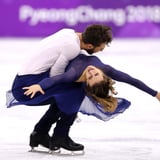 Watching Team France Glide Across the Ice to Beethoven Will Make You Feel Otherworldly
You could have heard a pin drop as Gabriella Papadakis and Guillaume Cizeron performed their free skate at the Olympics on Feb. 19 - it was that captivating. Watching the pair float across the ice made it apparent why they are considered one of the top couples competing in ice dancing today. RelatedThis Is How Ice Dancers Tessa Virtue and Scott Moir Just Made Olympic History Skating to Beethoven's "Moonlight Sonata" (Op. 27, No. 2), the sublime routine felt airy, light, and graceful and d


In a Thrilling Finish, Tessa Virtue and Scott Moir (aka Ice Dancing Royalty) Just Won Gold at the Olympics
If we had to guess, all of Canada is dancing in the streets right now - Tessa Virtue and Scott Moir won gold at the Olympics on Feb. 19 in Pyeongchang, South Korea. In the process, they earned a spot in history by becoming the second ice dancing pair to ever win two individual gold medals in the sport. RelatedThis Is How Ice Dancers Tessa Virtue and Scott Moir Just Made Olympic History In what can only be described as an ending that had everyone watching on pins and needles, Virtue and Moir ba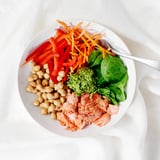 The 1 Major Thing This Trainer Says Your Diet Is Missing on Keto (No, It's Not Carbs)
There are most definitely pros and cons to the keto diet, and while it's not for everyone, those with specific medical needs are having major success on the almost-no-carb, very-high-fat diet. RelatedThis Is Who Should Try Keto - and Who Definitely Shouldn't However, if you're going to give keto a shot, there's one huge thing you need to keep in mind, and we've been hearing it from trainers and nutritionists across the board. Because you have to essentially eliminate c


These French Ice Dancers Had a Wardrobe Malfunction, but They Handled It Like Champs
France's ice dancing pair, Gabriella Papadakis and Guillaume Cizeron, are counted among the top contenders for gold in the 2018 Pyeongchang Olympics. Many say they're the number one rivals for Canada's beloved Tessa Virtue and Scott Moir. In the short program on Feb. 18, Gabriella and Guillaume earned a score of 81.93, and there's no question they gave an incredible performance. Unfortunately, at the very beginning of the program, Gabriella suffered a slight wardrobe malfun


This Is How Ice Dancers Tessa Virtue and Scott Moir Just Made Olympic History
Let's get the obvious out of the way: Canadians Tessa Virtue and Scott Moir are as sexy as ice dancers can get. They've come into the 2018 Pyeongchang Olympics as big favorites for the gold, and in the short program on Feb. 18, they proved that they deserve to win. They skated their hearts out, nailed all the twizzles, and brought a special kind of flair to the performance that was set to a musical medley, which included "Hotel California" by The Eagles. It was so flawless that they


This "Shape of You" Ice Dancing Routine Is the Ultimate Hybrid of Fun and Steamy
Things got pretty heated on the ice in the ice dancing short program on Feb. 18. Not only did Canadians Tessa Virtue and Scott Moir bring their A game and earn the number one spot for the night, but France's Gabriella Papadakis and Guillaume Cizeron reminded the whole world that they're serious contenders for the gold medal. They performed to Ed Sheeran's "Shape of You," and the routine was as technically clean as it was painfully sexy. Gabriella and Guillaume move together in s


10 Fat-Burning Strength-Training Workouts You Can Do Right in Your Living Room
We get it - sometimes you just can't get to the gym. That doesn't mean you can't squeeze in an effective workout in the comfort of your own home, though. Whether you're a newbie to the dumbbells or you're a weightlifting junkie, there's bound to be something here for you. Some of the workouts are bodyweight-based, while the others require some equipment, like a pair of dumbbells or a kettlebell. Find whatever works for you and get your sweat on! RelatedThe 5 Best E


From Weight Loss to Better Sleep, These Are the Benefits of Lifting Weights
Cardio certainly has its time and place, but if you haven't stepped foot into the weight room yet, you should probably consider creating a strength training program for yourself. Although weightlifting may traditionally (and stereotypically) be known as a physical activity for men, women have been dominating the weightlifting space this past year - and we're more inspired than ever to pick up those dumbbells. If you're flirting with the idea of doing more weightlifting, don'


The 5 Healthiest Fast-Food Salads (Yes, They Really Do Exist!)
Fast food has not always been synonymous with healthy eating. But in recent years, chains like McDonald's are making strides to step away from the fryer and cater to more conscientious eaters. As a pregnant mom of three, I spend way too much of my life in the car, hungry. So sometimes a pit stop at a fast-food restaurant is a necessity. While I'm tempted to order a large fry and a shake, I want to make sure I don't gain 600 pounds during this pregnancy, and of course, there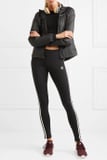 We're Not Kidding - These 12 Cool Adidas Sneakers Are All Under $85
If you have an obsession with Adidas sneakers, you're not alone, but these stylish performance shoes don't always come cheap. To save you money, we went on a mission to find the brand's best and most comfortable choices that won't cost you a fortune. From pink runners to a pretty glitter pair, you won't want to miss these deals. So save your money for your next workout class and shop these affordable finds. RelatedDreams Do Come True - These 15 Nike Sneakers Are All on


The Ultimate Diet Advice From P90X Trainer Tony Horton
There's no doubt about it: the hardest part of weight loss is your diet. You have to be even more diligent in the kitchen than in the gym, and it can feel impossible to kick those bad habits to the curb in order to feel and look your very best. Tony Horton, Beachbody Super Trainer and creator of the famous P90X program, has seen many clients struggle with their diet. All of his experience has given him the tools to help people make lasting, healthy changes in their life - both in the gym


These Keto-Friendly Desserts Will Be a Hit at Your Next Dinner Party
The latest on-trend diet is the keto diet. The keto diet is a very low-carb, moderate-protein, and high-fat plan that severely limits sugar and white or refined carbs. Encouraged on this diet are lean proteins, some fruit, and plant-based fats. It's not for everyone, but many have seen incredible results by sticking to it. While that sounds easy enough for our morning egg whites and lunch salads, how are we supposed to adapt it to our holiday desserts? Turns out there are a lot more options


Kate Wasley Looks So Sexy in the 2018 SI Swimsuit Issue, It's Almost a Crime
Kate Wasley is a name you're going to want to remember. The gorgeous Australian curve model has been breaking down so many dated beauty standards lately - it's no wonder she landed a spot in the 2018 Sports Illustrated Swimsuit Issue! Sprawled out on a sunny beach in a lacy black bathing suit, Kate looks so sexy that we can't help but blush when we look at her. This is her first feature with Sports Illustrated, but it feels like she's done this many, many times before. Rela


Ester Ledecka Won Gold in the Super-G - and She Was Wearing Mikaela Shiffrin's Skis!
That's Ester Ledecka below, looking around in shock after realizing what had just happened. A Czech snowboarder who only began competing in the women's Super-G skiing competition two years ago, took home gold! And oh, she was borrowing Mikaela Shiffrin's skis, who was unable to compete because of her compressed schedule. You'd be shocked, too.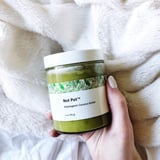 This Delicious Coconut Butter Combines CBD and Matcha to Make an Anti-Anxiety Superfood
There are few things I love more in this world than coconut, matcha, and CBD. So when two of my favorite (super trendy) wellness brands - Not Pot and Pearl Butter - created a coconut butter with matcha and CBD together, I lost my damn mind. RelatedI Just Got a CBD Oil Massage and Holy Sh*t, My Body Adaptogenic matcha and anti-anxiety CBD make a perfect pairing in Pearl Butter's Not Pot Butter ($28), fusing jitter-free energy with stress-reducing, anti-inflammatory, non-psychoactive canabi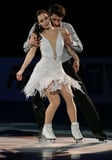 These Steamy Photos of Ice Dancers Tessa Virtue and Scott Moir Will Certainly Make You Blush
After the team figure skating event at the Olympics, all anyone could talk about was Canadian ice dancers Tessa Virtue and Scott Moir and their sexy, electric performances on the ice. Although they have repeatedly stated they are not a couple off the ice, it's easy to see why so many people are convinced that they must be. Figure skating fans have been captivated by their incredible skating and remarkable chemistry for most of the past decade - take a look back at some of their best moments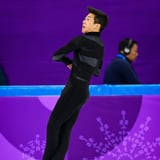 The Quad Jump Is Exactly What You Think It Is - and Only a Few Skaters Will Attempt It
The Olympic figure skating competition kicked off on Thursday, Feb. 8 with the first skaters in the team event, and there's lots more skating to come over the next two weeks. One of the terms you'll be hearing a lot about is "quads." What's a "quad"? I'm so glad you asked. "Quad" is short for "quadruple jump," a jump with four rotations. These are the most difficult jumps that will be performed at the Olympics, and are - at the moment - only performed by male skaters. Out of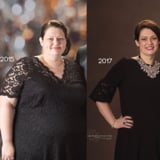 A Nutritionist Told Mandie to Do These 3 Things and She Lost 150 Pounds
Amanda (Mandie) Wood began her weight-loss journey in the Fall of 2015. She shared with POPSUGAR, "There honestly wasn't any 'aha' moment. I just got tired of feeling invisible all the time. One thing that I don't think a lot of people realize is the larger you are, the more invisible you are to others." Mandie had no energy from carrying around so much excess weight all the time, and said, "I was just tired of being tired." Mandie: Before At the start, she was a size 28 an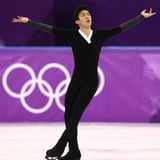 Nathan Chen Just Landed 6 Quads at the Olympics, and We're Losing Our Minds
This was not the Olympics anyone expected for men's figure skater Nathan Chen. A strong contender for gold, Nathan struggled in the team event, only to fall to 17th place during the men's short program. It left everyone puzzled and searching for why he seemed to be unraveling. As Nathan himself said in a press conference after the short program, "I honestly have never been in this position before, so I don't really know exactly what to do." Turns out Nathan knew exactly what to d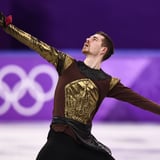 Even If "You Know Nothing" About Figure Skating, This Olympic Game of Thrones Routine Is EPIC
Who needs Game of Thrones every Sunday when you've got the Winter Olympics to keep you occupied? Apparently, German figure skater Paul Fentz - who you might recognize from his eccentric "Wonderwall" routine - misses watching the HBO series as much as we do, because he just paid homage to GOT on the world stage. During the men's single free skate on Feb. 16, Fentz didn't just sprinkle a casual reference to Game of Thrones into his musical accompaniment . . . he skated out onto the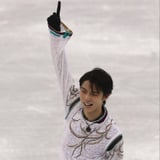 Yuzuru Hanyu Makes History at the Olympics, and Japan Takes Home an Impressive 2 Medals
Given the deafening screams and blanket of Winnie the Pooh dolls that rained down on the arena, you would think Yuzuru Hanyu were a pop star. He has the sequins, after all! Instead, Hanyu just made history by winning gold at the Olympics. After delivering two flawless routines, Hanyu, 23, won the gold medal in men's figure skating. He's also the first men's figure skater to win back-to-back gold medals since 1952, having won gold at Sochi in 2014. To make the win even sweeter, he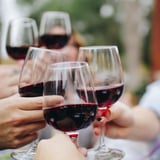 Suffering From a Night of Drinking? Let Weed Be Your Hangover Remedy
Many of us know the signs of a brutal hangover: headache, nausea, dizziness, and more. And the only "cure," aside from plenty of electrolytes and Advil, is really to tough it out. Where most people don't think to look, however, is weed. It may seem counterproductive - the last thing you want to add on top of your miserable condition is another substance. But trust me, for some, it can be the most effective remedy out there. RelatedI Got Hammered to Try These Hangover-Prevention Vitamins,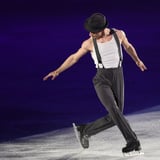 Javier Fernández's Free Skate Program Should Be Called "Stud on Ice"
People are absolutely obsessed with Javier Fernandez, and for good reason. The two-time world champion and six-time consecutive European champion is heading into the Olympics men's free skate program with one hell of a routine set to "Man of La Mancha," and we're all waiting with bated breath to see if he can nail it in the icy arena in Pyeongchang, South Korea, on Friday night. RelatedGermany's Gold-Winning Skating Routine Was So Perfect, They Collapsed With Joy And with effortl...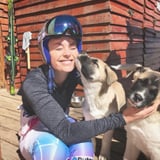 7 Must-Know Facts About Downhill Skier Lindsey Vonn
A post shared by L I N D S E Y • V O N N (@lindseyvonn) on Dec 14, 2017 at 3:03am PST The 2018 Olympics in Pyeongchang, South Korea, are finally here, and there's lots to watch. Adorable snowboarder Chloe Kim has us all interested, and Jessie Diggins - gold-medaling cross-country skier - still has our heart. But while the Winter Olympics offer fast and thick viewing, Lindsey Vonn is still capturing imaginations and Olympic hopes across America. Before you make the popcorn and wa...


I Drunkenly Agreed to Try Barre Class, and Frankly, It's the Best Decision I Ever Made
I'm going to shoot straight with everyone: I drank too much wine on Super Bowl Sunday, downloaded ClassPass, and agreed to attend my first-ever barre class with my best friend. Did I wake up regretting this decision in the morning? One hundred percent, yes. But I have a job, and duty calls, so off I went to work, clad in my best workout gear. I'm not going to lie: as a 25-year-old former college lacrosse player, never in my lifetime would I have agreed to this on a normal day. To be h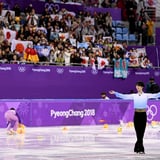 Yuzuru Hanyu Combines His Love of Figure Skating and Disney in the MOST Adorable Way
Yuzuru Hanyu makes it rain...Winnie the Pooh dolls. A post shared by NBC Olympics (@nbcolympics) on Feb 15, 2018 at 9:07pm PST Olympic figure skater Yuzuru Hanyu is so talented that he flawlessly earned first place on Thursday night, but his skill level isn't the only thing that sets him apart. The 23-year-old Team Japan Olympian has a serious affinity for Winnie the Pooh, and we mean serious - it's kind of his thing, and it's amazing. Winnie the Pooh sits by the rink as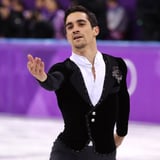 Javier Fernández and His Sexy Figure Skating Routine Will Make Your Body Feel Things
Two-time world champion figure skater, undefeated European champion (gold every year since 2013!), and three-time Olympian Javier Fernandez has (shockingly) never actually stood on the Olympic podium. But after his incredible performance in the men's short program, we're pretty sure that's about to change in the most triumphant of ways. With a stunning short program show in Pyeongchang, South Korea, Javier combined power and strength with grace and beautiful precision - and he h...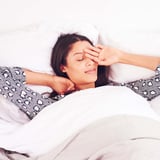 If You're Doing Any of These 5 Things, You're Only Making Your Cold Worse
No matter how much you bolster your immune system with supplements, it's almost inevitable to fall victim to seasonal ills like colds and flu during the Winter. When fighting your illness this season, avoid making your symptoms worse and prolonging your recovery by not making the following mistakes. Not Eating It's easy to forget to refuel when you're under the weather, but your body needs the energy from food to support your immune system's efforts in fighting disease. Mak


Japan's Figure Skater Yuzuru Hanyu Is So Unbelievably Perfect, People Are Literally Crying
He may not have the diva flair of Adam Rippon, but he's being heralded as "Michael Jackson on ice" and "the greatest figure skater ever" (by The New York Times, at least) . . . some pretty hefty titles! But Yuzuru Hanyu has certainly earned them; Team Japan's skating star took to the ice tonight in a display of unreal perfection that we haven't seen before - and the crowd went absolutely nuts. Naturally, he earned the highest score of the night: a staggering 111.68. RelatedTeam U


If Japan's Yuzuru Hanyu Nails Tonight's Free Skate, He'll Make History - Here's How
The men's figure skating short program at the 2018 Pyeongchang Olympics on Feb. 15 left the world with a lot to talk about. Adam Rippon skated a nearly perfect program that was as entertaining as it was clean, and Japan's Yuzuru Hanyu stole the show with his flawlessly gorgeous performance, which earned him 111.68 points and the first-place slot (for now, anyway). Yuzuru is on the hunt for gold again. He took home the first-place prize in the 2014 Olympics, and if he nails tonight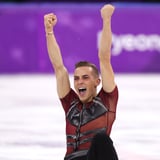 People Are LIVING For Adam Rippon's Total Diva Performance at the Olympics (Judges Included)
"I may not be the best, but I'm the most fun," Adam Rippon told NBC live on-air before he took the icy stage for his men's short program performance. And fun was an understatement, because holy sh*t, he slayed. It was like watching someone fabulous turn up in the club, but in the most elegant and flawless way . . . and with blades strapped to the bottoms of their feet. RelatedListen Up: Figure Skater Adam Rippon Should Be Your New Favorite Person, and Here's Why The judges were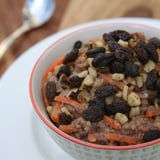 I Cut These 2 Healthy Foods and Finally Lost Weight (Nope, It Wasn't Oats or Bread!)
You heard of the freshman 15? For me it was more like the freshman 40. No joke. I was a recent vegan convert, and only having access to the dining hall meant living on pasta, bagels, french fries, and cereal (Fruit Loops are vegan!). I was a total junk food vegan. After seeing a photo of myself at my brother's wedding, it really sank in that I needed to change my habits and lose weight. Fresh vegetables and fruits weren't part of my diet, so when I started incorporating those, couple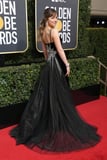 Dakota Johnson's Trainer Reveals the Exact Workout She Did For Fifty Shades Freed
Dakota Johnson has kept herself in fine shape as she wraps up the Fifty Shades trilogy. Last time around, Dakota was doing some serious plyo to prep for Fifty Shades Darker, so naturally we've been eager to know what her routine was for the final installment, Fifty Shades Freed. And it only makes sense that you'd want to be feeling and looking your best when you spend so much time on camera without clothes, don't you think? We chatted with Dakota's on-set personal trainer, Ra


This Trainer Designed a Weekly Strength-Training Schedule to Get You Toned and Lean
One of the biggest challenges of starting to lift weights for the first time is knowing how often to actually go to the gym. Worry no more, though, because Ridge Davis, a personal trainer in West Hollywood, CA, has designed an exclusive strength-training schedule for beginners. You'll be ripped before you know it! This plan has you in the gym five days a week, and Ridge says this schedule is "a great five-day split for women that will build a strong lower body while maintaining or sculptin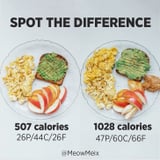 If You're Not Losing Weight, These Comparison Photos Could Explain Why
A post shared by Amanda Meixner (@meowmeix) on Jan 22, 2018 at 2:34pm PST Eating healthy foods is just part of the equation when it comes to losing weight. Portion size plays an even bigger role, and these photos prove why. Instagram user meowmeix posted these comparison photos to prove a point about how easy it is to double your calorie amount without even realizing it. Scrambled eggs, avocado toast, and apple and peanut butter seems like the perfect healthy breakfast. You've got p


This Is How Many Calories Lisa Ate Every Single Meal to Lose 40 Pounds
When Lisa saw pictures of herself in 2016, she almost couldn't recognize the woman staring back at her. She was inspired to turn her life around, so she embarked on the journey of a lifetime. Rather than do it alone, she joined an online weight-loss community called Fit Girl's Guide. Lisa is now 40 pounds lighter, she can run for 30 minutes without stopping, and her clothes fit better than ever. Read on for her full (and inspiring!) story. POPSUGAR: When did you start your weight-los


Why I Stopped Weighing Myself Daily - and How It Still Affects Me Every Day
A lot of people find themselves obsessing over their weight - to the point that it takes over their whole life. But what if you were to stop? Rebecca Jane Stokes at YourTango wrote about how she made the decision to stop weighing herself every day and how it's changed her since then. I never saw this coming. Before I was even 10-years-old, stepping on a scale was a regular part of life. At 9, my pediatrician was concerned about my weight. She pointed to a BMI chart saying, "This is where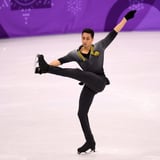 A Team France Figure Skater Just Broke It DOWN to "Rapper's Delight," and We Are Feeling It
While you might be used to hearing opera and classical piano music during figure skating performances, this year's set of Olympians are shaking things up with more modern music, and we are really feeling it. RelatedTry to Keep Your Screen From Fogging Up: This Ed Sheeran Figure Skating Routine Is STEAMY Chafik Besseghier from France's figure skating team showed off his style - and stellar taste in music - in Pyeongchang, South Korea, during the men's short program with "Rapper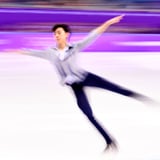 Team USA's Vincent Zhou Landed the Olympics' First Quadruple Lutz - Watch Here
Team USA's youngest figure skater, Vincent Zhou, just made Olympic history (at his first Olympics, no less) when he landed the first quadruple lutz. This move has never been successfully landed in any other Olympic Games. RelatedMeet the 14 Figure Skaters Representing Team USA at the Winter Olympics HISTORY.Vincent Zhou, the youngest member of Team USA, lands the first quad Lutz at the #WinterOlympics. pic.twitter.com/EUx1R66te1 - NBC Olympics (@NBCOlympics) Febru


The Common Butt-Building Myth This Beachbody Trainer Wants You to Stop Believing
If you want to grow a butt, one of the first suggestions you hear or read online is to do squats. But Beachbody Super Trainer Autumn Calabrese, the creator of 80-Day Obsession, wants you to think twice before doing squats for a bigger booty. POPSUGAR spoke to Autumn about the "misconceptions of butt exercises," so sit back and take notes. Your glutes will thank you for it. "You see a lot of people saying, 'Do the squat challenge to grow your butt,' and that was one of the biggest thi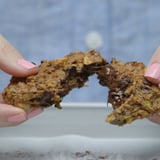 Start Your Day Off Right With Protein Breakfast Cookies
If you're a fan of dessert for breakfast, we've got the perfect recipe for you. These breakfast cookies may look like a treat, but they're actually loaded with natural protein and healthy fats to start your day on the right foot. You may not think shredded zucchini, peanuts, and chocolate go together, but this slightly sweet cookie will make a believer out of you. RelatedYou'll Want to Spread This Chocolate Hummus on Everything Protein Breakfast Cookies From Mona Zavos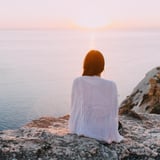 Why Travel Is the Kind of Therapy That Works For Me
One of the biggest things that has helped calm my anxiety is traveling to new places and meeting new people. You have no choice but to be present when you travel, completely letting go of the past and not worrying about the future. Most people may think that travel causes more anxiety than being home, but for me, that's not the case. Whether it's embarking on a solo trip or vacationing with friends, here are the reasons I choose to go on a new adventure and invest in travel instead of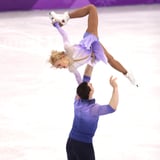 Germany's Gold-Winning Skating Routine Was So Perfect, They Collapsed With Joy
In a gold-winning moment from Germany's figure skating team that could reduce anyone to tears, the raw emotion on the ice was arguably just as powerful as the jaw-dropping performance (seriously, it was literal perfection). Aljona Savchenko was hungry for gold this year, as Pyeongchang is the figure skater's fifth Olympics, and she wasn't ready to go home without gold - now she definitely won't have to! RelatedIf Team Germany's Figure Skating Pair Nails This 1 Move, The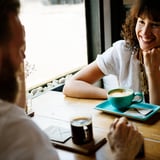 A Whole30 Coach Shares the 1 Thing You Need to Know Before Tackling This Plan
If you're considering giving up grains, sugar, dairy, alcohol, and legumes for 30 days, you're bound to need a little support along the way. Whole30 has recently introduced a coaching program full of men and women who can give you the virtual hand-holding you need to really be successful on your Whole30 journey. POPSUGAR chatted up Mallory Froman, a CrossFit coach, mother of two, and Whole30 Certified Coach to find out the number one thing you need to know before starting the Whole30.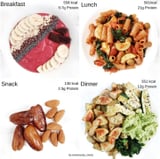 We're Giving You Permission to See What Other People Eat in a Day
If you're into tracking your calories or macros using an app like MyFitnessPal, taking photos of your meals and snacks will help you remember what you ate. It'll also keep you accountable for every single bite! RelatedPracticing Portion Control Has Never Been More Fun With These Photo Food Journals Curious to know what other people eat or need some new meal ideas? Peek into the food diaries of other health-minded eaters and get inspired to post your own pics tagged with #whatieatinada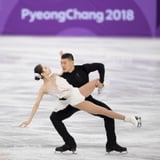 This Star Wars Figure Skating Routine Will Have Your Nerdy Soul Doing a Triple Axel
The Force is strong with Team China! Figure skating pair Yu Xiaoyu and Hao Zhang are apparently even bigger Star Wars fans than we are. Fusing music from the classic and new films together, their free-skate routine at Pyeongchang features "Jyn Erso & Hope Suite" from Rogue One and "Princess Leia" from A New Hope. If you missed it on live TV, above is a preview of their hauntingly good performance late last year. RelatedThis Olympian's Star Wars Routine Will Make You Say "That's On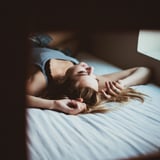 Here's Exactly Why You Should Stop Taking OTC Sleeping Pills, According to These Doctors
No rest for the wicked. You can sleep when you're dead. Sleep is for the weak. We've all heard these phrases that glorify living in a constant state of exhaustion, like wearing dark circles under your eyes is a badge of honor. But truth be told, going without sleep is no joke. Maybe that's why there's an entire industry focused on helping you achieve your ideal amount of shuteye, in the form of over-the-counter (OTC) medications. These types of drugs come in liquid, gel caps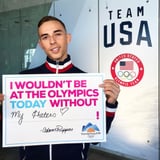 Listen Up: Figure Skater Adam Rippon Should Be Your New Favorite Person, and Here's Why
A post shared by Adam Rippon (@adaripp) on Dec 27, 2017 at 9:47pm PST If there's one word to sum up Adam Rippon's career, it's unexpected. In 2014, no one expected Adam to ever be an Olympic threat. He ended his season with a distant eighth-place finish at Nationals, then started the next season in the Fall with a pair of poor showings on the Grand Prix circuit. Younger skaters like Jason Brown and Josh Farris were gaining more and more momentum, and Adam's inconsisten


Just Try Not to Get Goosebumps While Watching This Ice Dancing Routine to "Paradise"
The American brother-sister ice dancing duo known as Maia and Alex Shibutani have taken the world by storm. Maia and Alex have been stealing all our hearts with their heartfelt, sometimes bittersweet performances on the ice. Their performance in the 2018 Free Dance US Figure Skating Championships was an especially memorable one. RelatedThis Ice Dancing Routine to "Moulin Rouge" Is the Sexiest Thing You'll See All Day If you think you know Coldplay's hit "Paradise," think again. You m


These 20 Workouts From Jillian Michaels Are Guaranteed to Tone You From Head to Toe
With countless years of experience in the world of fitness, Jillian Michaels is one of those trainers you can't not listen to. She's done it all, from training celebrities to helping everyday people turn their lives around on The Biggest Loser. Although it's not likely we'll all be able to train individually with Jillian anytime soon (a girl can dream, though), you can still learn a lot from her Instagram page. She regularly shares sweat-inducing (and totally free!) workout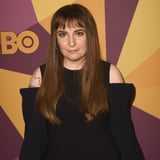 Lena Dunham Has a Full Hysterectomy After Decade-Long Battle With Endometriosis
Lena Dunham has been open about her agonizing battle with endometriosis, but her most "painful choice" of all was in recent months when she made the decision to have a full hysterectomy to remove her uterus and cervix. The 31-year-old actress penned an essay in the March issue of Vogue, detailing her decade-long battle with the chronic illness. The hysterectomy was her ninth surgical procedure for the disorder, in which tissue that normally lines the uterus lies outside the uterus, and after ex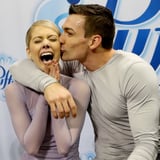 The "Kiss and Cry" Is a Real Thing at the Olympics, and It's Not What You Think
For figure skating, some of the most dramatic action has been happening rink-side at the 2018 Winter Olympics in Pyeongchang, South Korea - from the colorful commentary to the anxious theatrics on display at the "kiss and cry." The kiss and cry refers to the area where skaters await their scores postperformance and is a term coined in the 1980s by Finnish skating official Jane Erkko. The phrase has since been adopted as an official term by the US Figure Skating Regulations. RelatedThis Ice Danc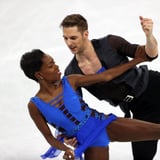 Try to Keep Your Screen From Fogging Up: This Ed Sheeran Figure Skating Routine Is STEAMY
Team France might be from a chilly climate, but it's not afraid to bring the heat at the 2018 Olympics. At the Wednesday pairs event in Pyeongchang, it did so in the form of Ed Sheeran and some incredibly sultry body language. RelatedThis Ice Dancing Routine Is So Sexy, It's Being Changed For the Olympics The team's figure skating pairs duo - Vanessa James and Morgan Cipres - have been showcasing some seriously steamy moves and did so once again with this routine to "Make It Rain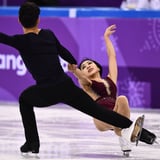 Team China's Heart-Wrenching "Hallelujah" Routine Just Might Win Them a Gold Medal
Following their gravity-defying debut at the 2018 Winter Olympics, Chinese pairs skaters Sui Wenjing and Han Cong are slated to take gold after performing a powerful routine set to K.D. Lang's "Hallelujah," which earned them 82.39 points. The day was especially emotional for Sui, who had a difficult recovery after undergoing surgeries on both feet in 2016. "Even when I was putting on my makeup, I was already crying. I just felt very nervous," she told NBC. "But after we got on the ice and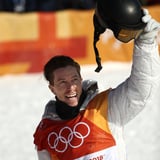 It's Official! Shaun White Returns to the Olympic Podium With Gold at Pyeongchang
Shaun White has returned to the podium with a vengeance, cementing himself as the most decorated Olympic snowboarder of all time. With a 97.75-point ride in the Olympic halfpipe, Shaun earned the third Olympic gold medal of his unprecedented career. REDEMPTION FOR SHAUN WHITE!HE WINS GOLD on his final run in men's snowboard halfpipe! #BestOfUS #WinterOlympics pic.twitter.com/b4Yn2jVVGN - NBC Olympics (@NBCOlympics) February 14, 2018 RelatedOlympic Snowboarder Shau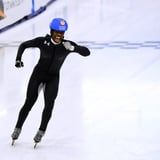 Maame Biney, the First Black Woman to Make the US Olympic Speed Skating Team, Is Only 17!
Team USA is welcoming the first black woman in history to its speed skating team. Seventeen-year-old Maame Biney (pronounced mah-may bye-nee) "made the U.S. Olympic short track team for the 2018 Winter Games after sweeping the 500m races at December's Olympic Trials," according to the NBC Olympic site. RelatedWhat Fuels Superstar Olympic Snowboarder Chloe Kim? In-N-Out and 3-Hour Halfpipe Sessions The Ghana-born athlete moved to the US to live with her father in Virginia at the age of 6,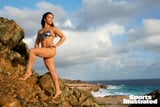 Aly Raisman Uses Her Voice AND Her Body to Support Survivors in the SI Swimsuit Issue
Olympic gold medalist Aly Raisman is used to redefining what we think of the annual Sports Illustrated Swimsuit Issue, and her appearance in pages of the 2018 edition is no different. The 23-year-old gymnast shot more than just the typical glam shots in flashy bikinis, though the ones she posed for in Aruba while wearing silver-accented suits are downright stunning. Raisman also appeared in a new SI Swimsuit project called "In Her Own Words." Raisman, who, as a victim, confronted convicted seria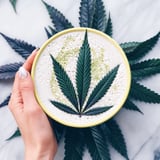 This Dreamy CBD Oil "Moon Milk" Is Here to Cure Your Nighttime Anxiety and Sleep Woes
Guys, falling asleep is hard. Try as I might to blissfully count sheep while cuddled up in my sheets, my stressed-out brain always manages to take the reins, simultaneously circulating thoughts about my overflowing laundry basket that desperately needs attention, the next workday's to-do list, my bank account that's constantly begging for mercy, and, oh sh*t - did I forget to call my mom today? Next thing I know, it's 3:17 a.m., I've switched sleeping positions about 23 time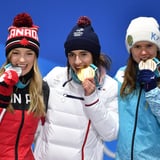 There Is a Very Real - and Historical - Reason Olympians Gnaw on Their Shiny Gold Medals
Winning a gold medal is one of the most exciting things that can happen to a person. So much so that when it comes time to celebrate, you almost can't judge an Olympian if they go a little bit wild with their dance moves, their fist pumps, and their screams of joy. But one Olympic tradition that you might have caught onto, even so far at this year's Olympic Games in Pyeongchang, South Korea, is the tradition of Olympians biting their gold medals. RelatedIf Shaun White Wins Gold, He&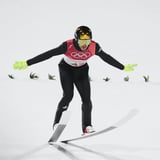 It's So Cold in Pyeongchang That Athletes Are Forced to Throw Away Their Expensive Skis
Can you imagine getting to the Winter Olympics for ski practice and having to . . . throw out your skis? That's what's happening to some athletes in Pyeongchang because it's exceptionally cold. Morning temperatures have dropped to the single digits during practice, Reuters reports, and low double-digit temperatures will continue. Sharp snow crystals are warping skis and causing athletes to get rid of their expensive gear for risk of it interfering with their medal-worthy performa


If You're on the Hunt For Flat Abs, These 12 Workouts Will Be Your Best Friends
Although your diet is the most important component when it comes to achieving chiseled abs, the workouts you do certainly help you get there much faster. Rather than spending hours on end doing crunches or sit-ups, we rounded up some smart, effective ab workouts that will help you shape your midsection and shed unwanted fat around your tummy. Whether you've got five or 20 minutes to spare, there's a session here for you. Related35 Lower-Body Exercises to Shape Your Legs - and You Can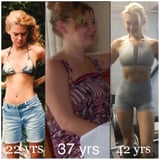 Janelle Lost 50 Pounds From This Popular Diet - and Still Ate Snickers Ice Cream Bars
If you're a mother, you've struggled with anorexia, or you've ever obsessed over calories and the number on the scale, there will likely be one aspect of Janelle Flanagan's journey that you'll relate to. Read her inspiring story to learn how she finally found happiness in her body. Janelle has spent half of her life hating her body and living as an unhealthy person. In her 20s, she even struggled with anorexia. In the photo above on the left, posted to her Instagram pa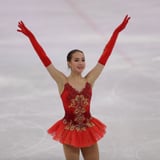 Alina Zagitova Is the 15-Year-Old Russian Figure Skating Phenom We Can't Stop Talking About
The 2018 Pyeongchang Olympics are in full swing, but if you've had your eyes glued to the TV, like I have, during the team figure skating competition, chances are you experienced many mouth-dropping and eye-bulging moments, as skaters from all over the world took to the ice. But some of the most wow-worthy moments came from skaters most of us have never heard of before, until now. One those people is Alina Zagitova, a 15-year-old from Russia whose performance in the team competition f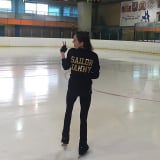 Meet Russian Figure Skater Evgenia Medvedeva, Who's Making Waves in Pyeongchang
The 2018 Winter Olympics are underway in Pyeongchang, South Korea, and (thanks to some colorful commentary) the figure skating competition is heating up the ice. One of the most important skaters to watch this year is 18-year-old Evgenia Medvedeva, the top figure skater in Russia and one of the very best in the world. Read on for seven fun facts about this talented athlete. Yay, 50k!!! Thank you everyone❤️ @its_me_wakaba @i_am_wakaba than you for the jacket


How Meditation Helps SI Swimsuit Curve Model Tabria Majors Feel Confident on the Daily
So far, 2018 has been a good year for body diversity. The Sports Illustrated Swimsuit Issue features three curve models, each of them as stunning and gorgeous as the next. Tabria Majors from Nashville, TN, was one of the lucky ladies to be photographed, and it was her first time in a Swimsuit Issue, although you would never be able to tell by looking at her pictures. We caught up with Tabria to chat about her experience as an SI Swimsuit rookie. "We've come a long way in the fashion and e


We Know You're Wondering, So This Is How Many Calories You Burn From Weightlifting
When you're on a mission to lose weight and get healthy, it can sometimes feel like every calorie counts. Although it's not a good idea to get caught up in counting each and every calorie you consume or burn, it's nice to have a general sense of what your input and output is. We know that strength training is essential for weight loss; it helps you build lean muscle mass, which in turn allows you to shed more fat in the long run. But do you ever wonder how many calories you'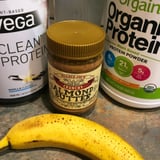 I Traded My Afternoon Banana For a Protein Shake and Wasn't Expecting This to Happen
I eat pretty healthy and recently started taking photos of my meals and snacks to keep tabs on my portions and food choices. So I never felt the need to track my calories or macros. But just for fun, I decided to start using MyFitnessPal. I wanted to make sure that I was getting all the nutrients I needed. I honestly thought it was just going to confirm that I was eating a balanced diet. But let me tell you - it was eye-opening! I thought I was getting more than enough protein since beans, tofu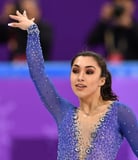 20 Photos of Olympic Figure Skaters That Could Also Be You at the Club
Unless you're secretly landing triple axels in your basement, Olympic figure skaters may not be bastions of relatability, athletics-wise. However, the facial expressions they make while executing tough jumps, twirls, and occasional flights through the air speak to a near-universal truth: the agony and the ecstasy of a night out on the town. Ahead, find your entire Saturday night, as told by the reactions of Mirai Nagasu, Adam Rippon, and Mae-Berenice Meite. RelatedThis Ice Dancing Rout...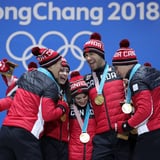 Here's Proof That Team Canada's Figure Skaters Are Actually the Nicest Humans on Planet Earth
Image Source: Getty / Jean Catuffe Can we talk about how Team Canada comprises some of the nicest human beings on earth and apparently lives by the "there's no 'I' in team" philosophy? The neighbors up north have a tight-knit figure skating team who care more about the entire group going home with gold than any individual member. It's fine, they're just going to heaven. Carry on. RelatedThis Ice Dancing Routine Is So Sexy, It's Being Changed For the Olympics Patric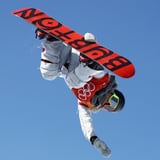 Chloe Kim Just Started Her Olympic Career With an INSANE 93.75 Score - Watch the Video
Chloe Kim has been at the Olympics for what feels like 47 seconds and is already blowing sh*t up. The 17-year-old phenom just went for her very first run in the women's halfpipe final to show the universe how snowboarding is really done. Our jaws are glued to the floor. RelatedWinter Olympians Snuggling Baby Animals Is the Pick-Me-Up You Deserve In a 30-second OMFG moment, Chloe glided down her first halfpipe run like a boss. Opening with a flawless 1080 and a series of tricks that made o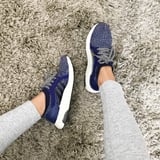 Knit Sneakers Look Cool, but Here's Why You Should Never Wear Them to These Classes
While Nike Roshes are my go-to everyday shoe and Adidas Ultraboosts are my number one pair for running, I learned the hard way that they're not all so great for certain studio classes. In fact, it's dangerous to work out in sneakers that are meant to be worn for a different activity. Don't make the mistake of sporting the wrong mesh or knit sneakers to Zumba or dance classes, mixed-format classes, or any other class that requires a lot of lateral floor work - here's why. The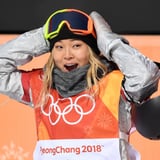 Chloe Kim Arrives at Olympics, Immediately Wins Gold, Is "Down For Some Ice Cream RN"
Team USA's snowboarding team is having a great time in Pyeongchang so far. On the heels of 17-year-old Red Gerard's gold medal, fellow 17-year-old (and Olympic newcomer) Chloe Kim showed up to the Women's halfpipe finals and opened up with an absolutely stunning 93.75 (with an unreal laid-back confidence and nonchalance that can only be chalked up to superhuman capabilities and/or adolescence), then finished with a 98.25 (!!) to secure her very first gold medal. RelatedWhat Fuels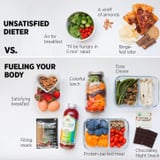 This Photo Shows Why Eating "Healthy" All Day Long Isn't Helping You Lose Weight
A post shared by Amanda Meixner (@meowmeix) on Feb 7, 2018 at 12:15pm PST Does the top photo look familiar? You try to "be good and eat healthy all day" only to have an all-out binge that night because you feel so famished and deprived. Meal-prep fanatic and fitness guru Amanda Meixner posted this comparison photo to prove that you don't need to feel hungry all day long in order to lose weight. Actually, restricting your calorie intake and choice of food too much just tends to backf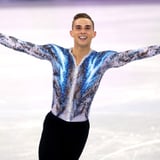 Adam Rippon Nailed His First Olympic Performance, and the Internet Is Exploding
It was Adam Rippon's Olympics debut, and his performance for the men's free skate during the team event was absolutely breathtaking. Skating to "Arrival of the Birds/Exodus" by The Cinematic Orchestra and "O" by Coldplay, the 28-year-old landed not one but two triple axels during his flawless routine, helping the U.S. earn a bronze medal in the figure skating team competition. The above video is the same routine performed during the U.S. Figure Skating Championships. As you can see, h


We Know You Were Asking, So This Is How Many Olympic Medals Lindsey Vonn Has
The 2018 Pyeongchang Olympics have already been pretty eventful for Team USA. Phenomenal figure skater Adam Rippon was the first openly gay American athlete to compete in the Winter Olympics, and Mirai Nagasu was the first American woman to nail a triple axel at the Olympics. We know this is just the beginning, though, so we have our sights set on many other American athletes to shatter expectations and break records. Skier Lindsey Vonn is one athlete in particular we can't take our eyes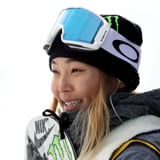 What Fuels Superstar Olympic Snowboarder Chloe Kim? In-N-Out and 3-Hour Halfpipe Sessions
If you're not yet acquainted with Chloe Kim, it's time for that to change. The 17-year-old Winter Olympics newcomer from Los Angeles has been making headlines in the snowboarding world since long before she was old enough to compete at the Olympic level. RelatedMeet the 16-Year-Old Female Snowboarding Phenom Nominated For an ESPY Chloe has been training hard to prepare for Pyeongchang, South Korea, with a schedule that the hilariously laid-back Southern Californian describes as "pre


This Wildly Emotional Ice Dancing Performance to "Fix You" Will Take You Places
All eyes are on Maia and Alex Shibutani, the immensely talented American ice dancers who are competing in the 2018 Winter Olympics. Maia, 23, and Alex, 26, are a sister-and-brother duo who are known for skating with grace and heartfelt emotion, and it's hard to watch them without getting goosebumps. In preparation for the Pyeongchang Olympics, which start on Feb. 9, we took a look back at our favorite performance by Maia and Alex. In 2016 at the US Nationals, they performed an ice dancing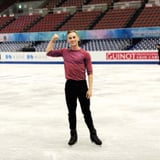 Prepare to Fall in Love With Olympic Figure Skating Powerhouse Adam Rippon
A post shared by Adam Rippon (@adaripp) on Dec 5, 2017 at 3:14am PST The countdown to the Winter Olympics has officially ended, and the time has arrived. One sport that I'm eagerly awaiting watching is figure skating. Aside from the lavish costumes and the pulsing music, there's nothing like watching figure skaters twist and turn on the ice. One competitor to keep an eye out for is Adam Rippon, who was an alternate for the 2010 Olympic Games in Vancouver, who is headed to the wo


I Walked For 30 Minutes Every Day For a Week - Here's Why I'm Not Going to Stop
Taking breaks has never been my forte, and I'm not just talking about the lunch kind. I get so caught up in my A-type overdrive and tend to hyperfocus; it's a wonder how I'm able to survive. Whether I'm deep in thought powering through a book I'm reading, fixed on my computer screen at work for hours on end, or laser focused on a cleaning or organizing project, the idea of taking a break to move around and give my body some healthy circulation can seem foreign (outside


Getting Rid of This Common Smoothie Ingredient Helped Me Lose Weight
A protein-rich, refreshing smoothie is one of my favorite breakfasts to eat after I get back from the gym in the mornings. It's been a staple morning meal of mine for a long time, but I didn't realize until several months ago that I was making my smoothies all wrong. Last year, my trainer at the time asked me what I normally eat after we're done with our weightlifting sessions. I named all the ingredients I put in my smoothie: almond milk, protein powder (my favorite is the moch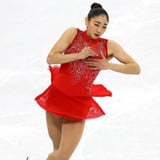 Figure Skater Mirai Nagasu Becomes First American Woman to Land Triple Axel at the Olympics
Riveted to the team competition tonight, I was stoked to watch history being made. Mirai Nagasu was the first American woman to land a triple axel at the Olympics. Andrea Joyce of NBC asked her how she was feeling and Mirai replied, "Super happy to feel my teammates support." And about her history-making jump she said, "To nail the triple axel . . . I tripped a couple times going into it because I was so nervous. But to tell myself naw I am going go for it 100 percent and not pull back." Congra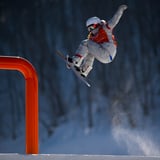 USA Sweeps Gold in Slopestyle - Congrats to Snowboarder Jamie Anderson
In incredibly windy conditions, American snowboarder Jamie Anderson captured her second gold medal in slopestyle. She won gold in Sochi, back in 2012, and her repeat performance was solidified during her amazing first run - she fell in her second run but that didn't hamper her first-place finish. Jamie adds her gold to Red Gerard's come-from-behind first place finish in slopestyle the previous day. Related17-Year-Old Snowboarder Red Gerard Wins the First Gold Medal For Team USA! Che


These Are the Foods Wellness Expert Leah Itsines Eats on the Daily to Stay Healthy
When we're looking to change up our own diet to be cleaner and healthier, it always helps to get tips from the pros out there. That's where Leah Itsines comes in. She's the author of the brand new e-book called Bare, which includes over 50 recipes, meal plans, and shopping lists, all of which are designed to help you live your healthiest life ever. Leah teamed up with certified dietitian Emily Hartley to bring you all the information you need to get your diet on track. You may r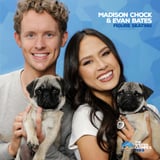 Winter Olympians Snuggling Baby Animals Is the Pick-Me-Up You Deserve
Heads up: your day is about to get infinitely better. During the 2016 Summer Olympics, the world was gifted with pictures of a bunch of Olympians cuddling with fluffy, adorable puppies. NBC Olympics went and upped the cute factor for Winter 2018, though, and added even more adorable critters to the mix. We're talking kittens, goats, and even baby pigs. We're not squealing, you're squealing! Team USA Olympians featured in this roundup include snowboarders Chloe Kim and Alex D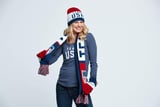 These Team USA Accessories Will Keep You Warm and Give to a Good Cause
With the 2018 Winter Olympics finally upon us, it's time to start planning all the ways we can cheer on our American athletes. Thankfully, Team USA has you covered with cozy and stylish Winter apparel that will keep you warm and give to an amazing organization. These Winter hats, scarves, and gloves are actually helping Team USA. The United States Olympic Committee, as an organization, is a nonprofit, so portions of proceeds from these sales will go to help the athletes going to Pyeongchang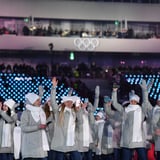 Nope, OAR Is Not a Country - What You Need to Know About the New Olympic Team
When the IOC, the governing body of the Olympic games, banned Russia from participating the 2018 Winter Olympics in Pyeongchang, South Korea, due to their systemic doping scandal, many wondered what would happen to the country's clean athletes. Enter OAR, or Olympic Athletes From Russia, which is made up of "clean" Russian athletes who were allowed to compete. As part of the agreement, OAR athletes are not allowed to wear colors from their home country and must compete under the OAR design


When the Flu Knocks You Down, This Is What You Should Eat to Nurse Yourself Back to Health
When we feel sick, the last thing we want to do is eat. But we may be feeling weak, foggy, or in a daze. While these are symptoms of our illness, they are made worse by being hungry or dehydrated. Eating is important to maintain our strength and begin to recover, as is remembering to stay hydrated. What to Eat It's a good idea to ease back into eating solid foods and not to force yourself to eat if you're feeling nauseous. "The BRAT diet (BRAT stands for bananas, rice, applesauce, an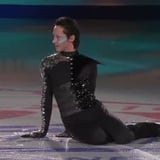 Lady Gaga Called Johnny Weir to Borrow His Outfit After Seeing His "Poker Face" Performance
Sadly, two-time Olympian Johnny Weir still isn't lacing up his skates for the 2018 Winter Olympics (sorry to get your hopes up!). After representing Team USA for figure skating at the 2006 Torino Games and the 2010 Vancouver Games, you'll notice a stylishly dressed two-time Olympian Johnny Weir on the other side of the ice as an NBC figure skating analyst. RelatedThe Weirdest - and Most Amazing - Figure Skating Music Choices You'll See at the Olympics In case you were wondering a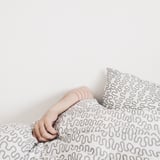 If You're Still in the Mood When You Have the Flu, Here's What Experts Say to Do
When we're sick, we feel pretty miserable. We're feverish and achy with low energy. That's not to say that sometimes, we wonder if a bit of nooky may make us feel better. But is sex when you have the flu a good idea? "Influenza is a serious virus that can be potentially life-threatening, especially for pregnant women, children, and the elderly," said Dr. Christine Sterling, an award-winning ob-gyn and women's health expert practicing at West Coast OB-GYN in San Diego. "A per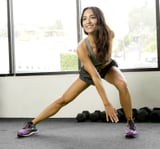 Up Your Leg-Day Game With These 20 Inner-Thigh Exercises
You're all about growing your legs and booty, but don't forget the inner thighs! They need attention too, and these are the 20 best leg exercises to target your inner thighs. As a bonus, there are three inner-thigh workout videos at the end you can follow along with. RelatedThe 53 Best Leg Exercises Out There